What Happens To Brittney Griner Now That Her Prison Sentence Was Upheld?
A powerful player for the WNBA's Phoenix Mercury team since 2013, basketball star Brittney Griner has faced yet another setback in her battle to be released from prison in Russia. Her journey through the Russian legal system began in February 2022, according to ABC News. She was taken into custody at Khimki's Sheremetyevo Airport for possessing cannabis oil, which was stored in vape pen cartridges, after the items were discovered by customs. This substance is illegal under Russian law.
This two-time U.S. Olympic champion was traveling to Russia to play for UMMC Ekaterinburg in the Russian Premier League during the off season (via Britannica). She had helped lead her Russian team to victory at the EuroLeague championships in 2017, 2018, 2019, and 2021. But she never made it to the basketball court for the 2022 season because of her arrest. Griner was held in jail for months before her trial began in July 2022.
Brittney Griner's harsh prison sentence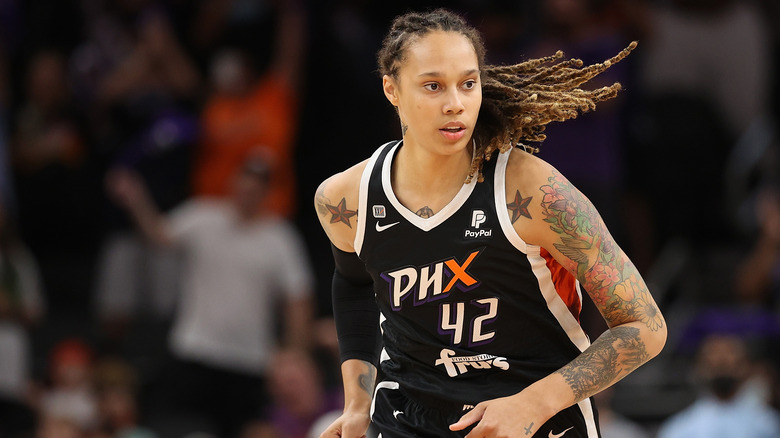 Christian Petersen/Getty Images
There has been much speculation about the role of international politics in Griner's case. Not long after her arrest, Russia launched its war against Ukraine –- an action that the U.S. government condemned (via ABC News). In March, the U.S. State Department fought for access to Griner and were finally able to check on her about a month after her initial arrest.
The calls for Griner's release, issued by the U.S. government and many others, went unheeded by the Russian government, and her case dragged on for months. Griner explained during her July trial that she brought the cartridges with her by accident, and she had medical permission in the United States to use cannabis. That August, she was found guilty on narcotics charges and sentenced to nine years in prison, which her Russian legal team noted was an especially heavy sentence considering the crime, per NPR. Griner's lawyers quickly filed an appeal. During her appeal hearing, Griner asked the court to reduce her sentence because it was a very small amount of cannabis oil –- less than a gram –- and she had brought it to Russia unintentionally.
Is there a diplomatic solution?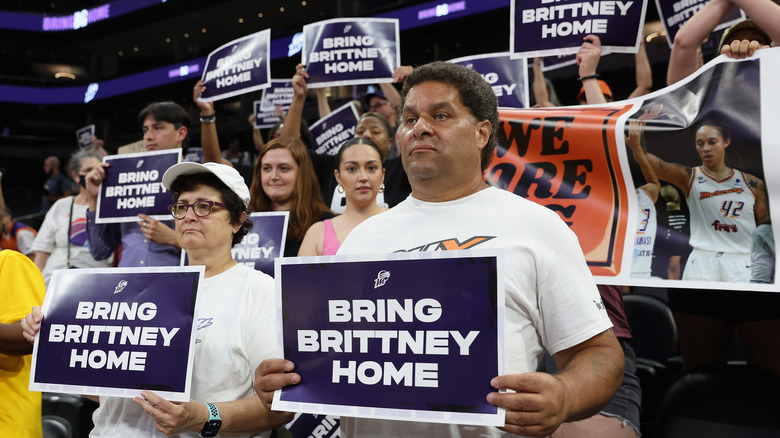 Christian Petersen/Getty Images
With the ruling of the Moscow court upholding Griner's conviction and her original sentence, it appears that Griner has run out of legal maneuvers within the Russian judicial system. Her pathway to freedom looks like it may have to come another direction, and the U.S. government has been working to find a diplomatic solution. One of the strategies on the table is a prisoner swap, according to NPR. The United States has offered to give Russia convicted arms dealer Viktor Bout, who is serving a 25-year sentence in an Illinois prison, for Griner and Paul Whelan, a former U.S. Marine who has been held in Russia since 2018 (per CNN).
The initial response to this proposed trade from Russia was lackluster, with Russia requesting the release of another prisoner not held in the United States. Russia asked for convicted murderer Vadim Krasikov to be freed as a part of the deal, even though Krasikov is in prison in Germany (via ESPN). While Russia's early demands may have been a setback of sorts, the United States has continued to press for some type of arrangement to be made for Griner's return. President Joe Biden spoke out about the case after the appeals court decision, saying, "We're in constant contact with Russian authorities to get Brittney and others out. So far we've not been meeting with much positive response but we're not stopping," according to Reuters.