Brittney Griner's Sentencing In A Russian Court Explained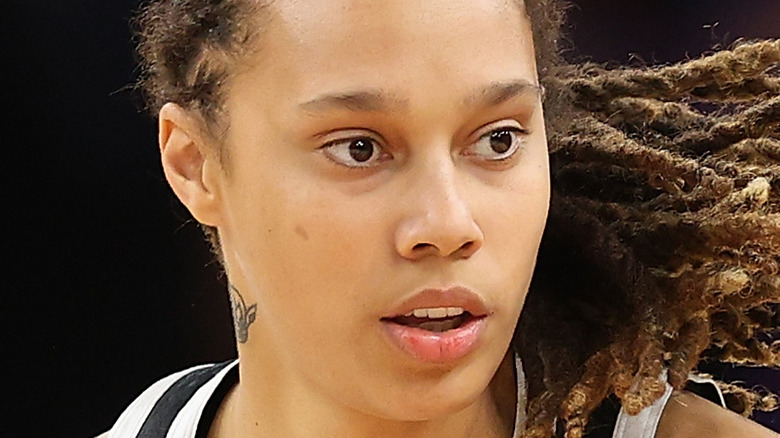 Christian Petersen/Getty Images
A Russian court has found Brittney Griner guilty of smuggling drugs and the basketball star has been sentenced to nine years in prison (via CNN). Yahoo! Sports writes that in February, Griner flew to Moscow with .702 grams of cannabis oil. ABC News explains that Griner, who plays for the Phoenix Mercury, was arrested at the Sheremetyevo International Airport in Khimki when she landed in Russia to play during the WNBA's offseason. The two-time Olympic gold medalist, who has a medical marijuana card from Arizona, has said that she accidentally placed the substance in her bag (per NPR). However, Reuters reports that both recreational and medicinal Cannabis is illegal in Russia.
According to ESPN, Griner pled guilty to drug charges in July. At the time, Terri Jackson from WNBPA stated "What we do know is that the U.S. State Department determined that Brittney Griner was wrongfully detained for a reason and we'll leave it at that." Griner has said that she had "no intent" to "break the law." Per CNN, her attorneys have stated that her case has been grievously mishandled by Russian authorities.
Griner, who does not speak Russian, was made to sign documents she was unable to read. She has gone on to say that she was not offered a complete translation by a translator (via ABC News). Griner was also not informed of her rights. Besides her hefty prison sentence, CBS News writes that Griner was also given a fine of 1 million rubles or $16,500.
Brittney Griner apologized in court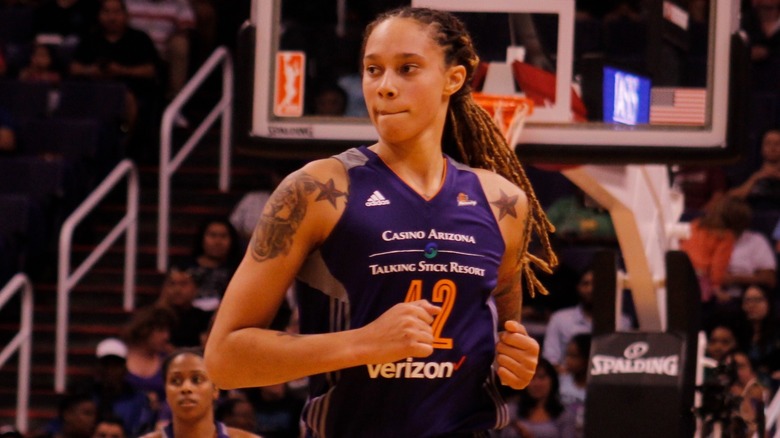 Keeton Gale/Shutterstock
According to CBS News , Griner's trial lasted six months. NPR notes that she was facing 10 years in prison. However, Judge Anna Sotnikova of the Khimki city court said she took into account Griner's guilty plea, her remorse, as well as her good deeds (per CNN). Before receiving her sentence, Griner apologized and asked the Russian court for leniency. She stated "I never meant to hurt anybody, I never meant to put in jeopardy the Russian population, I never meant to break any laws here," Griner added. "I made an honest mistake and I hope that in your ruling that it doesn't end my life here. I know everybody keeps talking about political pawn and politics, but I hope that that is far from this courtroom."
ABC News reports that she also apologized to her family and her Russian teammates. With news of her sentencing, Griner's attorneys Maria Blagovolina and Alexander Boykov noted that they were "very disappointed by the verdict." They explained,"The court completely ignored all the evidence of the defense, and most importantly, the guilty plea."
President Biden has also condemned Griner's verdict. He released a statement that described the nine-year sentence as "unacceptable." Biden went on to say that "My administration will continue to work tirelessly and pursue every possible avenue to bring Brittney and Paul Whelan home safely as soon as possible." Per ESPN, Judge Sotnikov stated that the time Griner has spent in jail will count towards her nine-year sentence.
She might be swapped for a Russian prisoner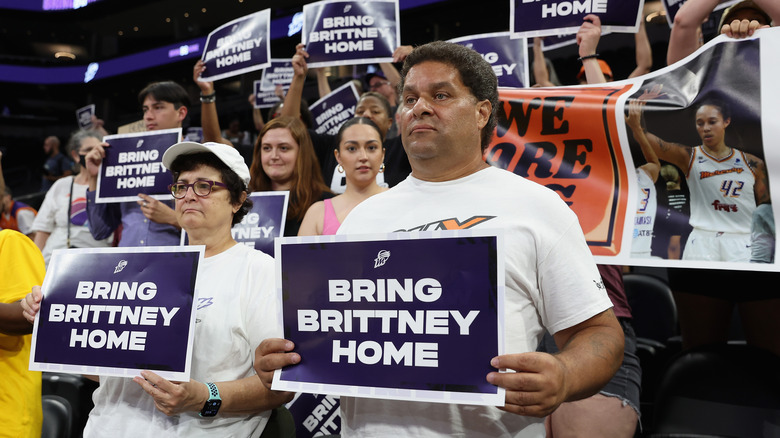 Christian Petersen/Getty Images
CNN reports that Griner's lawyers plan to appeal the verdict. ESPN states that the WNBA star showed little emotion during her sentencing. ABC News writes that Blagovolina and Boykov have said that Griner is "... very upset, very stressed." Nevertheless, there is some hope for Griner. According to another article from CNN, the Biden administration has put a deal on the table for the Russian government; Viktor Bout for Griner and Whelan. Bout is a Russian Arms dealer that is currently serving a 25-year prison sentence in an Illinois prison. Whelan, per the BBC, is an American that is incarcerated at a Russian prison for accusations of being a spy.
CNN explains that the Russian government has now asked the U.S. for an additional prisoner; Vadim Krasikov. Krasikov, however, is currently imprisoned in Germany, making it unlikely he will be part of the swap. Adrienne Watson, from the National Security Council, noted "... holding two wrongfully detained Americans hostage for the release of a Russian assassin in a third country's custody is not a serious counter-offer. It is a bad faith attempt to avoid the deal on the table that Russia should take."
CBS Sports writes that Secretary of State Antony Blinken has advised Russian Foreign Minister Sergey Lavrov to take the deal they offered initially. That being said, Steve Zissou, attorney for Bout has said that he is "confident" that the swap will occur (per Politico). He added that the Russian government has "been trying to get him back for decades."