This Is Where Mark Twain Is Buried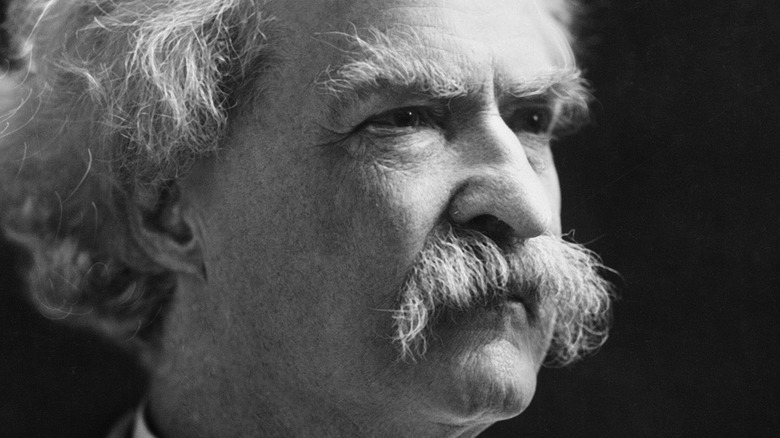 Donaldson Collection/Getty Images
You'd be hard pressed to find a literature fan who isn't familiar with a tale or two penned by the famous writer Samuel Langhorne Clemens – or rather, his pseudonym of Mark Twain. His works like "The Adventures of Tom Sawyer" and "The Adventures of Huckleberry Finn" are a few among the many books that made Twain's name a notable one in the literary world.
Twain was born in November 1835 in Missouri, and from a young age, he came to know two things well: the Mississippi River and death. When he was only 3 years old, his sister, Margaret, died of a fever. His brother, Benjamin, died just a few years later, according to Britannica. In 1847, Twain's father died of pneumonia, and throughout the rest of Twain's childhood along the Mississippi river, he came face to face with death in the form of drownings and finding a few dead bodies while on his childhood adventures.
The veil of death that wrapped itself around his youth, fortunately, missed Twain, and he went on to become a prolific journalist, novelist, and lecturer. His success in literature continues today, long after his passing. Fans of his work have the desire to be as close to the writer who inspired them as possible. Since he passed in 1910, many have made the pilgrimage to pay their respects at Mark Twain's grave.
Mark Twain's grave is next to those of his wife and children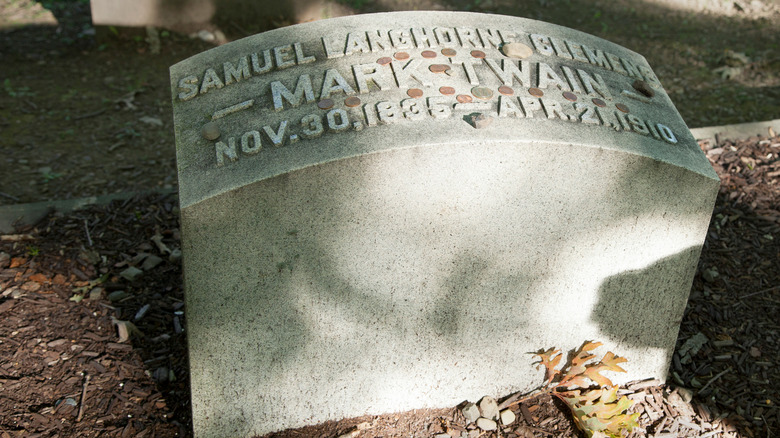 PM Simmons/Shutterstock
In 1867, Mark Twain traveled to the Mediterranean and met a gentleman, Charles Langdon, who had a sister, Olivia. Charles put Twain in touch with Olivia, according to Find a Grave. Langdon and Twain corresponded through letters and eventually married in Elmira, New York, in 1870. For years, the Twain family would summer in Elmira with his wife's family (per Find a Grave). This connection to New York through his wife and family played a major role in his final resting place.
After Twain's death in 1910, his funeral was held at a Presbyterian Brick Church on Fifth Avenue. Twain's friendships with fellow writers and his fans led to the church being filled almost immediately after its doors opened, and hundreds more waited outside on the New York streets while the funeral went on, waiting for the viewing, according to the report by The New York Times (posted at Twain Quotes). After the service, his body was moved to Elmira, where he was laid to rest next to the graves of his wife and children. The family gravesite is in the Woodlawn Cemetery and is marked with a large monument. Twain's headstone includes both his full name and his pseudonym.
Twain may have predicted his own death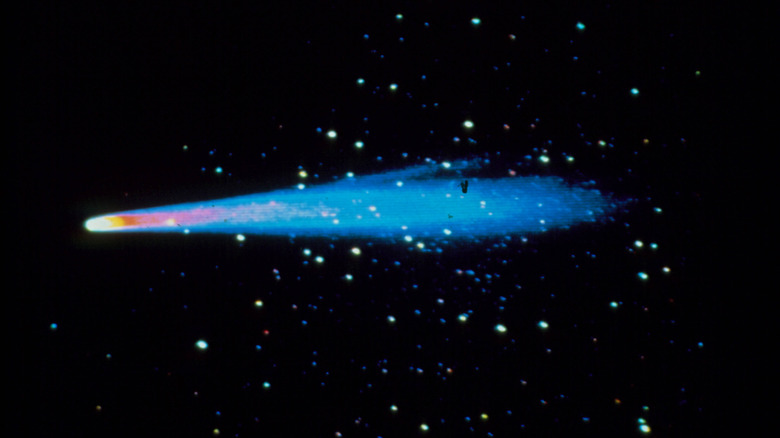 Getty Images/Getty Images
What many don't know about Mark Twain is that he led a life filled with both tragedy and abundance. After all the grief he endured over the years, his own passing in 1910 didn't come to him as a surprise. He was born in 1835, just after the closest approach of Halley's Comet, and in a 1909 quote published by Find a Grave, he said, "I came in with Halley's Comet in 1835. It is coming again next year, and I expect to go out with it. It will be the greatest disappointment of my life if I don't go out with Halley's Comet."
Twain did not die disappointed, as he died of a heart attack on April 21, 1910. Halley's Comet had made her closest path to earth just one day prior. Mark Twain's gravesite is open for the public to visit and pay their respects to the famous storyteller who inspired generations of writers and allowed millions of readers to imagine a world of adventures through his words.