Bryce Harper Played A Completely Different Position Before Becoming An All-Star Outfielder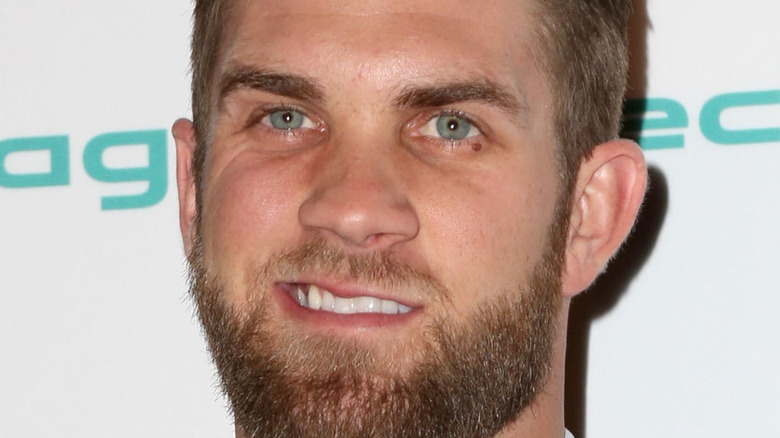 Kathy Hutchins/Shutterstock
Philadelphia Phillies Slugger Bryce Harper is on his way to becoming a baseball legend (via The New York Times). According to ESPN, Harper hit a monumental home run, leading his team to win against the San Diego Padres at the National League Championships. Most importantly, as CBS News Sports writes, this also means that the Philadelphia Phillies are heading to their first World Series since 2009. There, the team is slated to go up against the Houston Astros on October 28 (per AP News). In 2019, MLB states, the team paid Harper $330 million for a 13-year contract. Prior to this, another article from ESPN reports that Harper had played for the Washington Nationals.
Needless to say, the Phillies' investment in Harper has paid off. Even more impressive? Fox 29 states that in June, Harper's left thumb was hit by a ball going 97 mph. The incident, which occurred while the Phillies were playing against the Padres in San Diego, broke his thumb. Harper had to get thumb surgery and was sidelined. At the time, he stated (via NBC News), "I want to play, I want to be with the boys. Just a gut-punch." In addition, he had been dealing with an elbow injury since April. As a result of this, Harper's position was changed to designated hitter.
Bryce Harper was a catcher in high school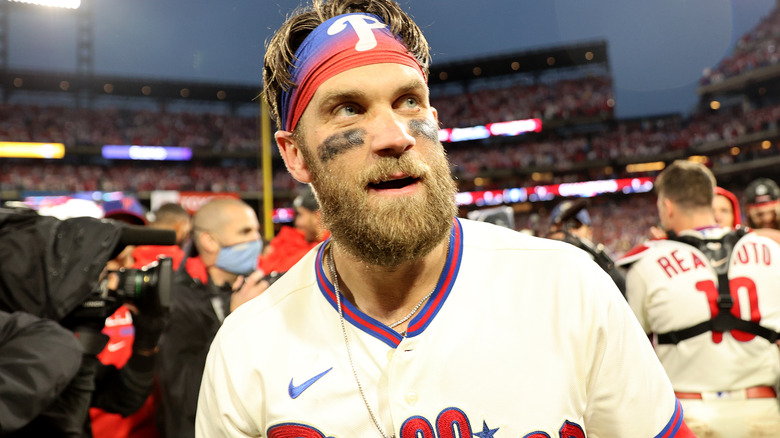 Tim Nwachukwu/Getty Images
Since his return to the field in August (via CBS Sports), Harper has remained as a designated hitter (per Deseret News). Prior to this, Fox 29 had predicted that would be the case. However, Harper was also once a right fielder, per Baseball Reference. In high school, Sports Illustrated reported, Harper was a catcher. (A video of him in action as a catcher can be seen on YouTube.)
The 2009 article from Sports Illustrated delves into Harper's amateur career. Even as a teenager, Harper knew exactly what he wanted and how to achieve it. When asked about his goals, he told Sports Illustrated that he wanted to "Be in the Hall of Fame, definitely. Play in Yankee Stadium. Play in the pinstripes. Be considered the greatest baseball player who ever lived. I can't wait."
That said,the article notes that Harper, who was then 16, was also an amazing pitcher who could throw a 96 mph fastball. According to Phillies Nation, Harper's position changed once he was drafted into the Washington Nationals. They decided to place him in the outfield. Bleacher Report explains the team did this to get more bang for their buck. If Harper could also hit, why not move him to that position? Phillies Nation adds that Harper seemed to have no issue with the change. 
Bryce Harper offered to fill in for a catcher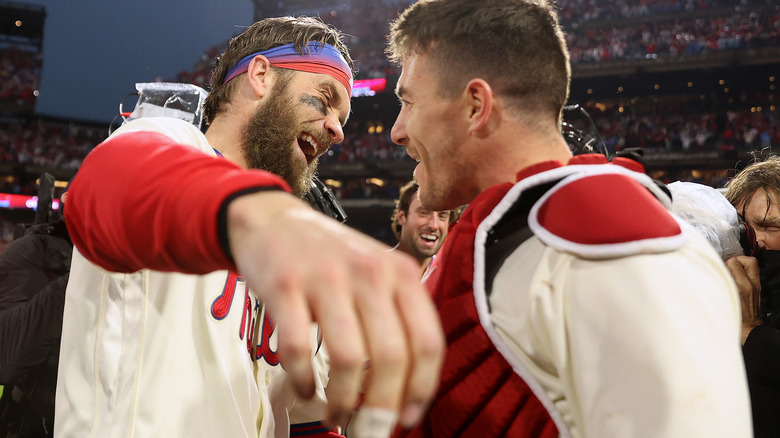 Tim Nwachukwu/Getty Images
In 2021, fellow Phillies player J.T. Realmuto (above, right) was suffering from shoulder soreness (via MLB). At the time, he stated (via NBC Sports), "It's just normal everyday wear and tear. Nothing too bad." Even so, it was decided that Realmuto, who is a catcher, was going to play first base, as Rhys Hoskins was out with an abdominal injury. Because of this, Phillies Nation adds, the team did not have enough catchers. Moreover, catcher Andrew Knapp was also out due to COVID-19. Harper subsequently offered to catch for the team. However, Joe Girardi, the manager of the Phillies, was not keen on this idea. Per MLB, Girardi stated, "I don't really see myself doing that."
Now that Harper has led his team to the World Series, the Phillies' managing partners are praising his flexibility and commitment to the game. They said (via another article from MLB), "There's nothing different with Bryce. He's just committed to winning, and he'll do whatever it takes. I think if they told him that he had to go play third base, he would play third base. He'll hit wherever you want him in the lineup, he'll play whatever position he needs to play. He just wants to win."