The US Congressional Seat That Is Said To Be Cursed
S.Borisov/Shutterstock
"We're looking forward to breaking the curse," Democratic congressional candidate Jamie McLeod-Skinner recently remarked (via The Washington Post). However, McLeod-Skinner would likely do well to practice caution in regards to the "curse" she's referring to, because it's known to strike pretty consistently, and as far as curses go, hubris does little in the way of thwarting them. 
Serving as a member of the U.S. Congress can definitely get stressful at times. Given the recent state of things and the myriad of pressing issues cropping up across the board, there's a lot to interpret and execute from a politician's standpoint. As if that wasn't daunting enough, The Washington Post reports that one particular congressional seat carries more than just the stressors of political life with it. Various sources and former occupants of the seat have foreboding and trepidatious words for anyone opting to take their place, including McLeod-Skinner and her opponent, Republican candidate Lori Chavez-DeRemer. 
The curse of Oregon's 5th District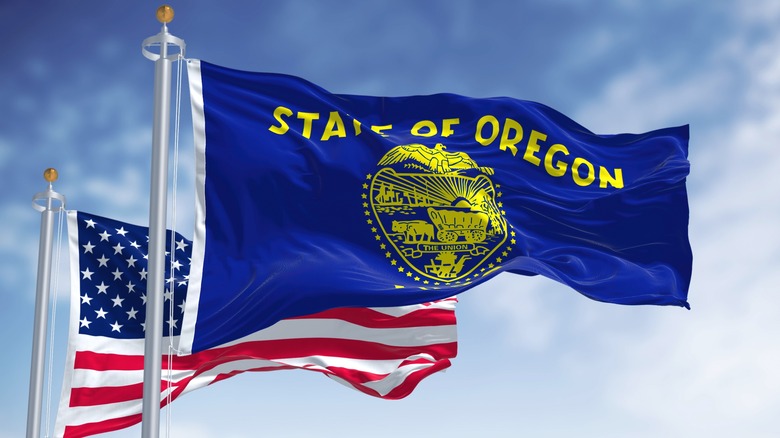 rarrarorro/Shutterstock
Apparently, the congressional seat of Oregon's 5th District is kind of like Hogwarts' Defense Against the Dark Arts teaching position: Misfortune has befallen every single occupant who's been brave enough to take a crack at the job. Portland Monthly reported back in 2019 that, since its conception in 1981, each and every representative of the 5th District seat has gotten divorced after being elected. Imagine fulfilling your lifelong dream of becoming a legislator only to watch your marriage go belly up as a result. Perhaps Washington should craft up its own special dating app for instances such as these. 
Of course, it could just have something to do with the general lifestyle that accompanies being a politician. "It's particularly hard in the House and the Senate when you're running back and forth between your home district and Washington," former House speaker Newt Gingrich shared a while back. "You get absorbed by your constituents and the legislative process, and it's hard to balance things." 
Given that Gingrich has been married and divorced several times over and has never served in Oregon's 5th District, one can safely assume that broken marriages aren't restricted to that particular congressional seat. All the same, no other position in the political sphere has developed the reputation that the alleged "cursed seat" has (via The Washington Post). 
Representatives who have gotten divorced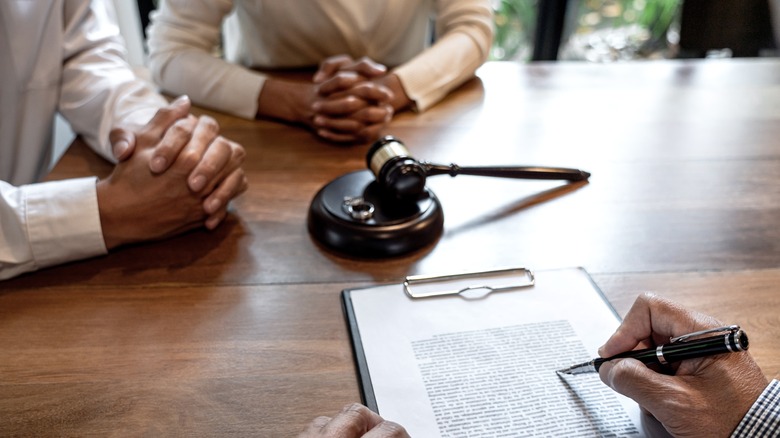 Freedomz/Shutterstock
"He was so excited about me winning and about me going to D.C.," former Democratic Representative of Oregon's 5th District Darlene Hooley once said. "I didn't spend enough time talking to my family, because I was spending so much time talking to people in my district." The Washington Post reports that less than a year after being elected in 1996, Hooley and her husband filed for divorce. In 2011, Democratic Representative of the 5th District Kurt Schrader and his wife Martha Schrader (a former state senator) also called it quits. 
However, broken courtships are by no means a Democratic curse. Republican Representative  Jim Bunn — who served before Hooley — got divorced after taking the job as well, though he ended up marrying his chief of staff after the fact (per The Oregonian). 
According to Portland Monthly, Republican Denny Smith was the first to occupy the seat back in 1981. Five years after taking office, he and his wife Kathleen closed the book on their marriage. His successor, Democratic Representative Mike Kopetski, served only two terms in the seat, and — you guessed it — ended his tenure with an unruly divorce. With midterms close on the horizon, voters are ready to welcome a new face to Oregon's 5th District, and many are probably taking bets on whether or not their impending Representative will meet the same fate as their slew of unfortunate predecessors.