The Strange Death Of Jerry Lee Lewis' 5th Wife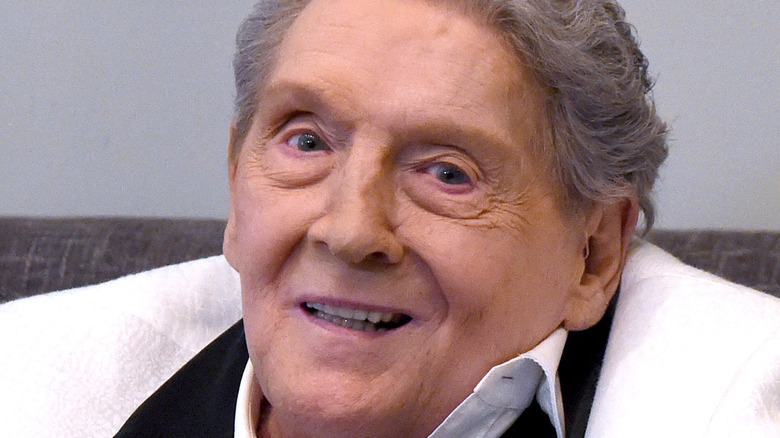 Rick Diamond/Getty Images
Jerry Lee Lewis is a rock legend who made his mark in the early years of the genre (via Biography). Lewis is known for his exaggerated performance style, which has captured audiences for decades. According to Britannica, Lewis' most well-known songs include "Whole Lotta Shakin' Goin' On" and "Great Balls of Fire." However, the 87-year-old's career has long been fraught with tragedy and scandal (per The Guardian). Furthermore, Lewis' many marriages have largely overshadowed his accomplishments. The U.S. Sun states that the musician has been married seven different times. Notably, Liveabout reports that he married his 13-year-old cousin Myra Gale Brown in 1957.
Due to her young age, All That's Interesting writes that it almost ended his career. When Lewis traveled to London for a tour, he brought Brown with him. MPR News notes that the British press tore him apart for having a "child bride." After his marriage to Brown ended in 1970 (via The U.S. Sun), Lewis went on to marry his fourth wife, Jaren Elizabeth Gunn Pate, in 1971. When she died in 1982, he married wife number five, Shawn Stephens. As a 1983 article from the Evening Times explains, both wives had tragic deaths. Stephens' death, in particular, had many wondering if Lewis, who also goes by "the killer," had lived up to his nickname (per Rolling Stone).
Shawn Stephens died of an overdose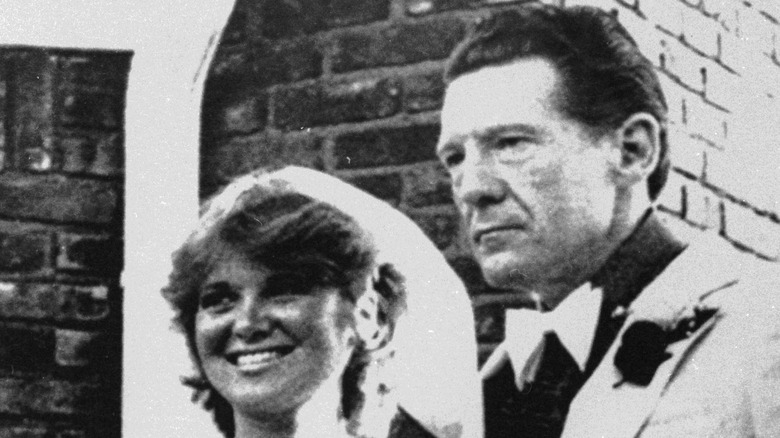 Bips/Getty Images
According to Rolling Stone, Shawn Stephens was a cocktail waitress working at a Michigan hotel when she met Lewis. The two were set up by a friend, who at the time was dating Lewis' road manager. Despite a large age gap, the relationship took off, and on June 7, 1983, Stephens and Lewis married (per UPI). However, the marital bliss did not last. In August of that year, Stephens was found dead at the couple's Nesbit, Mississippi home. Tragically, Shawn Stephens was only 25. Reports indicate that she may have believed she was pregnant. Investigators noted that they did not think that Stephens had been a victim of foul play.
UPI writes that those who knew Lewis, who was then 47, said he was doing okay after Stephen's death. Nevertheless, Lewis expressed confusion. He stated (via People), "I don't know what happened." He added, "I loved her, and she loved me. Everything was fine." Soon after, it was determined that Stephens had died from pulmonary edema was likely caused by an overdose. However, Stephens' mother, Janice Kleinhans, was not fully convinced. She noted that her daughter had previously told her that she did not do drugs. At Stephens' funeral, Kleinhans exclaimed (via People), "He [Lewis] looked like he was going dancing." She also did not speak to Lewis.
Jerry Lee Lewis' 4th wife died amid divorce proceedings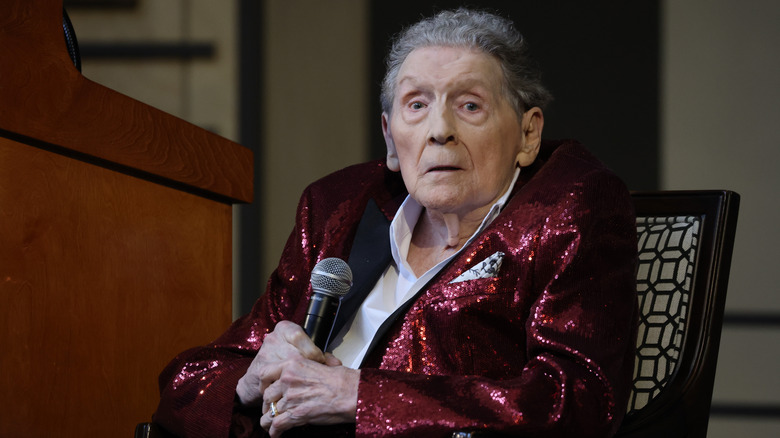 Jason Kempin/Getty Images
In the 2019 book "Disgraceland," author Jake Brennan writes that Shawn Stephens' body was found bloodied and bruised. Moreover, Jerry Lee Lewis' hands were scratched. The Guardian reports that Lewis later admitted that he and Stephens had a tumultuous relationship and that they had fought the night of her death. In addition, he had paid for a private autopsy. Despite this, Lewis was cleared of any wrongdoing. "Disgraceland" reports that Stephens died a little over a year after Lewis' fourth wife, Jaren Elizabeth Gunn Pate. Per The U.S Sun, Lewis married Pate in 1971. UPI states that the couple began divorce proceedings in 1979.
People explains that the divorce got ugly. In 1980, Pate took Lewis to court and accused him of threatening her. But before their divorce was finalized, The U.S Sun writes that Pate died on June 8, 1982. According to UPI, Pate, who was then 39, had drowned in a friend's swimming pool. Her death was subsequently ruled an accident. Interestingly, The Guardian states that this is not the first pool-related death for Lewis. In 1962, his 3-year-old son, Steve Allen, also drowned in a swimming pool. That said, "Disgraceland" writes that Pate's death occurred before she was going to receive a hefty divorce settlement from Lewis.
Although it's unknown if Lewis had anything to do with her death, it certainly benefited him (via "Disgraceland"). The book adds that no one witnessed Pate's drowning. Ultimately, the divorce settlement would have bankrupted Lewis, but instead, he went on to marry Stephens.