What Led Shaquille O'Neal To Develop A Relationship With His Biological Father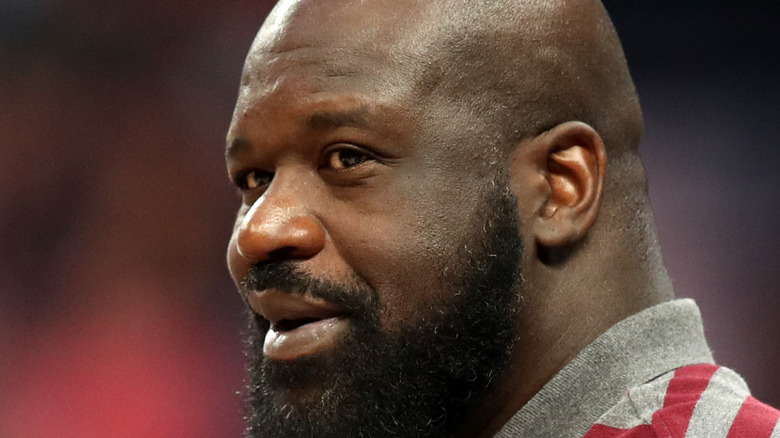 Francois Nel/Getty Images
Shaquille O'Neal is one of the most famous and beloved basketball players of all time. As Britannica relates, Shaq was born on March 6, 1972, and got into basketball from a very early age. He played basketball in high school, eventually being recruited at Louisiana State University (LSU) and quickly becoming a powerhouse player. He was drafted into the NBA in 1992 and joined the Orlando Magic basketball team. Shaq would go on to play with the Los Angeles Lakers, Miami Heat, Phoenix Suns, Cleveland Cavaliers, and Boston Celtics during his pro basketball career. 
Shaq's life off the court is just as interesting as his life on. He earned a doctorate in education back in 2012 from Barry University, making him one of the most educated athletes alive today (via Bleacher Report). But Shaq's life isn't all pleasantries, as, for the longest time, he hated his biological father. Joseph Toney, Shaq's dad, abandoned Shaq early on and was actually in prison for a while. Despite that, Shaq still decided to build a relationship with him. 
Who is Shaq's father?
Shaquille O'Neal's father Joseph Toney (above) abandoned him at an early age. As Andscape explains, this had an impact on both Shaq's life and mental health. Shaq once made a rap song called "Biological Didn't Bother" (posted on YouTube) in reference to his absent father. "I want to dedicate this song to Philip Arthur Harrison / Word up / Cause he was the one who took me from a boy to a man / So as far as I'm concerned, he is my father cause my biological didn't bother" are some of the lyrics in the song (via Genius). 
According to Sports Keeda, Shaq's father Toney turned to a life of crime, eventually going to prison for six years for drug possession and check forgery. Toney turned his life around afterwards, getting a legitimate job as a delivery truck driver helping out shelters. Toney didn't immediately try to seek out his son to make amends, however, only doing so three years after Shaq's stepfather, Philip Harrison, died. Shaq himself opened up to the idea of meeting with Toney after his mother suggested it. 
Why Shaq reunited with his biological father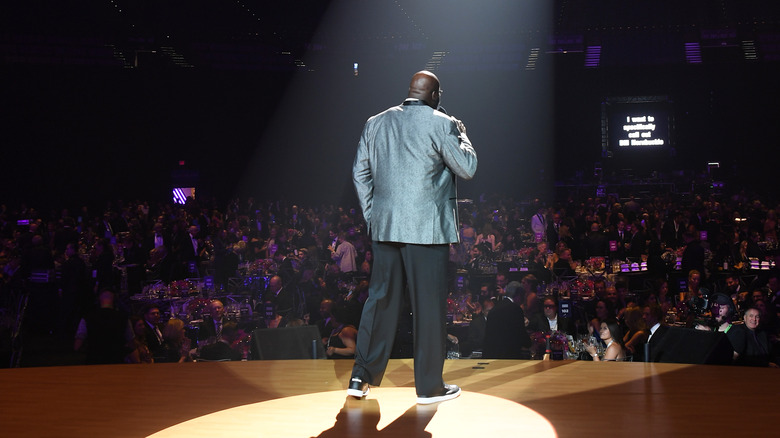 Denise Truscello/Getty Images
Despite Shaq having very strong negative feelings toward his biological father, he actually does not hate him to this day. As Andscape explains, Shaq and his father eventually reunited again, with Shaq telling him, "I don't hate you." Toney was also able to tell Shaq what happened, why he went to prison, and why he ran out on the family. Shaq's father had been in rehab for drug use, particularly cocaine, and it had taken him quite some time to fix himself up. Toney had seen Shaq once at a McDonald's High School All-American Game and tried to reach out to him, but Shaq's staff wouldn't let him get anywhere near the basketball star. 
As The Sports Rush says, the two reacquainted at a New Jersey restaurant, which Shaq recounted to TV personality Dr. Phil. "My job is to just love him as much as I can now," Shaq said. "He had some problems when he was young, I don't judge him." Shaq's Dr. Phil interview (on YouTube) sheds some light on Shaq's empathy, especially when it came to forgiving his father for his problems. Shaq and his father are still trying to make up for lost time with each other.