Why John Lennon Kissed Jerry Lee Lewis' Shoe After One Of His Shows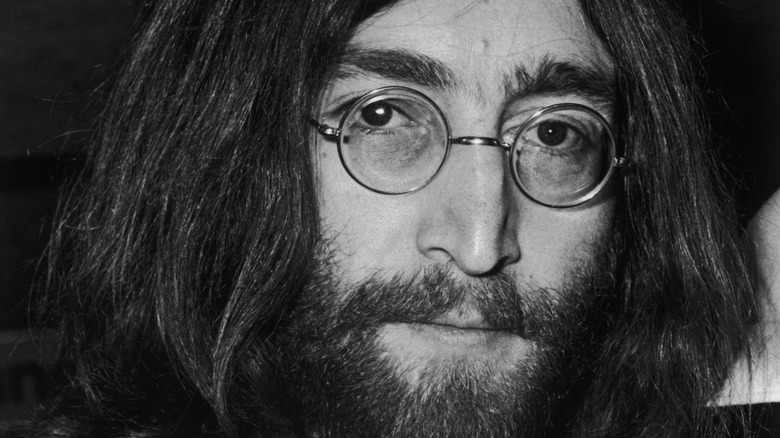 George Stroud/Getty Images
What would you do if you met one of your idols? Most people spend a decent amount of time daydreaming about finally getting the chance to speak with those they admire most. According to Slate Magazine, even the mighty Bob Dylan was so overcome with crippling admiration for Elvis Presley that he reportedly once got on his hands and knees and kissed the spot on the ground (marked by an X) where Elvis once stood at the iconic Sun Studio in Memphis, Tennessee. 
What about John Lennon? Could someone so highly revered and immortalized in the chronicles of musical and cultural history possibly have someone in his life that he would willingly bow down to, let alone kiss the floor where they once stood? It seems that even the most iconic musicians have a muse who inspired them to create art in the first place, and for the late John Lennon, that man was Jerry Lee Lewis (via Far Out magazine). 
John Lennon idolized Jerry Lee Lewis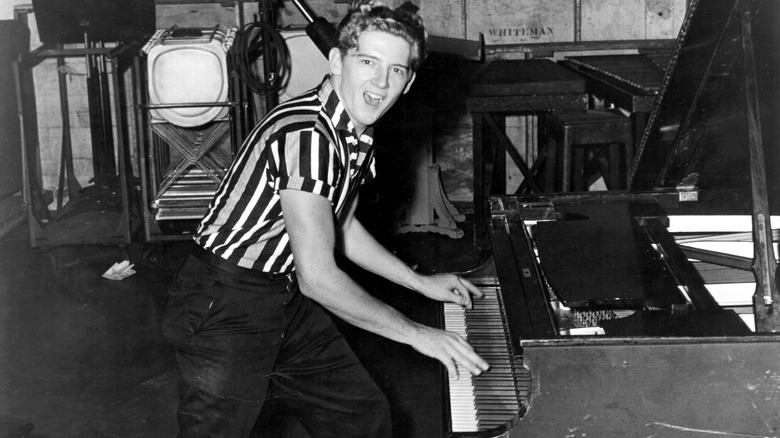 Michael Ochs Archives/Getty Images
CNN reports that the "Great Balls of Fire" singer died of "natural causes" on October 28, and as the world mourns the loss of one of rock n' roll's most notable practitioners, it also considers the effect that his work had on others in his trade. According to Far Out magazine, the Beatle sought the asylum of music as a young man and flaunted a deep and abiding veneration for the monuments of rock n' roll that came before him. Growing up, Lennon mostly listened to American blues and pop artists like Chuck Berry, Buddy Holly, and Jerry Lee Lewis, and it was the last of the three who likely left the biggest impression on him.
Lennon told Rolling Stone in 1971 that Lewis was unrivaled in his craft and undoubtedly remained unsurpassed by any of his contemporaries. "That's the music that inspired me to play music. There is nothing conceptually better than rock and roll. No group, be it Beatles. Dylan or Stones have ever improved on (Jerry Lee Lewis') 'Whole Lot of Shaking' for my money," Lennon shared (per Rolling Stone). 
John Lennon once kissed Jerry Lee's feet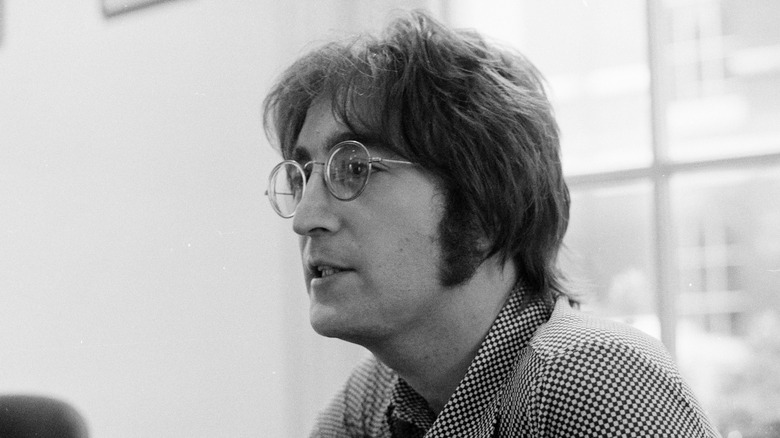 Michael Putland/Getty Images
Elliot Mintz, former friend and spokesman for John Lennon and Yoko Ono, once described the night he introduced Lennon to Jerry Lee Lewis for the first time after one of Lewis' shows. "I looked at (Lennon's) face and he was watching Jerry Lee the way a child would open a Christmas present," Mintz said (via YouTube). Once the concert ended, he and Lennon were granted access to Lewis' dressing room to congratulate him on a supreme performance and share a few minutes of conversation. 
Lennon was reportedly brimming over with excitement and trepidation, and when he was finally face-to-face with the man whose music he loved so dearly, he actually fell to his knees and kissed the very boots upon his feet. "I looked over at John and he wasn't there," Mintz shared. "And I looked down and John was on his knees ... kissing Jerry Lee Lewis' boots." Jerry Lee's reaction was to tap Lennon and drawl, "Now, now, son, that's not necessary." As it turned out, that was the only time John Lennon and Jerry Lee Lewis would ever meet.