The Famous Actors Who Made A Cameo In A Pat Benatar Video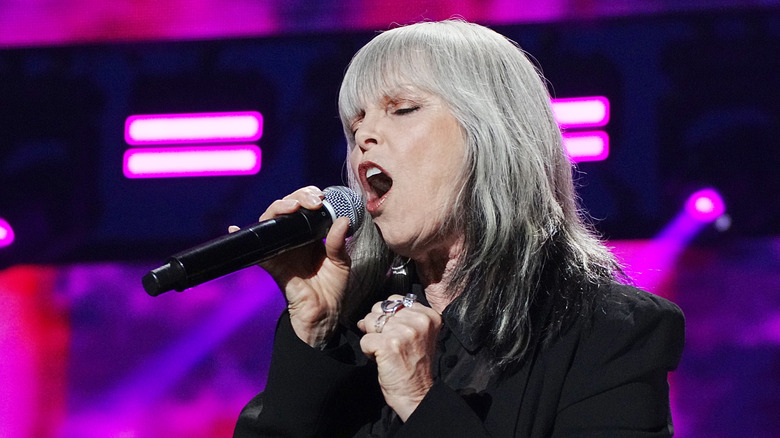 Jeff Kravitz/Getty Images
Among the numerous 80s singer-songwriters, one woman stood head and shoulders above many others: Pat Benatar. Some of Benatar's greatest and most beloved hits include "Love Is A Battlefield" and "Hit Me with Your Best Shot," which catapulted her to the lofty heights of MTV stardom (via Biography). Pat Benatar gained enormous fame after her signature 1979 album "In the Heat of the Night," establishing her as one of rock's premier poet laureates. She eventually married guitarist Neil Giraldo in 1982, having two children and playing shows together.
One of Pat Benatar's most famous songs is "Shadows of the Night." The record came out on the 1982 album "Get Nervous," (via Ultimate Classic Rock). The song "Shadows of the Night" is set in New York City and is about two runaways, though the music video is centered around World War II air pilots and Nazis. Two famous actors make appearances in the song, however, they weren't famous at the time: Judge Reinhold and Bill Paxton. 
According to Ultimate Classic Rock, in her memoir "Between a Heart and a Rock Place" Benatar wrote, "They were young Screen Actors Guild guys who were brought in for the day, just getting started in the business and taking what jobs they could find, but being there on the video set with them was enlightening ... Judge and Bill were actors. Maybe they were young and inexperienced, but they were actors. We were just rockers dressed up in funny costumes."
Judge Reinhold's cameo in Shadows of the Night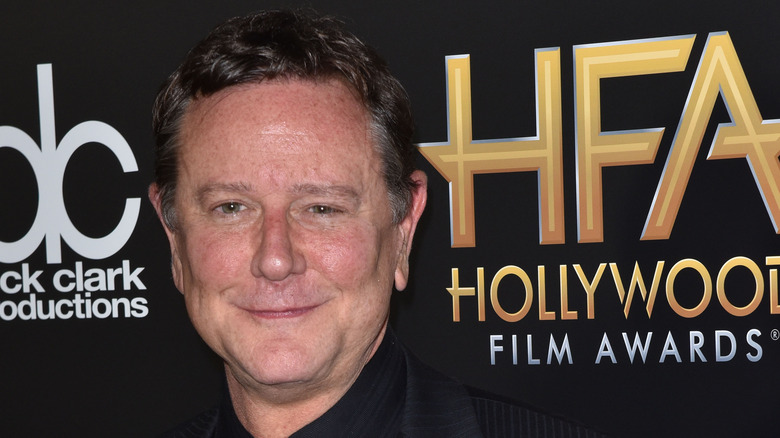 C Flanigan/Getty Images
Judge Reinhold went on to become an actor best known for his roles in several 1980s and 1990s movies. According to IMDb, Reinhold was born in Wilmington, Delaware on May 21, 1957, and has acted in over 75 combined TV and movie roles. Some of his best-known roles have been in famous movies like the "Beverly Hills Cop" franchise, "The Santa Clause" franchise, "Fast Times at Ridgemont High," "Ruthless People," and many more. 
On top of being a film star, Reinhold also found time to star in music videos, like Benatar's "Shadows of the Night." In the music video, Reinhold plays the role of an air pilot who joins Benatar's commando raid attack on the Nazis during World War II, all of which takes place in Benatar's daydream. As of today, Reinhold is set to reprise his role in the upcoming movie "Beverly Hills Cop: Axel Foley," which is set to release in 2023. 
Celebrity Bill Paxton also had a notable cameo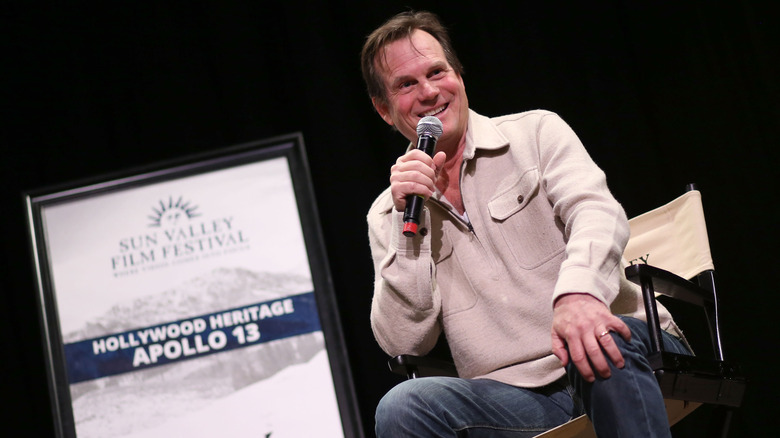 Mark Davis/Getty Images
Bill Paxton carved out his name into the hallowed halls of Hollywood stardom with numerous blockbuster hits. As IMDb explains, Paxton got an early start in the film business, having moved to Los Angeles when he was 18 years old. Over time, he went from small jobs in the film industry to major hits that everyone is undoubtedly familiar with. Some of his filmographies include "Aliens," "Apollo 13," "Twister," "Titanic," "The Terminator," and many more. He has also had a voice acting role in the hit video game "Call of Duty: Advanced Warfare." 
On top of his film and television credentials for shows like HBO's "Big Love," he also had a cameo in the music video for "Shadows of the Night." In it, he plays a Nazi radio operator, who tries to work against Benatar's oncoming commando raid. Though his role was somewhat minor, would-be fans of the actor might recognize him on sight as the camera swings past a Nazi war room. Paxton died in 2017 following heart surgery, per NBC News. He was 61.