The 1980s New Wave Band You Didn't Know Featured Bill Paxton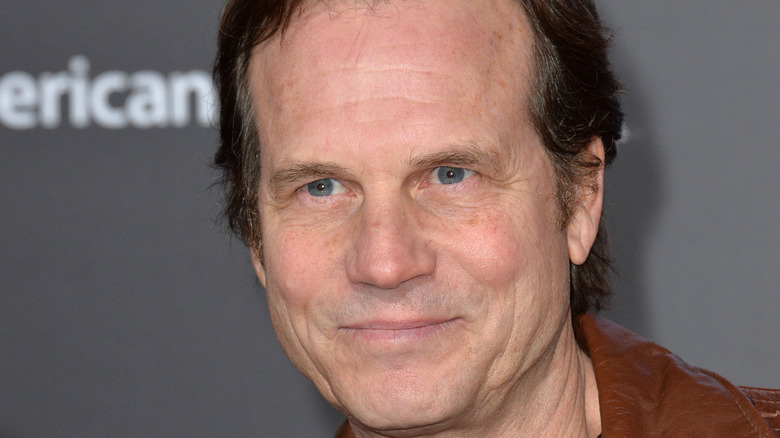 Featureflash Photo Agency/Shutterstock
Many actors and actresses explore their musical interests on the side. Back in the '80s, actor Bill Paxton — who tragically died from a heart condition complications in 2017, age 61 — formed a duo with his friend Andrew Todd Rosenthal, releasing a series of cinematic videos, two EPs, and one album, "Holy Cow," according to Discogs. Paxton's band typified the most quintessentially`80s pop music sound: new wave (via Billboard). When actors dabble in music, though, the results can, shall we say, be less than stellar. Although charmingly dated, Paxton and Rosenthal's band belongs alongside similar acts from the time, such as Devo and the B-52's.
Other well-known actors who've attempted a music career approach it the other way round, dabbling in music only after their acting careers are established. But, Australian actor and notorious troublemaker Russel Crowe, had a rock band even while he was forging his career in film, according to The Today Show. Similarly, Eddie Murphy, already established as an actor and comedian, released three musical albums in the late 80s and early 90s (per Discogs) with his 1985 hit single "Party All the Time" reaching No. 2 on the Billboard Hot 100 for three weeks, per Billboard. 
Jared Leto, star of such films as "Fight Club" and "House of Gucci," moved to LA in 1992 with dreams of becoming a professional musician, but his side hustle — acting — took off in the mid-'90s. Leto formed his band Thirty Seconds to Mars, in 1998 (per IMDb). As for Paxton and Rosenthal, their duo failed to make much of a splash. Now, few people even realize that Paxton had this interesting musical cul-de-sac in his career.
Bill Paxton's band was called Martini Ranch
In 1982, Bill Paxton and Andrew Todd Rosenthal teamed up to form Martini Ranch, according to Billboard. The band features a sort of who's who of early 1980s new wave. Two members of Devo performed on one of the band's singles and Cindy Wilson of the B-52's also appeared on the band's first album, "Holy Cow," as did actors Judge Reinhold and Bud Cort. Martini Ranch never really went anywhere, and Paxton himself went on to be known more as an actor than a musician, but some of the band's work did make it into the movies. Specifically, their song "Headin' West" appeared on the soundtrack to "You Can't Hurry Love," as well as on the soundtrack to "Brain Dead," in which Paxton starred (via IMDb).
Martini Ranch may not have made it big, but few new wave acts of the early 1980s can say that they produced a video directed by James Cameron. Bill Paxton's band, however, can make that claim: the seven-minute video for "Reach" was indeed directed by the same man who made "Titanic" and "Avatar," according to IMDb. In the Old west-themed video, a black hat-wearing Paxton pulls into view on a motorcycle, while a rattler emerges from a dusty old skull of a longhorn. After a lengthy narrative intro, the song begins blending themes from Spaghetti Western movie soundtracks with the driving beat of `80s-era pop radio. Paxton himself played a leading role in the video (pictured above).
Martini Ranch's Sound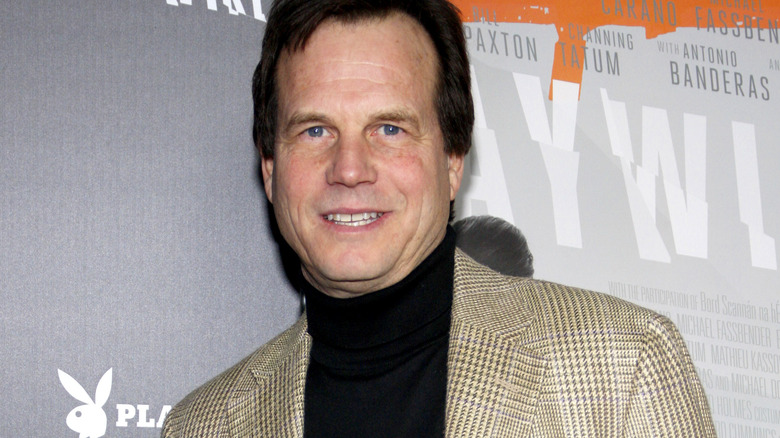 Tinseltown/Shutterstock
New wave, such as the music that Bill Paxton and Andrew Todd Rosenthal wrote, is one of those musical genres that, in comparison to heavy metal or hip hop, is kind of difficult to define. AllMusic writer Stephen Thomas Erlewine describes it as a reaction to the gritty punk rock sound of just a few years earlier. And, while it may be difficult to describe just exactly what new wave is, it's entirely possible to name a few instantly-recognizable bands that belong in the genre, alongside Martini Ranch, such as Devo, The Thompson Twins, and The B-52s, among others.
Another Martini Ranch song with a video still available to stream on YouTube is called "How Can the Laboring Man Find Time for Self-Culture?" Both of Paxton's band's best-known songs bear many similarities to other new wave acts of the early 1980s, including heavy reliance on the synthesizer and danceable drum beats. The music blog Smells Like Infinite Sadness likens their music to that of Oingo Boingo, Wall of Voodoo, and Devo. If you're interested in listening to Martini Ranch for yourself and deciding which '80s (or later) band they sound like, their entire catalog is available to buy now at Discogs. Upon the news of Paxton's death, his friend and former bandmate Rosenthal said in a statement (via Slicing Up Eyeballs) "Bill Paxton changed my life. He taught me so much about life and filmmaking ... We were great friends and made some fantastic art together. I have lost a real big brother."