Why Was Craig MacTavish One Of The Last Helmetless Players In The NHL?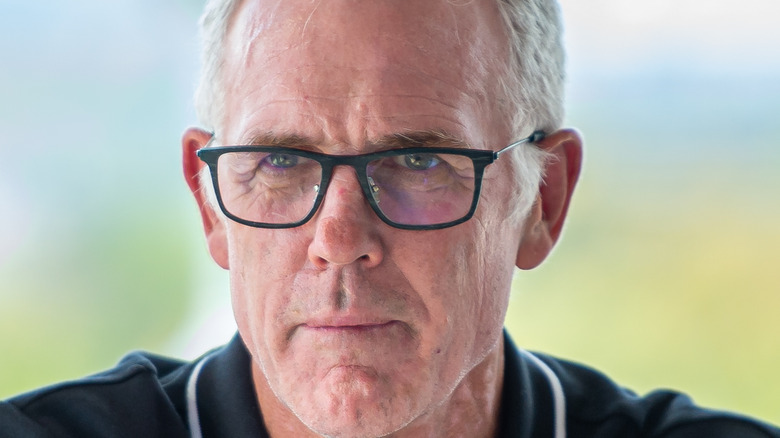 Rvs.media/robert Hradil/Getty Images
In his nearly two-decade career as a professional hockey player, Craig MacTavish was able to gather an impressive resume (via Hockeydb). The 64-year-old is celebrated for playing for the Boston Bruins, the Edmonton Oilers, the New York Rangers, the Philadelphia Flyers, and the St. Louis Blues. According to the National Hockey League (NHL), MacTavish won the Stanley Cup four different times, thrice with the Edmonton Oilers and once with the New York Rangers. When he retired in 1997 at the age of 38, AP News reported that in 1093 season games he had 213 goals. However, MacTavish didn't stay off the rink for long.
A different article from the National Hockey League writes that he turned to coaching the same year he retired. Per Hockeydb, MacTavish has coached for some of his old teams including the Edmonton Oilers and the St. Louis Blues. Although he's had an outstanding career as both a player and a coach, The Hockey News states that there is another reason for MacTavish's notoriety. As explained by the Bleacher Report, MacTavish is known for being one of the last hockey players to play without wearing a helmet. Although he never endorsed playing sans helmet, it was his personal decision to go without one (per AP News).
Why he was officially allowed to play without a helmet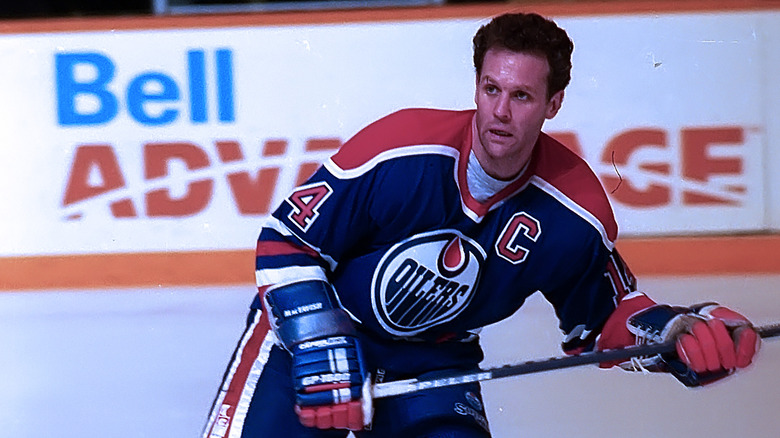 Graig Abel/Getty Images
According to The Hockey News, MacTavish didn't always forgo the helmet. In fact, he wore one when he first began playing for the Boston Bruins in 1979. Moreover, the publication notes that MacTavish also used a helmet while he was in college. Prior to being drafted into the team, MassLive states that the Canadian native attended the University of Massachusetts Lowell. However, MacTavish soon changed his mind about using a helmet. He stated (via The Hockey News), "I practiced all the time without one, and then I decided, ah, f*** it, I'm not going to wear one." That being said, MacTavish was able to do this for a reason.
AP News reports that the NHL officially made helmets mandatory during the 1979-1980 season. Per The Hockey News, any player who had been drafted prior to this could sign a waiver to exclude them from wearing a helmet. If a player had entered the NHL after June 1, 1979, they were out of luck and had to wear a helmet. MacTavish was drafted by the Bruins in 1978 (via Hockeydb).
Needless to say, he opted to sign the waiver to play without a helmet. For whatever reason, MacTavish decided to bring the helmet back for one season. He explained, "I tried putting one on one year (1988-89) and ended up having my best career year offensively, and we won the Stanley Cup in Edmonton, but for whatever reason I took it off the following year" (per AP News).
Craig MacTavish said he preferred to play without a helmet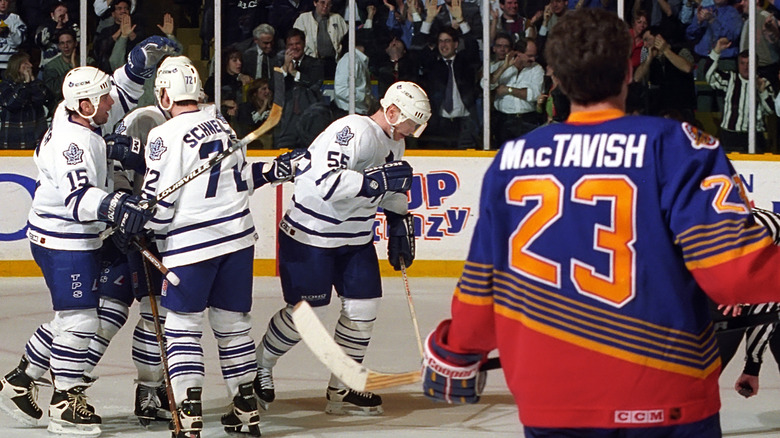 Graig Abel/Getty Images
The Hockey News writes that MacTavish explained that he found the helmets to be uncomfortable. He was perhaps not the only one as 30% of players in the NHL went without one in the 1978-1979 season. The Bleacher Report adds that hockey players have often complained about the helmets and how burdensome they are. MacTavish himself noted (via The Hockey News), "You release a lot of body heat through your head." He went on to say, "I remember being on the bench, throwing up during a game because I was overheating. I wasn't used to it, but you quickly get used to it." Despite these complaints, the NHL has not changed its rules about helmets and has only enforced tighter safety precautions.
When MacTavish retired in 1997, he told AP News that he knew playing without a helmet was risky. He stated, "Whether someone else would choose to go without one, I hope not." He added, "I hope not, for their sake." Despite playing with little protection, MacTavish never suffered any extensive injuries. He said. "That's something I'm thankful and grateful for, that I've gotten out of the game with my health." The Hockey News reports that MacTavish is not the only player to abandon their helmet. Ron Duguay, Guy Lafleur, and Doug Wilson, amongst others have all played without helmets at one point in their careers.