The Unsolved 1979 Murder Of Mona Lisa Two Eagle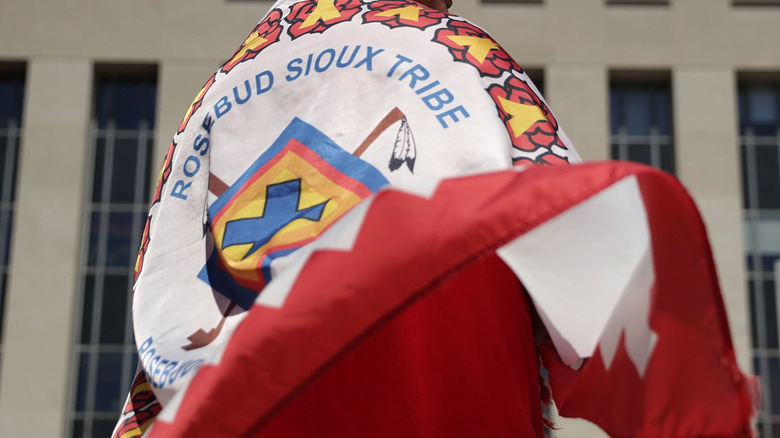 Alex Wong/Getty Images
In February 1979, Mona Lisa Two Eagle of the Rosebud Sioux was last seen by her 12-year-old brother, Phil Two Eagle leaving their home in South Dakota. Mona Lisa got into a red and white pickup truck with two men and the three drove off into the winter night. Not long after, the young mother of two was reported missing. In the days that followed, local law enforcement searched the area on horseback while Mona Lisa's family took the initiative to launch their own search. Two weeks into the investigation, her father and brother located her frozen remains in a field not far from their home. She was beaten and possibly sexually assaulted, but no arrests were made (via the U.S. Congress).
This case is among the many unsolved mysteries of missing and murdered Indigenous women. The details of cases like this are often scant, the investigations frustratingly lax, and those who take interest are left wondering about the perpetrators who have gone free and the families who are denied closure. Mona Lisa's case involves more questions than answers, and it fell under the radar altogether until the 2017 murder of another Native American woman brought it to the public's attention (via The Pierce County Tribune).
Savanna's Act and Mona Lisa's Case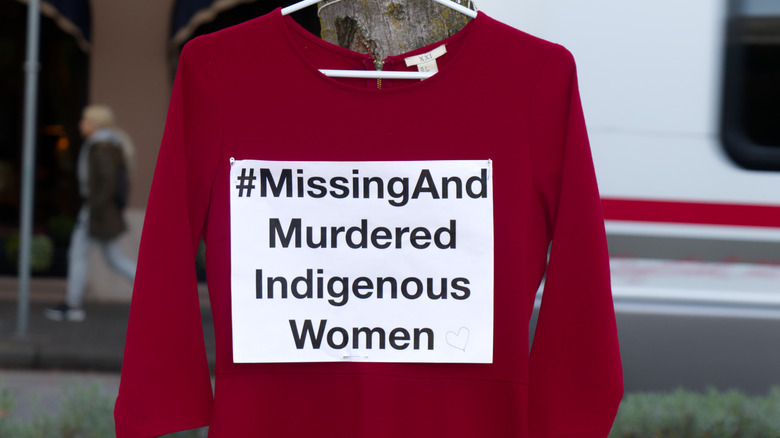 Margarita Young/Shutterstock
Savanna LaFontaine-Greywind disappeared on August 19, 2017, after she left her apartment to assist a neighbor who asked her to model a dress for them. The 22-year-old mother-to-be was in a text conversation with her boyfriend at the time, but when communication ceased for an hour, he became concerned. She was soon reported missing, and Savanna's community and family launched a search for her. On August 27, kayakers discovered her body during a recreational outing in the Red River of North Dakota (via People).
The case shocked the public when it was found that her neighbors conspired to kill Savanna and steal her unborn infant, who was found alive in their apartment after Savanna disappeared. A DNA test confirmed the child was Savanna's (per People). In the aftermath of the case, Savanna's Act was introduced to Congress to improve data collection, coordination between federal, local law enforcement, and tribal leaders, and empower Tribal governments. On October 10, 2020, the bill became law, and with it, the stories of lesser-known Indigenous victims came to light (via National Indigenous Women's Resource Center).
A Case Lost to Time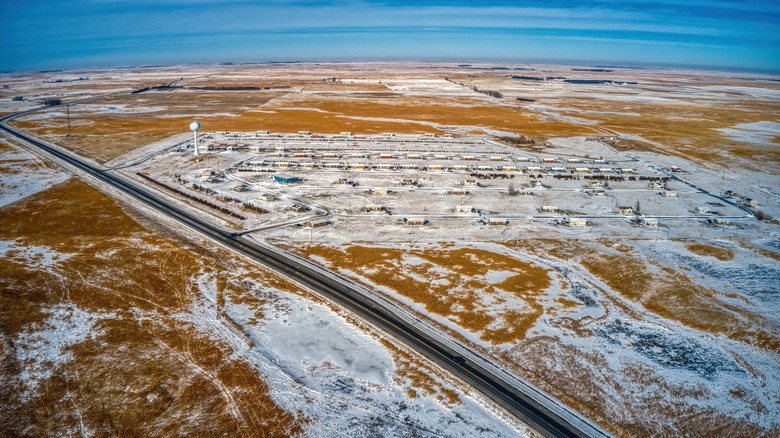 Jacob Boomsma/Shutterstock
One of the biggest questions that remain unanswered in Mona Lisa Two Eagle's case is who were the two men she left with that winter night? According to an interview Phil Two Eagle gave to Teen Vogue, witnesses reported seeing their vehicle parked on the side of the road near the field where she was left in the South Dakota blizzard, others claimed to have seen two men carrying her into a house. Aside from this, nothing helped identify her assailants. Like with so many cases of missing and murdered Indigenous women, law enforcement's investigation was limited, leaving the families of the deceased to pursue answers. 
The FBI's National Crime Information Center database shows that even though Native Americans and Alaska Natives make up only 0.8% of the American population, they make up 1.8% of missing persons cases, as per Teen Vogue. But hope is on the horizon with the Savanna Act, which led to meetings and outreach efforts in 2021 to improve data gathering and law enforcement training (via the U.S. Department of Justice). As government efforts commenced that year, 5,203 Indigenous women and girls were reported missing according to the FBI (via The Crime Report). Therefore, Mona Lisa represents one of many women who fell victim to what has become an epidemic in Indigenous communities.