The Time Gene Simmons Fired Mötley Crüe On Tour In The '80s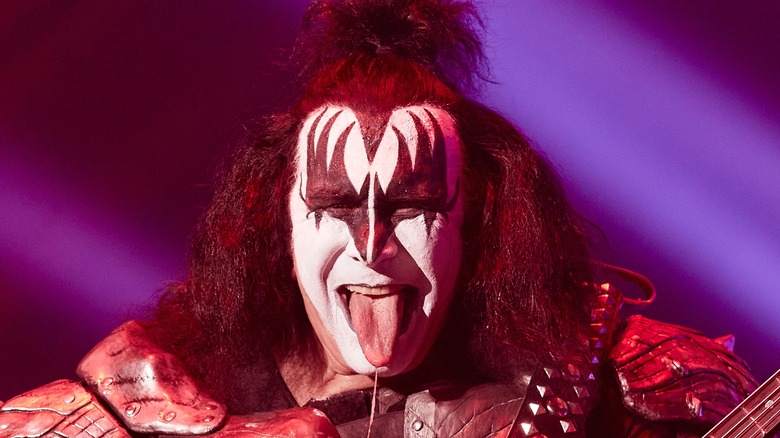 Photography Stock Ruiz/Shutterstock
Mötley Crüe is one of the most important hard rock bands to come out of the 1980s, scoring such hits as "Shout at the Devil," "Home Sweet Home," "Girls, Girls, Girls," "Kickstart My Heart," and many more. However, before they became a rock 'n' roll juggernaut, they were a modest band put together by bassist Nikki Sixx, drummer Tommy Lee, and original vocalist and guitarist Greg Leon, according to AllMusic. When Leon questioned Sixx's creative vision, he was tossed out of the band, leaving them without a guitarist and a vocalist. But the band soldiered on, eventually recruiting guitarist Mick Mars and frontman Vince Neil, and the band was officially crystallized.
The Los Angeles Sunset Strip in the 1980s was a hot spot for budding rock bands, but Mötley Crüe ruled them all with their wild onstage antics. As recounted in AllMusic, the band drafted Allan Coffman as their manager, and together they formed their own record label to release Mötley Crüe's first album, "Too Fast for Love," in 1981. While it wasn't a massive success, it brought the band to a much wider audience, and further cemented their reputation as rock 'n' roll bad boys.
Mötley Crüe gets the bööt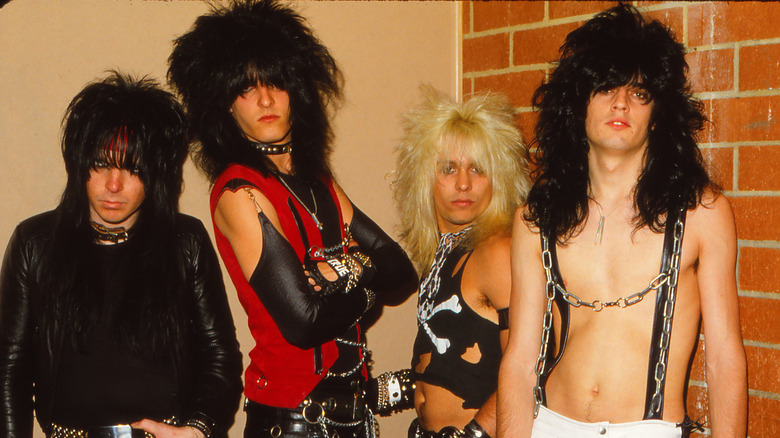 Joel Selvin/Getty Images
Mötley Crüe was just as known for their music as their raucous stage acts, which included over-the-top outfits, pyrotechnics, and more. Of course, they weren't the only band to fuse theatricality with rock music. During a 2019 Q&A, singer Vince Neil related the band's debt to KISS, saying that "KISS has influenced most everybody ... I mean, I was in high school crankin' KISS, you know? ... It was KISS' stage theatrics, absolutely."
Due to the Crüe's admiration for the bedazzled band, it must've been quite an honor when KISS asked them to open for them when they were still early in their music career. According to Rock Celebrities, KISS was going through a dip in popularity in the early 1980s, so they figured they could rejuvenate interest by having an up-and-coming band open for them, picking Mötley Crüe. They served as KISS' opening act for only a few shows, however, as KISS bassist and singer Gene Simmons kicked them off their tour because they partied too hard. One wonders how much partying is too much for a band whose signature song is "Rock and Roll All Nite," but apparently even KISS has their limits.
A rocky rock 'n' roll relationship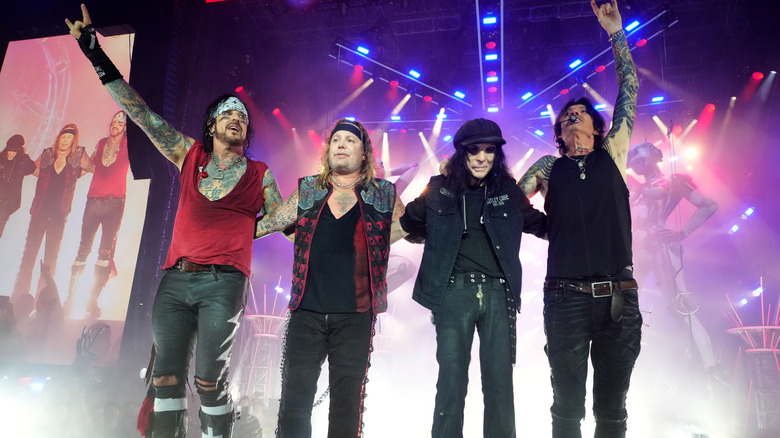 Kevin Mazur/Getty Images
Mötely Crüe went on to become mega-successful throughout the rest of the 1980s, so it doesn't seem like this rejection from KISS so early in their career had much of an impact on them. Still, both bands managed to forget the whole ordeal decades later; Rock Celebrities states that Mötely Crüe and KISS went on a popular North American tour in the summer of 2012 that was even hailed as one of "The Ten Hottest Summer Package Tours of 2012" by Rolling Stone.
However, it seems that the happiness between Mötely Crüe and KISS may not have lasted very long. In 2016, following the tragic death of Prince, Gene Simmons referred to his death as suicide, despite evidence to the contrary (he died of a fentanyl overdose) and called it "pathetic," according to Newsweek. Mötely Crüe bassist Nikki Sixx wasn't happy about Simmons' comments, and stated on his iHeartRadio show (via Billboard) that "when you're in Gene's position, you should have a little bit more than a narrow-minded, bullying sense of what's happening on the earth." Considering how long it took for the two bands to tour together, don't expect them to share a concert bill anytime soon.