Damon Crestwood's Conversation With A Mullins Family Friend Sounds Unsettling In Hindsight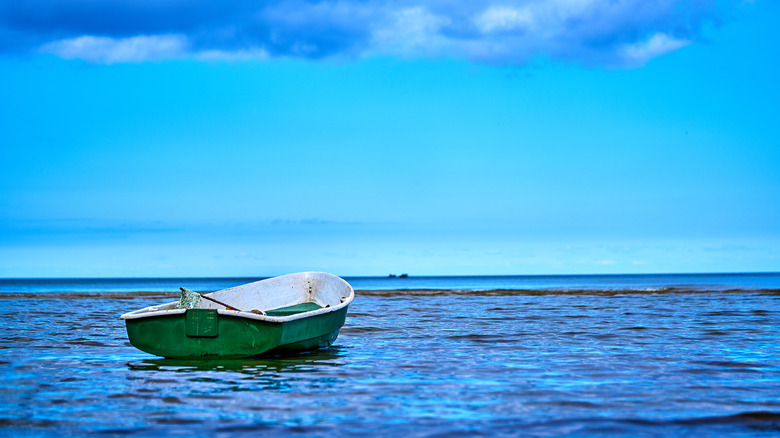 OlegRi/Shutterstock
On January 27, 2013, Patrick Mullins disappeared after taking his boat out on Florida's Braden River (via Newsweek). Patch reports that the 52-year-old was a beloved librarian at Palmetto High School. Netflix writes that Mullins was an experienced boater and knew the river well. So when he didn't return from his outing, his wife, Jill Mullins, was immediately alarmed. A search on the water ensued, but neither Mullins nor his boat was found that day. Two days later, the boat was discovered with no one on board. Shortly after, Mullins' body emerged in Tampa Bay. It was determined that he had died from a shotgun blast to the head.
In addition, Radio Times reports that Mullins had been tied to a 25-pound anchor. According to Patch, his death was ruled a suicide by the Manatee County Sheriff's Office (MCSO). However, Mullins' family refuses to believe that this is what really happened. In their eyes, the MCSO botched the investigation. They note that Mullins was looking forward to retiring and becoming a grandfather. Per Newsweek, his death has now been changed to undetermined and is featured in the third volume of "Unsolved Mysteries." Although it's still unknown what exactly transpired in the moments before Mullins' death, there is a name that has come up in connection to the case — family friend Damon Crestwood (via The Cinemaholic).
Damon Crestwood displayed bizarre behavior after Patrick Mullins' death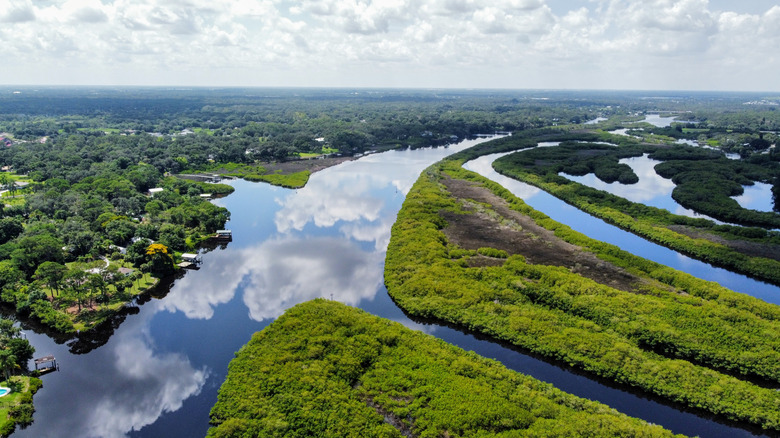 Justin Wells/Shutterstock
According to Radio Times, Damon Crestwood was the Mullins' neighbor. Moreover, he had been good friends with Patrick Mullins' brother, Gray Mullins, since the 1980s or 1990s. Although not much is known about his background, The Cinemaholic reports that Crestwood was a father and chef. That being said, Newsweek notes that he was not particularly close to Mullins. In "Unsolved Mysteries," Dr. Mark Sylvester, a friend, stated, "He was just a likable, dependable, admirable guy. But after Pat's disappearance, his behavior quickly became markedly different." Needless to say, this demeanor irked Mullins' family as they saw Crestwood's life slowly fall apart after the death.
Another article from Radio Times explains that Crestwood told Mullins' wife Jill that he "would go and look out along the Manatee River and cry and sob for hours." Gray Mullins added (via The Cinemaholic) that Crestwood would often "break into tears and then uncontrollable sobbing." However, Mullins' family was confused by this reaction — the two men never had a deep friendship and were, at most, acquaintances.
Even more unsettling, friend Stephen Covey went on to say (via The Cinemaholic), "Damon was just kind of off the rails. Constantly asking, 'If something happened, would you still be my friend? Could I count on you being there?' None of us really knew exactly why."
A family searches for answers
Sergii Gnatiuk/Shutterstock
Radio Times reports that Damon Crestwood was known to have breakdowns every January following Mullins' death. The Cinemaholic adds that on Memorial Day in 2013, Crestwood was seen tying a rope around his waist in a similar manner in which Mullins' remains were found. Ultimately, his actions and conversations with friends led Mullins' loved ones to believe he may have been involved in Mullin's death (via Newsweek). Furthermore, it was uncovered that Crestwood was doing drugs, leading some to wonder if this had been a factor in Mullins' death. "Unsolved Mysteries" notes that investigators did speak to Crestwood, but he refused to divulge if he knew anything about the case.
Per The Cinemaholic, Damon Crestwood died of a drug overdose on April 5, 2017. This was another blow to Mullins' family, as they realized that they were never going to get the answers they wanted from him. In "Unsolved Mysteries," Jill stated, "Given Damon's strange behavior, given his obsession with Pat's death, I feel that Damon [was] aware of what happened." With Crestwood gone, Unsolved Mysteries reports that there are other theories surrounding Mullins' death. It's believed that he may have witnessed something he wasn't supposed to and was killed for it. Now, Patch explains that the family is hoping that the "Unsolved Mysteries" episode titled "Body in the Bay" will solve the case.
If you or anyone you know needs help with addiction issues, help is available. Visit the Substance Abuse and Mental Health Services Administration website or contact SAMHSA's National Helpline at 1-800-662-HELP (4357).