The Two Duran Duran Side Projects That Are Now Forgotten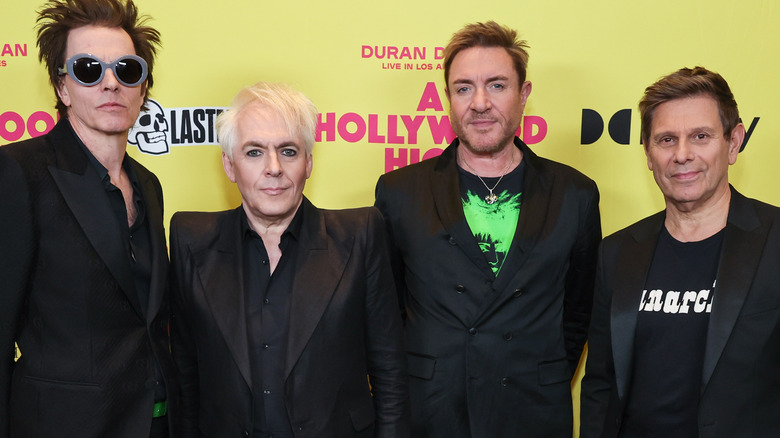 Randy Shropshire/Getty Images
The long career of British new wave group Duran Duran will be honored at the 2022 Rock & Roll Hall of Fame induction ceremony, per the museum's website. Since the band's first album came out in 1981, the English band put out a string of hits like "Rio," among others; songs recognizable today not only for those who grew up in the '80s but also for subsequent music-listening generations (via AllMusic). But younger fans today may not realize that in 1983, at the peak of Duran Duran's success, the band went on a prolonged hiatus — there's a three-year gap between the group's '83 album, "Seven and the Ragged Tiger," and '86 comeback record, "Notorious."
It was also around that same time when Duran Duran was inactive that two side projects were formed: One featured three members from Duran Duran exploring a somewhat different direction in sound, while the other was more like a supergroup, with two Duran Duran members, another famous lead singer, and a disco-rock drummer from a band called Chic (per AllMusic). In 1985, both projects put out only one album (one Duran Duran side project from that era released a follow-up album years later). Despite that small output, both Duran Duran side projects produced hits of their own.
Robert Palmer was The Power Station's lead singer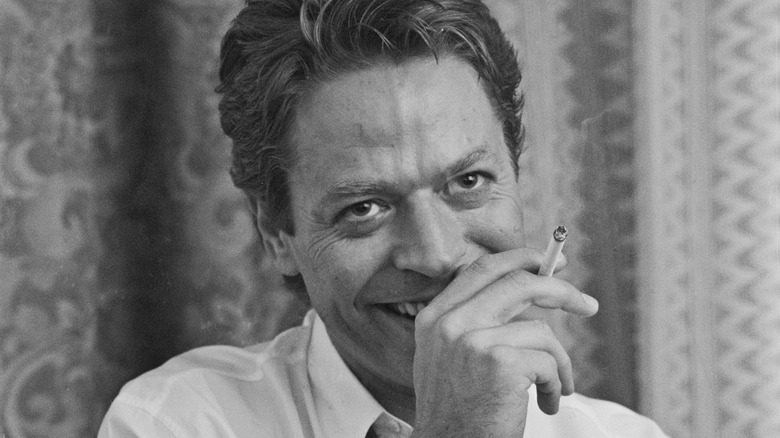 Express/Getty Images
The first Duran Duran side project from the '85 period was called The Power Station and featured Robert Palmer on vocals, best known for the hit "Addicted to Love" off his '85 album "Riptide" (via AllMusic). Joining Palmer (pictured) in The Power Station on drums was funk-rock drummer Tony Thompson from the band Chic, as well as Duran Duran's John and Andy Taylor on bass and guitar (via AllMusic). The band first got together to record a cover of the T. Rex hit "Bang a Gong" — The Power Station's version was also successful — and the quartet also recorded an album, 1985's self-titled "The Power Station." (Palmer died in 2003, per Billboard). 
The Power Station debut release also featured "Some Like It Hot" — a hit song you've most likely heard in a classic rock mix from the era, perhaps without realizing it features two "Duranees," John and Andy Taylor (no Duran Duran Taylors are related). Surprised by their success, The Power Station planned a tour, but Palmer dropped out at the last minute. The band tried different vocalists and appeared at the 1985 Live Aid benefit but broke up shortly after (per History). In 1996, the band released its long-awaited follow-up to its '85 release, "Living in Fear." Despite the return of Robert Palmer on vocals, the album failed to gain traction.
Arcadia featured three members of Duran Duran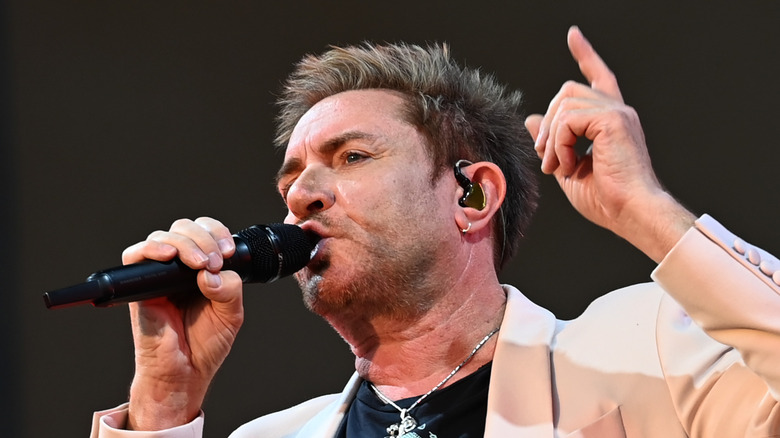 Dave J Hogan/Getty Images
Also around that same time, Duran Duran lead singer Simon Le Bon (pictured), keyboardist Nick Rhodes, and drummer Roger Taylor formed Arcadia. With an experimental tone, Arcadia's sound is similar in many respects to Duran Duran, especially when compared to The Power Station (via AllMusic). Like The Power Station, Arcadia put out one record, 1985's "So Red the Rose," which produced a number of hit singles in the U.K. and in America. John Taylor himself made a cameo in Arcadia's video for their hit song, "The Flame" (via IMDb), and other Duran Duran members contributed to both projects. Another well-known Arcadia song is "Election Day," which reached the top 10 in both the U.S. and Britain.
On the two Duran Duran side projects, John Taylor later said (via The Quietus), "It was the two ends of the band really, wasn't it? You had the arty end and the rock end. A kind of parting of the waves. I think Arcadia has stood the test of time better, maybe. The feeling was that The Power Station was more successful at the time. It was a bigger commercial success. Arcadia was probably cooler." When Duran Duran returned with "Notorious," Roger Taylor had left (he returned in 2001, per OffBeat). Andy Taylor left shortly after (per Totally '80s), though he returned in 2000 and left again in 2006, via Ultimate Classic Rock.) According to AllMusic, Duran Duran's last full-length album was 2021's "Future Past."