Actor Leslie Nielsen Has One Last Joke Written On His Gravestone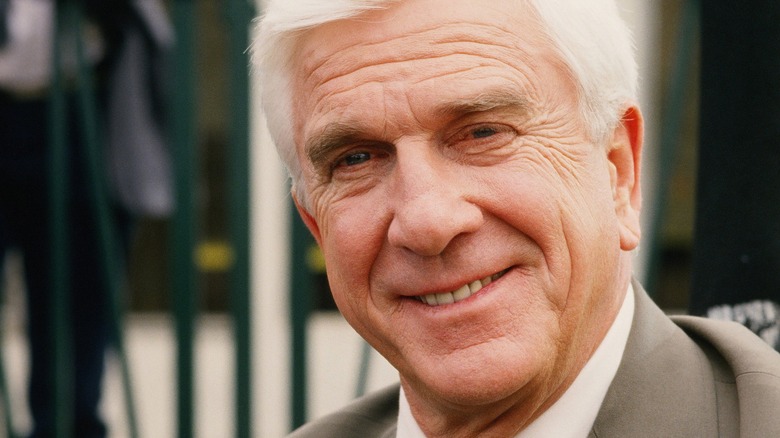 George Rose/Getty Images
Actor Leslie Nielsen is perhaps best remembered for his silly, often slapstick-heavy turns in such comedy classics as "Airplane!," "The Naked Gun," and its many sequels, several entries in the "Scary Movie" franchise, and the titular role in "Dracula: Dead And Loving It." But the first half of his career had a very different tone. Born in Regina, Saskatchewan, Canada on February 11, 1926, Nielsen discovered his love of performing after high school and a year in the Royal Canadian Air Force, at which point he moved to Calgary to work as a radio announcer, per Turner Classic Movies. He went on to study at New York's Neighborhood Playhouse School, appeared in several theater productions and early television dramas, and eventually relocated to Hollywood where he broke out in 1956 in his role as the lead commander of a spaceship in the science fiction film, "Forbidden Planet." Several Westerns and war movies followed as well as a turn as a police chief on the television show, "The Bold Ones: The Protectors."
His comedic years kicked off in 1980 when directors David and Jerry Zucker cast Nielsenother dramatic actors known for their somber, unflappable demeanors in "Airplane!," a send-up of disaster movies like "Airport" and "The Poseidon Adventure," the latter of which included Nielsen in its cast. It was in "Airplane!" that Nielsen uttered one of his most famous lines. Upon being told "Surely you can't be serious!" he responded, deadpan, "I am serious. And don't call me Shirley."
Leslie Nielsen had a passion for flatulence jokes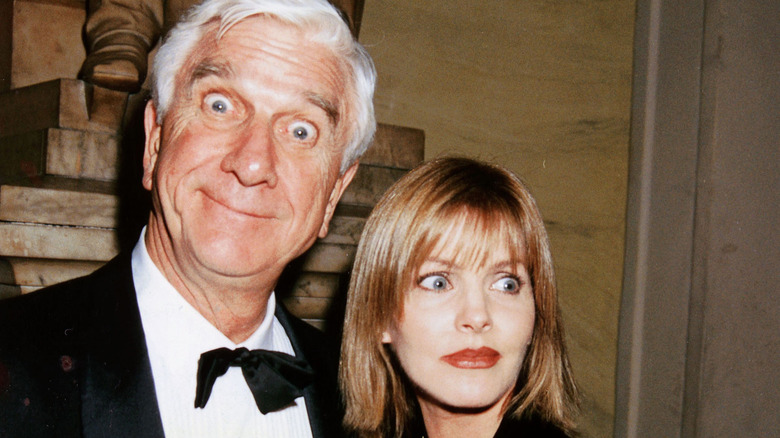 Dave Benett/Getty Images
It seems that the comedic roles for which Leslie Nielsen (shown above with Priscilla Presley, his co-star in "The Naked Gun") became known for were a good match for his actual fun-loving, goofy personality. His friends and colleagues remember Nielsen for his love of practical jokes. A large portion of the AV Club's oral history of "Airplane!" is devoted to Nielsen's favorite prop: A portable fart machine. Co-director David Zucker reminisced: "He had that little fart machine of his, so that every time he was interviewed on a show or something ... he would be talking with a straight face, and then he would appear to be farting. That's just what he liked to do." 
Actor David Leisure referred to his co-star as "a virtuoso fart musician," while actor David Hays told the AV Club, "Oh, God, there are so many Leslie Nielsen fart machine stories," recalling how an extra was excited to introduce herself to Nielsen only to return, horrified, asking "Do you know what he did?" Nielsen went so far as to purchase a bevy of fart machines and resell them to the rest of the cast and crew. Per actor Lee Bryant, the set turned into "a cacophony of farts," prompting the directors to proclaim, "All right, we're going pass the basket around now, and you guys are all going to have to turn these things in, because we're going do a take now, and if I hear one sound ... "
Leslie Nielsen is still joking from beyond the grave
Leslie Nielsen's love of his portable fart machine continued for the rest of his life. Actor Ross Harris told the AV Club, "The funny thing is, when we did the commentary and interviews and stuff for the anniversary DVD, Leslie was still carrying his fart machine around. It was the last couple of years of his life, and I think he was starting to get a bit senile, but he was still carrying that thing around." Nielsen referenced his favorite accessory in a 2008 Esquire interview, noting, "I have a fart machine that I usually bring with me. I was at a bar once, going down toward the john, and these two guys were in a confrontation and things were getting a little dicey," going on to describe setting off the machine and making the men laugh and forget about their fight.
Leslie Nielsen died November 28, 2010, at 84, but his love of a fart joke lives on. As reported by the Daily Mail, Nielsen announced in a 1996 interview that he planned to have the epitaph "Let 'er rip" on his gravestone. Visitors to the Evergreen Cemetery in Fort Lauderdale, Fla., can stop by Nielsen's grave site and enjoy one last fart joke from him. If someone needs to rest and catch their breath from too much laughter, they may do so on a nearby bench, also in honor of Nielsen, which reads, "Sit down whenever you can."