Bob Dylan's High School Yearbook Showed His Dreams Of Musical Stardom Started Early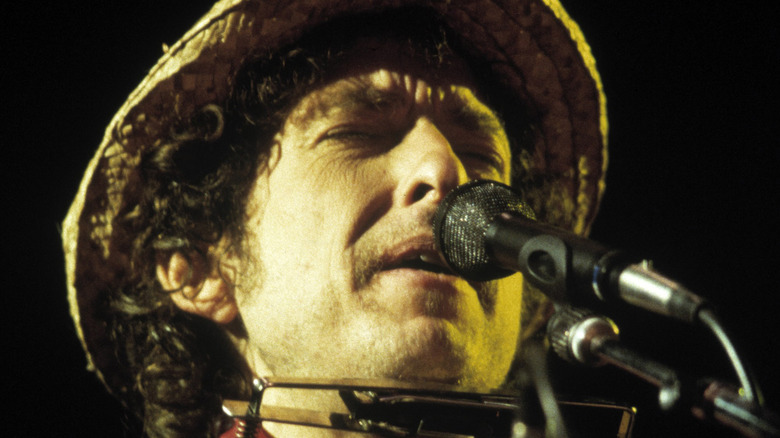 United Archives/Getty Images
Bob Dylan is one of the most important and influential artists in rock, pop, and especially folk music. In fact, it is the folk genre that he is most associated with. As stated in Psyche, Dylan's early days as a singer and songwriter saw him diving deep into the folk tradition, often reimagining existing songs in his own style and reusing many of the tropes of the genre in his formative songs. Woody Guthrie was a particularly strong influence on the aspiring musician when he was getting started in the early 1960s.
Dylan rose to prominence in the budding folk music scene with him leading the charge. However, the icon would soon cause some controversy when, according to History, he "went electric" at the Newport Folk Festival in 1965, a move that didn't sit so well with many of his fans. To be fair, he didn't give them much of a warning; it was only five days prior that he released his rock-tinged song, "Like A Rolling Stone," so the audience was a bit shocked to see him hit the stage with large-scale amplification rarely seen at folk music festivals. While Dylan largely stuck to his folk roots for the remainder of his career, that wasn't actually his initial dream.
Bob Dylan's teenage rock 'n' roll dreams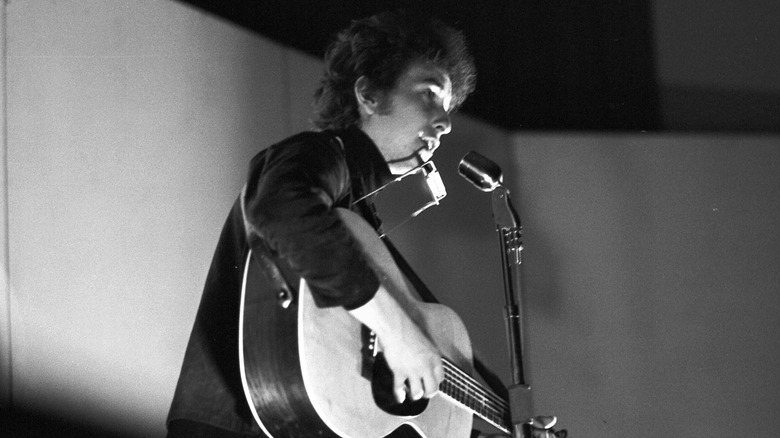 John Byrne Cooke Estate/Getty Images
It should come as no surprise to anyone that Bob Dylan dreamt of becoming a famous musician when he was a teenager. However, what may come as a surprise to many is that he originally dreamt of becoming — not a folk music star — but a rock music star. According to Far Out Magazine, when Dylan was in high school in the 1950s, he was a massive fan of the first generation of rock 'n' roll stars who had just hit the airwaves, including Chuck Berry, Jerry Lee Lewis, and Elvis Presley.
Rolling Stone states that Dylan's biggest early influence was Little Richard. This is evidenced by his high school yearbook, which states that his biggest goal in life was to "to join Little Richard." Of course, when Dylan reached adulthood, he largely left rock music behind to focus on cultivating himself as a folk artist, only sporadically flirting with the more rebellious genre throughout his career.
A teenager's rock 'n' roll dreams realized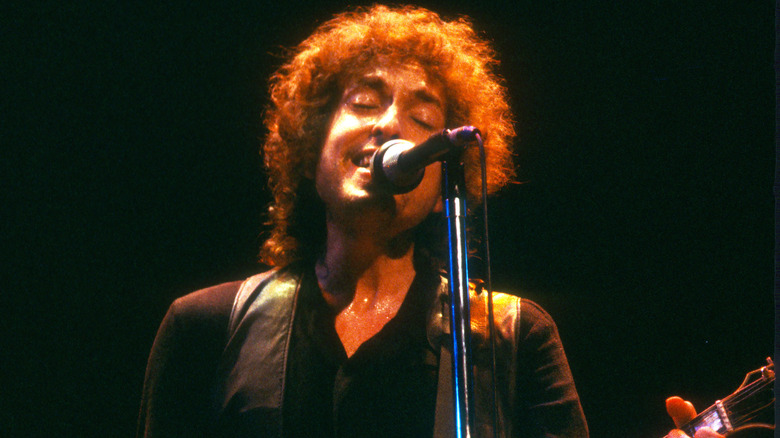 Larry Hulst/Getty Images
Bob Dylan may have had an on-and-off-again relationship with rock 'n' roll, but he was always pretty faithful to folk music. The musician revealed to Cameron Crowe in 1985 (per Far Out Magazine) that "the thing about rock 'n' roll is that for me anyway it wasn't enough. There were great catchphrases and driving pulse rhythms ... but the songs weren't serious or didn't reflect life in a realistic way. I knew that when I got into folk music, it was more of a serious type of thing." This is hardly surprising, as Dylan's persona was always closer to that of a blue-collar poet than a stylish rebel.
Still, that doesn't mean that he wasn't able to kick out some electric jams on occasion, even fulfilling his teenage dream of joining Little Richard. When Little Richard passed away on May 9, 2020, Dylan tweeted "I played some shows with him in Europe in the early nineties and got to hang out in his dressing room a lot." It looks like his teenage dream turned out to be far more accurate than anyone could've realized.