Inside Carly Simon's Whirlwind Voyage From London With Sean Connery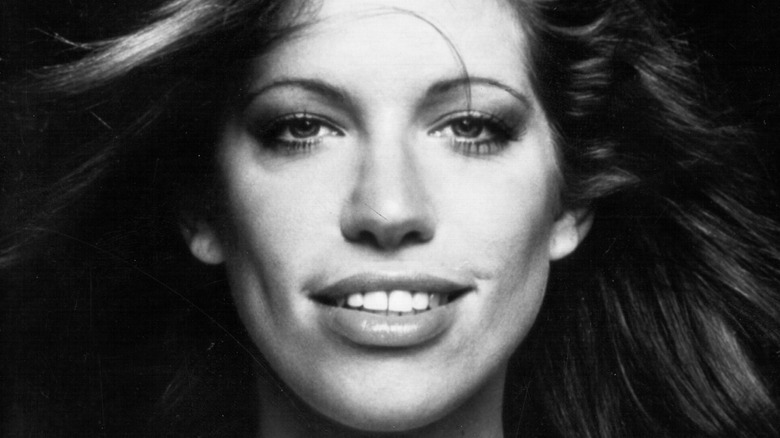 Michael Ochs Archives/Getty Images
Update: A prior version of this article stated Lucy Simon was 22 at the time of the voyage; however, she was in her mid-20s. The article has been updated to reflect this.
After dropping her 1972 hit single "You're So Vain," Carly Simon became a music legend (via Biography). Moreover, The Guardian writes that her personal life and many high-profile relationships have added to the media's fascination with the singer-songwriter. Notably, Simon was married to fellow singer and songwriter James Taylor for 11 years (per Smooth Radio). She also romanced Warren Beatty, Mick Jagger, and Jack Nicholson, among others. In 2015, Simon released her memoir "Boys in the Trees." Here, Rolling Stone states, Simon writes about her many lovers and her extensive career, including her life before she became a renowned solo artist.
According to People, Simon and her sister, Lucy Simon, were performing a music act as The Simon Sisters in the 1960s. AllMusic explains that they were signed to Kapp Records and had some success with their song "Winken, Blinken and Nod." The duo mostly performed folk music, including original songs and covers, with AllMusic comparing them to the famed folk group Peter, Paul & Mary. According to some accounts, The Simon Sisters disbanded because Lucy decided to get married and attend nursing school. Carly then successfully went solo. However, in "Boys in the Trees," Carly told a different story that involved James Bond actor Sean Connery.
Sean Connery proposed a threesome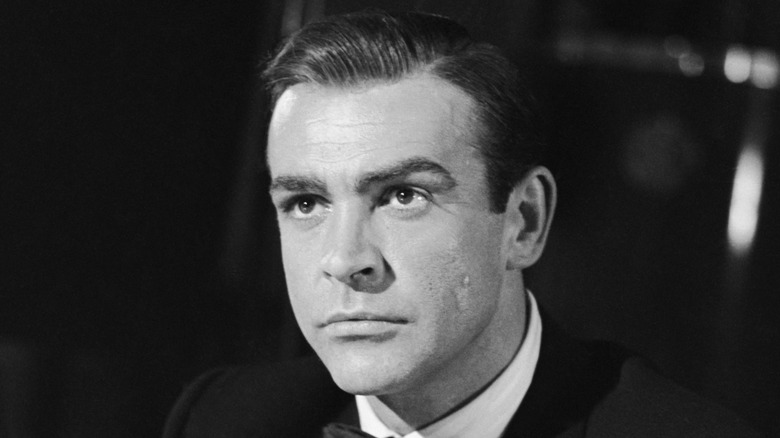 The Graham Stark Photographic Library/Getty Images
In "Boys in the Trees," Rolling Stone reports, Carly Simon opened up about meeting Connery while traveling home from London via ship in 1965. According to Billboard, Carly, who was 20 at the time, was accompanied by her older sister Lucy, then in her mid-20s. When the pair realized that Connery was also on the ship, they were starstruck. Carly wrote that Connery "was far handsomer in person." In order to get close to the star, Carly and Lucy sent him a note saying that they were not "ordinary fans" and that their father was no one other than Richard L. Simon, co-founder of the publishing house Simon & Schuster.
Per Rolling Stone, the note worked and the sisters got to meet Connery on a personal level. They ate, drank, and were entertained by the actor. Billboard adds that Connery opened up to Carly and Lucy about a recent LSD trip. Things went so well that Connery invited the girls to his room the next night. There, they had a drink and Connery made a shocking request. The Daily Mail states that the actor, who was 35 and married, asked if the sisters were interested in having a threesome. Carly's friend later referred to this proposition as a "Simon sisters sandwich" (via Billboard). Ultimately, Carly and Lucy turned him down.
The voyage led to the demise of The Simon Sisters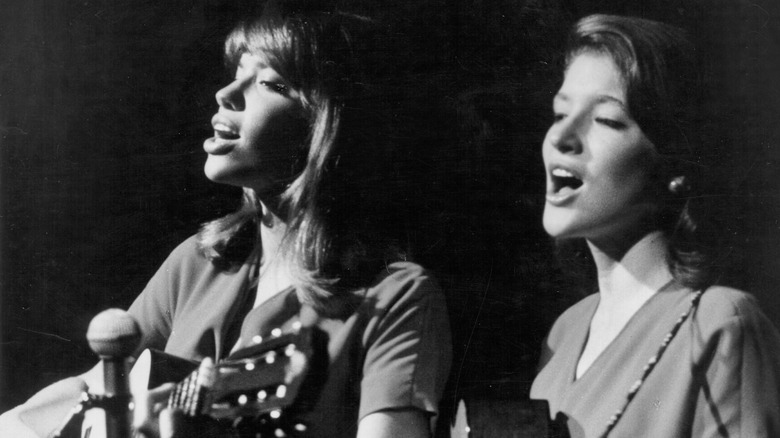 Michael Ochs Archives/Getty Images
Although Lucy's relationship status at the time of this voyage is unknown, the Daily Mail states that Carly was dating writer Willie Donaldson. After the sisters rebuffed Connery, it seems that Lucy had a change of mind. Per The Hollywood Reporter, Lucy met with the Bond actor the next night without her sister. Much to Carly's dismay, Lucy didn't return to her room until 5:15 a.m. When their ship landed in New York, Carly used this deception as an excuse to put an end to The Simon Sisters and go solo.
Britannica writes that Carly became one of the biggest music acts of the 1970s. In 1971, she won a Grammy for Best New Artist of the Year (via Biography). The following year, she released the now-iconic song "You're So Vain." However, AllMusic reports that this was not entirely the end for The Simon Sisters. In 1969, they reunited to record an album of children's music. According to People, Lucy went on to have a successful career in the music and entertainment industry. She released two more children's albums and became a Broadway composer. Lucy Simon died October 21 at the age of 82 (per The New York Times). Their sister Joanna had died the day before, age 85 (per People).