Here's Where Burl Ives Is Buried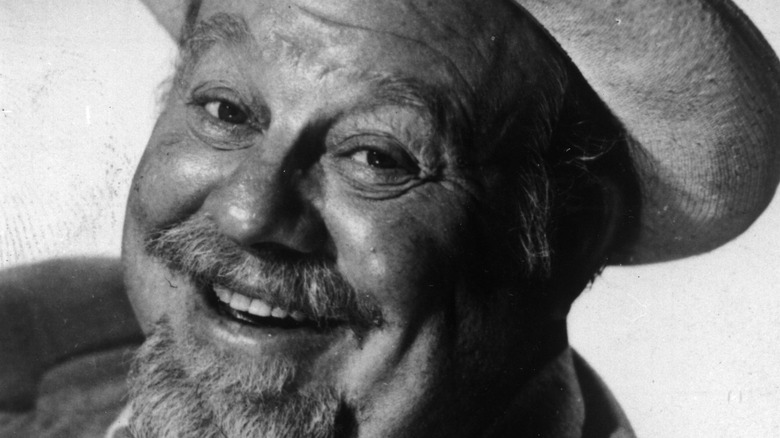 Keystone/Getty Images
Burl Ives was something more than the sum of his enormous parts. A singer, actor, and entertainer, the smallest children and the most sophisticated adults alike could sense that there was something unique and wonderful about him. He was as convincing as Big Daddy in the film adaptation of Tennessee Williams' drama "Cat On a Hot Tin Roof," playing against Elizabeth Taylor and Paul Newman (watch him in a clip on YouTube) as he was singing as Sam the Snowman in the American Christmastime television favorite "Rudolph the Red-Nosed Reindeer" (also on YouTube).
Ives was a huge man, overflowing with vitality and warmth. By the time he died in 1995 at almost 86 — his obesity (six feet tall and 300 pounds, per The New York Times) and his lifelong overindulgence in pipes and cigars having finally caught up him — he was something of a legend (via TCM). But he wore that lightly. His gravestone calls him "equally at home before the royalty of Europe and the farm folk of Midwestern USA" (per Find a Grave). It was among the latter that he finally came to rest, in Hunt City, Illinois, the place of his birth. 
Singer, athlete, hobo
According to TCM, Ives was born in 1909 to a family of poor farmers. A burly boy, he excelled at football and initially wanted to coach it professionally, enrolling in a teacher's college in the late 1920s. But college life was too staid for Ives, who dropped out in order to travel the West as a hobo, stealing rides on freight trains. (Ever the wit, Ives liked to call himself a "tourist without funds.")
By the 1930s he was singing and playing the banjo more or less professionally in bars, relying on his warm baritone voice and vast memory for lyrics. He had the gift of making audiences feel comfortable, and soon he found himself in demand as a singer. According to Find a Grave, he moved to Greenwich Village, in Lower Manhattan, in 1937, where he made his Broadway debut and starting cutting records. Many of these were folk songs from his hobo years, like "Big Rock Candy Mountain," but his repertoire expanded to include Nashville-style country, show tunes and, famously, Christmas carols.
A serious artist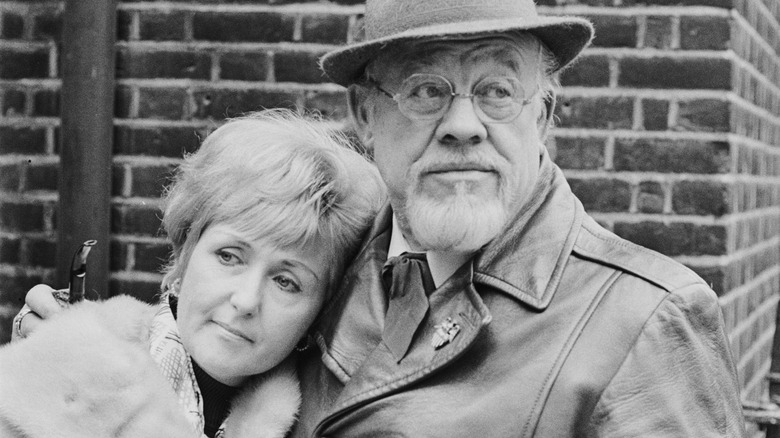 Ronald Dumont/Getty Images
After his service in World War II, Ives began acting in movies. At 37, he was much older at his debut than most actors, and had no formal training. Nevertheless, Ives had huge funds of human understanding and artistic discipline, which directors recognized. Most of his singing career had been "light entertainment," folksy and easygoing; as an actor he leapt into serious work. In 1959, he received an Oscar for best supporting actor for his role in "The Big Country," a western (per The New York Times). Besides "The Big Country" and "Cat on a Hot Tin Roof," where he played a bitter Southern patriarch dying of cancer, Ives also starred in "East of Eden" alongside James Dean.
These serious roles began to give way to lighter parts, often geared toward children. His age and increasingly husky voice gave him a grandfatherly appeal, and "Rudolph the Red-Nosed Reindeer" was accompanied by a spate of children's music albums. TCM notes that the folk revival of the mid-1960s brought him a brief resurgence, but by the '70s Ives had mostly retired. He would die at home in Washington State, according to The New York Times; that they brought him back home to Hunt City for burial (per Find a Grave) sounds like a story he might have sung.