How The Backpacker Murderer's Great-Nephew Kept Killing In The Family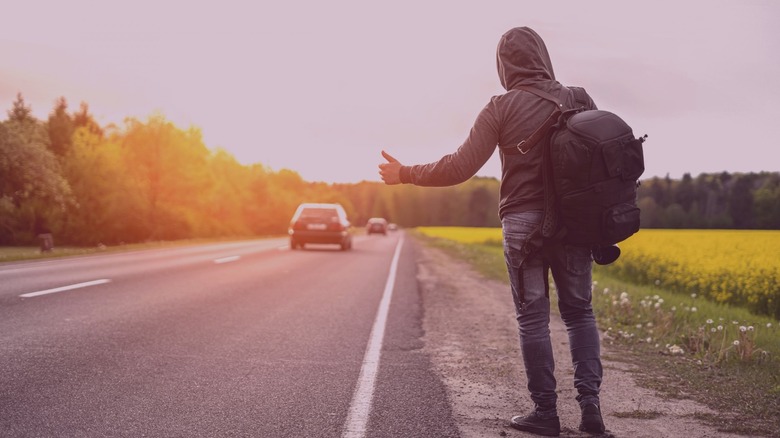 silicaetran/Shutterstock
Between 1989 and 1992, at least seven people between the ages of 19 and 22 were abducted while hitchhiking along a highway running between Melbourne and Sydney, Australia. As reported by BBC, the seven known victims were all driven to the Belanglo State Forest in New South Wales, where they were killed and buried in shallow graves.
Law enforcement officials said the victims were buried face down after being stabbed and shot, with their hands tied behind their backs. In addition to evidence suggesting the victims were physically tortured, it has been suggested that they suffered even further, as their deaths may not have been immediate.
The Backpacker Murderer was ultimately identified using information provided by a hitchhiker, who managed to escape before he was killed. BBC reports that Paul Onions was hitchhiking in 1990 when a man pulled over to offer him a ride. Once inside the car, Onions noted the man had rope and a gun. As he feared for his life, he got back out of the vehicle and began to run. Although the man pursued Onions on foot and fired several shots at him, Onions managed to escape unharmed.
Onions immediately reported the incident to authorities, but law enforcement officials did not talk to Onions again until 1996, when the would-be victim called them to point out similarities between his experience and the victims of the Backpacker Murderer.
Ivan Milat was convicted of murder and sentenced to seven consecutive life terms without the possibility of parole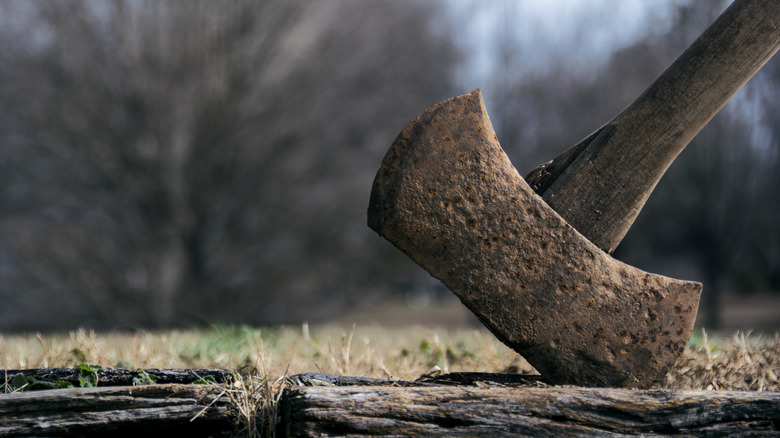 Tyler Stockton/Shutterstock
According to the Guardian, Paul Onions confirmed Ivan Milat, who was a suspect in the murders of the hitchhikers, was the same man who tried to abduct him. In addition to Onions' description of the Backpacker Murderer, authorities found several pieces of evidence in Milat's home and in the homes of his relatives, directly linking him to the victims. Despite all of the evidence tying him to the murders, BBC reports Milat maintained he was innocent, and blamed the murders on his brother Richard. However, Milat was ultimately convicted on seven counts of murder, attempted murder, and false imprisonment. He was subsequently sentenced to serve seven consecutive life terms without the possibility of parole. Sixteen years later, Milat's great-nephew, Matthew Milat, was also convicted of murder.
According to AETV, Matthew lured his friend David Auchterlonie to the same forest where his uncle Ivan buried his victims. Although Matthew told Auchterlonie they would be celebrating his birthday, he ended up torturing and eventually killing his friend instead.
Matthew was only a toddler when Ivan was convicted and imprisoned for his crimes. However, Ivan had become a legend of sorts within the family. According to one of Matthew's friends, he would often brag that his uncle was a convicted killer. AETV reports Matthew was convicted of murder and sentenced to 43 years in prison. He will not be eligible for parole until 2042.
Matthew Milat killed his friend in the same place his great-uncle killed his victims
Although Ivan Milat maintained his innocence until he died of cancer in October 2019, AETV reports Matthew seemed to be proud of what he had done and proud to be the second member of his family to have been convicted of murder. When asked why he killed his friend, Matthew reportedly said, "You know me, you know my family. You know the last name Milat. I did what they do." Ivan, however, was not impressed with his great-nephew's behavior. According to AETV, Ivan said he was "shocked" and "dismayed" when he learned Matthew had committed murder.
Despite the fact that he committed a heinous crime, Matthew reportedly became a celebrity of sorts amongst his fellow inmates. As reported by Daily Mail, a corrections officer, who was not named, explained that a violent murder is " ... considered good in terms of status — the more serious your crime the more status you have." The corrections officer said Matthew routinely bragged and joked about killing his friend, which helped elevate him to the status of a "hero" among the other inmates.
Aside from bragging about committing a heinous crime, Matthew has been described by corrections officers and his fellow inmates as "charming." However, there may be an ulterior motive behind his behavior. A prison psychologist suggested Matthew is simply attempting to gain favor with the corrections officers so he can get special privileges.