Mel Blanc's Gravestone Pays Homage To His Looney Tunes Characters Perfectly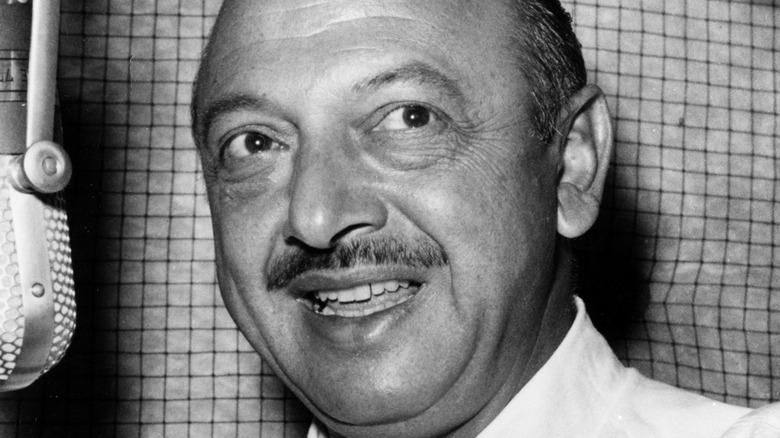 Michael Ochs Archives/Getty Images
Few have done more for the art of voice acting than the legendary Mel Blanc, the man behind such iconic characters as Bugs Bunny, Daffy Duck, Mister Magoo, George Jetson, and hundreds of others. According to Oregon Encyclopedia, the voice actor was born on May 30, 1908, in San Francisco's Mission District, only to move to southwest Portland with his family when he was just 6 years old. It was there that he would get his first taste as an artist of the human voice.
When he was still a teenager, Blanc sang on the kids' radio show "Stories by Aunt Nell" on KGW, which led to the station hiring him to write and perform on its variety show, the "Hoot Owls." As stated in Oregon Encyclopedia, this job allowed him to expand his talent as a performer and voice actor, cultivating a wide range of accents and inflections. Blanc was becoming quite popular in Portland, but it would only be a few more years before he'd become a household name around the country.
An abounding career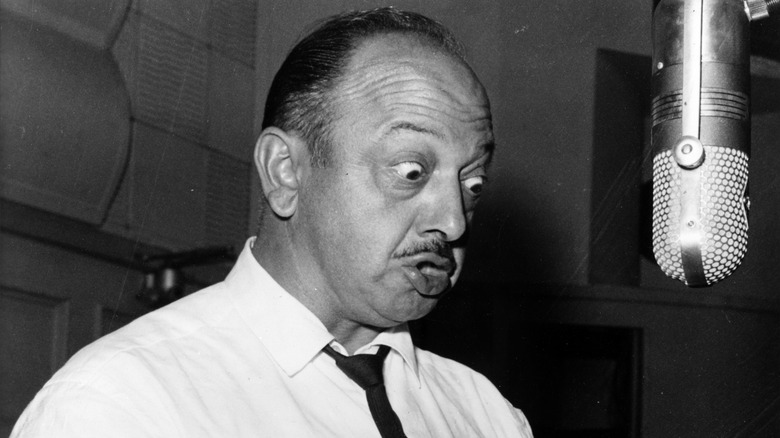 Michael Ochs Archives/Getty Images
According to Turner Classic Movies, 1939 was a big year for Blanc, as it saw him become a regular on the extremely popular "The Jack Benny Program" radio show, which greatly boosted his popularity. He further developed his talent for voices and sound effects, and he soon became a high-demand talent, appearing on other top radio shows at the time, including "Burns and Allen" and "Abbott & Costello."
However, Turner Classic Movies states that Blanc's real big break came in 1940; the voice actor was shown some early designs of a rabbit cartoon character at the Warner Bros. lot and was tasked with coming up with a voice. After deciding on a Brooklyn accent and changing the name from Happy Rabbit to Bugs Bunny, Blanc helped create one of the most iconic characters in pop culture. Bugs was extremely popular, and it wasn't long before Blanc voiced countless other cartoons for the studio's "Looney Tunes" stable, including Daffy Duck, Porky Pig, Yosemite Sam, Foghorn Leghorn, and many more. After two straight decades of working exclusively for Warner Bros., Blanc voiced another generation of beloved characters, this time at Hanna-Barbera, breathing life into such characters as Barney Rubble and Dino of "The Flintstones," Cosmo Spacely of "The Jetsons," and many more.
Mel Blanc's last laugh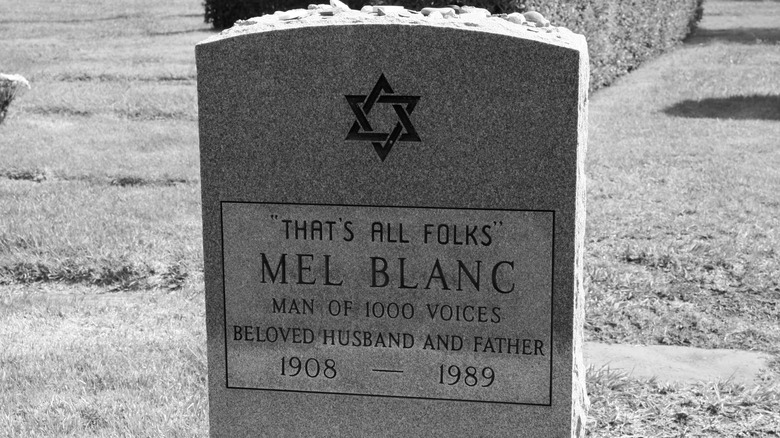 Amy T. Zielinski/Getty Images
According to Turner Classic Movies, Mel Blanc realized during his later years that he couldn't voice his beloved characters forever, and began the process of passing on his vocal duties to other voice actors, his son Noel among them. However, before his death, Blanc supplied vocal work for the biggest-budget project of his career, providing the voices for Bugs Bunny, Daffy Duck, and Tweety Bird for the 1988 hit movie "Who Framed Roger Rabbit?" It was a terrific way to cap off a career that brought so much joy to so many audiences. Mel Blanc died July 10, 1989 at Cedars-Sinai Medical Center in Los Angeles after being hospitalized for "heart problems and ... other medical problems as well," according to hospital spokesman Ron Wise, as quoted in The Washington Post. He was 81 years old.
Blanc's voice will live on forever, but that hasn't stopped others from immortalizing the icon in various other ways. For those in the LA area, be sure to check out his star on the Hollywood Walk of Fame, located at 6385 Hollywood Blvd. However, the most fitting tribute to Blanc is on his gravestone at the Hollywood Forever Cemetery which, as stated in Atlas Obscura, is emblazoned with the catchphrase of one of his most famous characters, Porky Pig: "That's All Folks."