UFC Fans Have Intense Reaction Over The Queen's Death
Dan Kitwood/Getty Images
All around the world, people have been mourning since Queen Elizabeth II's death was announced on September 8. As reported by the BBC, she died peacefully at Balmoral Castle at 96 years old after reigning for 70 years, the longest of any British monarch. Tributes to Queen Elizabeth II were posted on social media, and the UFC honored her by displaying a photo of her on the big screen just before a match. What was supposed to follow was a moment of silence, but the crowd of thousands reacted differently.
On September 10, UFC 279 was held at the 20,000-capacity T-Mobile Arena in Las Vegas and before the main card, the big screen showed an image of the monarch with the words, "In memory of Queen Elizabeth II 1926-2022." According to Insider, instead of being silent for the tribute, the crowd started booing and chanting "USA! USA!" It isn't clear what caused the crowd's adverse reaction toward the tribute, but perhaps the fans were just fueled with adrenaline while waiting for the main card to begin. Queen Elizabeth II's image was taken down from the big screen shortly afterward.
UFC paid tribute on Twitter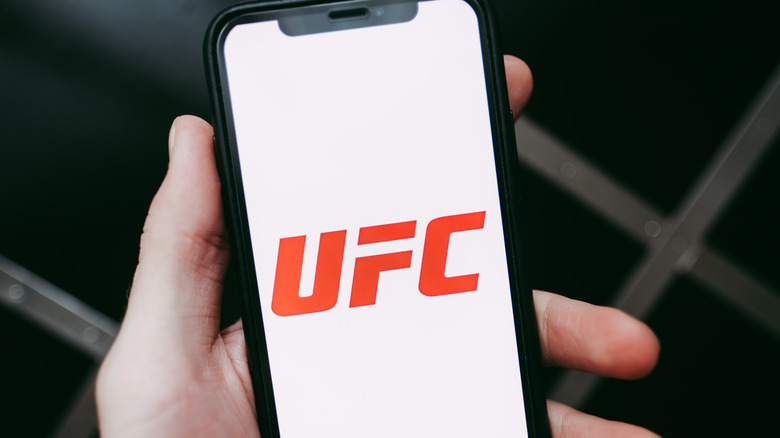 nikkimeel/Shutterstock
UFC 279 wasn't the only sports event that elicited an intense reaction to a tribute to Queen Elizabeth II. Per Metro, the monarch's passing was reported while FC Zurich and Arsenal's Europa League was in the middle of a soccer match, and a tribute was immediately arranged before the second period of the game began. A photo of the queen was displayed on the big screen followed by a minute of silence. For the most part, the crowd kept quiet, but not long enough for a minute to pass. About 40 seconds into the silence, the restless crowd started booing and jeering, which prompted the game to commence before the minute was up.
The UFC again honored the late monarch by posting a tribute on its official Twitter account. To prevent negative responses, however, the comments section for the post was disabled. Other personalities from the UFC world also honored Queen Elizabeth II by posting their own photos and heartfelt condolences on their social media accounts, including UFC president Dana White and MMA fighters Megan Anderson, Mike Perry, and Cris Cyborg, as reported by Sportskeeda.