The Most Terrifying Knockouts In UFC History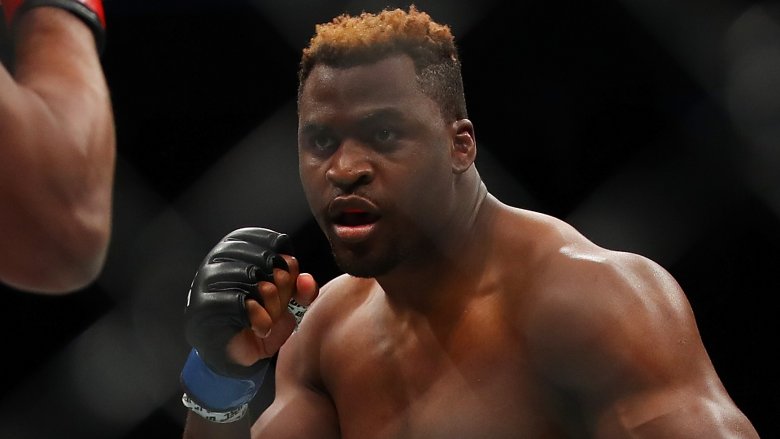 Getty Images
There are a lot of ways to win an MMA fight. You've got submissions, TKOs, decisions, and even disqualifications. But the most feared and fabled method for getting the win is the holy of combat sports holies: the knockout. Land one hard punch, a vicious elbow, or a devastating kick, and it's all over, with you raising your hands in victory and your opponent off in the land of nod.
While there are plenty of fantastic knockouts across the MMA landscape, you're going to find the hardest and the heaviest in the Ultimate Fighting Championship. The organization attracts the best of the best, after all, and when you've got elite MMA fighters swinging for the fences, sometimes things can get scary. There's a lot of power in those punches, and when fighters go headfirst into the canvas, you suddenly remember this sport is a serious business. From nasty head kicks to overhand rights you can feel through your TV screen, these are the most terrifying knockouts in UFC history.
Sean Salmon goes cold
Sean Salmon had a respectable 9-1 record going into UFC Fight Night 8, but after that fateful date in 2007, his professional record quickly devolved into 18-21. So what happened to this guy and his bright future? Well, it might've had something to do with the shin of Rashad Evans. Evans had won The Ultimate Fighter Season 2, and in 2008, he would finish Forrest Griffin to become the light heavyweight champion. So yeah, "Suga" Rashad Evans was a bad, bad man, and he proved how lethal he could be in Round 2 of his bout against Salmon.
After throwing an unsuccessful jab, Salmon's face was wide open for attack, so Evans delivered a terrifying kick to the man's head. Suga's shin smashed hard against Salmon's jaw, and the big man's arms just dropped to his side. It was like watching a tree felled by a lumberjack, and Salmon fell back hard, bashing his head against the mat. It was the first head kick Evans had ever landed in the UFC, and everybody in the arena could feel the impact. But Evans wasn't done yet and delivered two nasty blows before the ref could pull him off. Salmon was on the ground for bit, and while it was a bad night for the loser, it was a sweet, sweet win for Suga.
Dan Henderson delivers the H-Bomb
UFC 100 was a huge night in MMA history. It was loaded with stars like Brock Lesnar and Georges St-Pierre, it was the highest-selling UFC PPV at the time (it currently sits at number four), and it featured one of the most brutal knockouts ever witnessed inside the Octagon.
The battle was between The Ultimate Fighter Season 3 winner Michael Bisping and the legendary Dan Henderson. Bisping had recently moved from light heavyweight to middleweight, and the man was on a three fight tear. A win against "Hendo" would give him a shot at middleweight champion Anderson Silva. But Dan Henderson wasn't going to be a walk in the park. The man was an Olympic wrestler, a Strikeforce champ, and a two-belt holder in Pride. And while Bisping's boxing was some incredibly sweet science, Henderson's right hand was so devastating that everybody called it the "H-Bomb."
Unfortunately for Bisping, he would learn firsthand how hard the H-Bomb could land when he stepped into the cage in 2009. Henderson obliterated Bisping's face with an atomic right, dropping Bisping cold. But Hendo wanted to make sure Bisping wasn't getting back up, so he soared through the air and delivered one final blow to the unconscious Brit before the ref dragged him off. Bisping was left gasping on the floor, like a fish left on dry land. It was the first time he'd ever been finished or knocked out, and it was a loss that hounded him throughout his career until he finally got revenge seven years later.
Travis Browne turns into Superman
In real life, Travis Browne isn't exactly a superhero, but in the cage, this 6'7" titan often turns into the Son of Krypton. At UFC 130 in 2011, Browne was up against Stefan "Skyscraper" Struve, a dude so-named because he stands 7 feet tall. And when you have two heavyweights throwing those big bungalows at each other, chances are good somebody is going to sleep.
At first, it looked like Struve would use his long limbs to choke out Browne. After tripping "Hapa," Skyscraper went to the mat and tried both a D'arce and an anaconda choke. But Brown was able to get free, and that's when Struve made his big mistake. He tried throwing a flying knee — a move that had gotten him into trouble before — and Browne morphed into the Man of Steel.
As Struve was flying through the air, Browne responded with a Superman punch. Throwing his full weight into the move, Browne went soaring toward Struve's chin, and since Skyscraper was already moving forward, the blow was twice as powerful. All 7 feet of Struve went tumbling to the ground, flopping down like the world's tallest rag doll, and Browne followed up with a couple of brutal hammer fists before the ref got there. It just goes to prove that when you go flying at Superman, you best not miss.
Cub Swanson is a dangerous man
Cub Swanson and Charles Oliveira aren't superstars, but they're dudes who keep things interesting. Throw them in the Octagon, and chances are good something crazy is going to happen. Oliveira is a submission specialist who can take out opponents with everything from the calf slicer to a rear naked choke. And Swanson is a man with an iron jaw and hands of steel. So hardcore fans couldn't wait to see what would happen when the American brawler faced the Brazilian grappler at UFC 152.
Oliveira tried taking his opponent to the ground, but Swanson escaped before the BJJ expert could get anything going. Unfortunately for Oliveira, he never got another chance to work his submission magic. Swanson delivered a sick left hook to the body, a blow you could hear across the cage. A well-placed body shot can ruin your whole day, and there's no doubt Oliveira was in some serious pain. But instead of swarming, Swanson took a moment, picked his target, and cracked Oliveira on the temple with a mean right hand.
And that's when things got scary. Oliveira didn't fall right away. It was almost like he was in a state of shock. The Brazilian managed to stand for just a few seconds before his body realized, "Hey, I'm hurting a whole lot right now," and then decided to shut down. Two seconds after Swanson's shot, Oliveira just went limp and crumpled to the floor. Swanson knew the fight was finished, so instead of landing some unnecessary ground and pound, he just stood over his fallen opponent, watching Oliveira writhe like Michael Myers watches one of his kills.
Woodley goes George Foreman on Josh Koscheck
Tyron Woodley is one of the greatest welterweights who's ever stepped inside the Octagon. The current champ at 170, the man is up there alongside the likes of Georges St-Pierre and Matt Hughes. And while he's taken some criticism for his less-than-thrilling bouts againsts specialists like Stephen Thompson (karate master) and Demian Maia (jiu-jitsu god), Woodley can be a one-punch knockout artist when he wants to be. The man dropped the massive Darren Till, and he obliterated Robbie Lawler for the welterweight belt, but perhaps his most terrifying win came against Josh Koscheck at UFC 167.
Koscheck was on a downslide when he faced Woodley in 2013, but the man had some legitimate wins to his name. He'd beaten Diego Sanchez, choked out Anthony Johnson (who would eventually fight for the light heavyweight belt), and he'd TKO'd Frank Trigg. The man was a veteran with heavy hands, a guy who'd beaten Chris Leben on the very first season of The Ultimate Fighter, so Koscheck was absolutely no joke.
Unfortunately for "Kos," "The Chosen One" handed out a beating that felt a little like the shellacking George Foreman dished out to Joe Frazier. In the last 30 seconds of the first round, Woodley unleashed a savage right hand that broke Koscheck's brain. The man was absolutely stunned, but after tumbling to the ground, he managed to catch himself. For a split second, Koscheck was squatting like a drunken baseball catcher, wobbling, woozy, and trying not to fall ... and that's when Woodley unloaded again, sending Koscheck sprawling. Sure, Koscheck looked like he was dead, but dropping dudes was just another night's work for Woodley.
Matt Brown delivers the 'hellbow'
The elbow is one of the most vicious blows in mixed martial arts. After all, it's a pointy knob of bone that can cut you wide open or cave in your skull. Get hit by one of these bad boys, and you'll either be streaming blood or sleeping on the canvas. Unfortunately for Diego Sanchez, he's probably suffering from some serious nightmares after meeting the elbow from hell at UFC Fight Night 120.
After spending some time at lightweight, Sanchez decided to revisit his old welterweight stomping grounds and face Matt Brown. Without a doubt, Brown had a significant size advantage over Sanchez, but he was also on a three-fight losing streak and the possibility of retirement was in the air. And for a second, it looked like Sanchez might give Brown his walking papers. The smaller man delivered a wicked kick to the liver, and Brown couldn't hide his discomfort. Only for some reason, Sanchez didn't seize the moment, a decision he would regret in a matter of seconds.
Things got really vicious really fast. Sanchez threw another kick, but Brown caught this one. Holding onto Sanchez's foot, he backed the shorter man into the fence, wound up, and let loose with the "hellbow." The blow came crashing down hard behind Sanchez's ear, and the man immediately gave up the ghost. Sanchez just wilted, tumbling to the floor and landing on his head. Unfortunately for folks watching at home, the broadcast cut out the very moment Brown laid poor Sanchez low. Still, nothing could take the moment away from Brown who hadn't won a fight since 2015, although he did feel a twinge of regret for bashing in his opponent's head. "Diego's one of my favorite fighters," he said after the bout. "I absolutely love the guy." Talk about tough love.
The Predator goes for the head
In the UFC heavyweight division, anyone can get knocked out at any moment — especially if they're facing Francis Ngannou. Born in Cameroon, Ngannou escaped a life of poverty and backbreaking labor by moving to Paris, hoping to become a boxer. Instead, the 6'4" Hercules wound up in MMA, where he quickly established himself as the hardest hitter in the sport's most powerful division. Ngannou won six fights in a row, all of them finishes, before throwing down at UFC 218 with one of the all-time greats: Alistair Overeem.
A muscle-bound menace with serious kickboxing skills, Overeem had clobbered a who's who of heavyweights, including Fabricio Werdum, Junior Dos Santos, and Brock Lesnar. He was both a Strikeforce (MMA) and K-1 (kickboxing) champion, and most importantly, the man had 49 MMA fights going into the Ngannou bout. "The Predator," on the other hand, had a grand total of 11. So yeah, Overeem was definitely the veteran, but Ngannou's inexperience didn't matter when he connected with the "uppercut from hell."
In the very first round, Ngannou dodged a left hand and fired back with an uppercut. It was like a mini-nuclear strike had just landed flush on Overeem's chin. The Mortal Kombat move snapped his head all the way back, and for a second, it looked like the Predator had decapitated a guy right there in the Octagon. Overeem toppled to the ground, stone-cold unconscious, but that didn't stop a fired-up Overeem from landing a brutal hammerfist before the ref showed up.
As you might've guessed, Overeem was on the mat for a long, long time. But as for Ngannou, it was a star-making moment. The Predator actually earned a title shot off that punch (it didn't go quite as well as the Overeem fight), but perhaps even more impressively, the World MMA Awards declared the devastating uppercut the best knockout of 2017.
Lyoto Machida retires a legend
Lyoto "The Dragon" Machida has a thing for retiring legends. At UFC 129, the former middleweight champ ended the career of Randy Couture with a crane kick to the face. Then at UFC 224, he did pretty much the same exact thing against Vitor "The Phenom" Belfort.
The two Brazilians were set to meet in Rio de Janeiro, Belfort's hometown, and while they'd both had long careers (they'd even briefly trained together), the two had never faced each other in the ring. And at this point in their careers, both men were still dangerous but past their prime. They were a bit slower, a bit less powerful, and a bit less successful, so throwing these guys against one another was kind of the perfect move by the UFC. It was veteran vs. veteran in the ultimate old dog showdown.
Unfortunately for Belfort, it didn't pan out so well. While the first round started out a little slow, Machida exploded with front kick in Round 2 that dropped Belfort where he stood. The Phenom was wide-eyed on the mat for quite some time, but to the Dragon's credit, he didn't attack his downed opponent. Seeing that Belfort was out, Machida simply got on his knees and bowed to the fallen fighter as a sign of respect. It wasn't the only grand gesture that night, either. After Belfort eventually gathered his wits and got back on his feet, he laid his gloves down in the Octagon, signaling his (planned) retirement from mixed martial arts.
Justin Gaethje proves he's still got it
Justin Gaethje had a lot on the line going into UFC Fight Night 135. The former WSOF champion impressed the world with his savage win over Michael Johnson, but after that slobberknocker, things got a bit dicey for Gaethje. He lost back-to-back wars with Eddie Alvarez and Dustin Poirier, and while they were some of the most exciting fights in UFC history, he lost both via brutal KOs. After all, Gaethje is a guy who charges straight ahead into rip-roaring wars, and while it makes him a fan favorite, it's a risky move when fighting the best of the best.
Gaethje wasn't the only one in a weird spot leading up to UFC Fight Night 135. James Vick had been racking up some impressive wins, and he'd long wanted to a fight a top ten lightweight, going so far as to claim that the elite athletes were ducking him. So Vick was pretty pleased when he finally got his shot against Gaethje, and if he could put "The Highlight" away, he felt he'd finally get the respect, money, and possible title shot he wanted so badly. Needless to say, both men had a lot on the line, and the bad blood was a-simmering. During all the threats and trash talk, Vick even called Gaethje the "Homer Simpson of MMA" for his reckless fighting style. But that proved to be a real "d'oh!" moment when Gaethje delivered a shot so hard that Vick face-planted into the canvas.
When Vick woke up a little while later, his dreams were crushed. Gaethje, on the other hand, was ecstatic and celebrated with a series of crazy flips. And when TMZ asked him to comment on that crazy knockout, Gaethje took one last shot at Vick and said, "It was the most terrifying night of that man's life."
Jessica Andrade is a beast
When it comes to the women's strawweight division, you don't really see a whole lot of knockout artists. Sure, you've got terrifying wrestlers, submission specialists, and ladies who will pick you to pieces. But when it comes to that one-punch knockout, there aren't many 115-pounders who can claim that awesome ability ... except Jessica Andrade.
Andrade has long been hailed for her heavy hands, but when she faced Karolina Kowalkiewicz, she showed the world she had all the raw power of a heavyweight. Both women entered UFC 228 on two-fight winning streaks, both hoping the bout would establish the clear top contender in the division. If Kowalkiewicz was going to win, she would have to keep Andrade at bay with her striking, because if "Bate Estaca" got too close, things were going to get really bloody really fast.
And from the moment the ref yelled "fight," Andrade was all over her Polish opponent, absolutely battering her face with a barrage of power punches. Wobbly and weak, Kowalkiewicz managed to survive for a few minutes, and at one point, it looked like she was about to make a comeback ... and that's when Andrade unleashed the fire and the fury. She blasted Kowalkiewicz hard with a right hand, leaving her crumpled on the canvas. It was a tragic moment for Kowalkiewicz, but a reminder to everyone in the 115-pound division that messing with Andrade will get you nothing but bruises.