Why A Jacksonville, Florida Justice Almost Had Elvis Arrested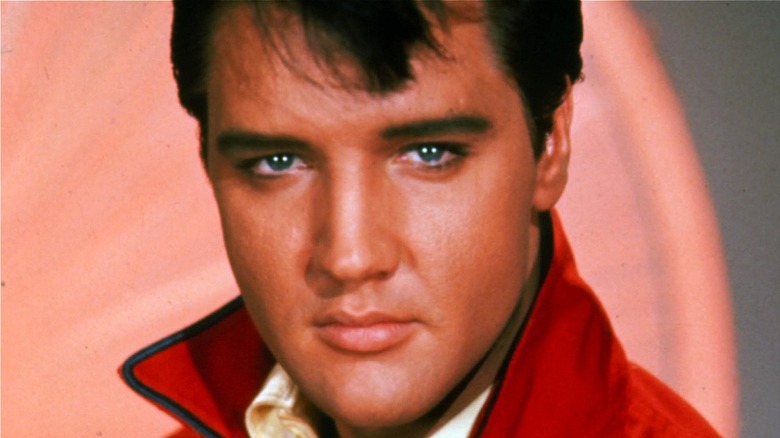 Getty Images/Getty Images
It's impossible to overstate how much of an influence Elvis Presley had on rock and pop music. Besides elevating the rock 'n' roll genre that was still in its infancy in the 1950s, Presley sparked a mania in his fans that became the stuff of legend, establishing him as the first true rock star. According to Biography, Presley was born January 8, 1935 in Tupelo, Mississippi, where the future King of Rock 'n' Roll had a humble upbringing. He got into music at a young age, and had his first big break in 1955 when he signed a deal with RCA Records to capitalize on his reputation, which combined his unique singing style and provocative stage persona. From then on, Presley dominated much of the rest of the 1950s, scoring hit after hit; he even appeared in numerous major movies.
Per Biography, Presley had to take a break from his music career for a time to serve in the Army, but immediately went back to performing and acting when he returned to civilian life in 1960. His appeal experienced a period of decline for a few years, but he roared back into relevance with the release of a legendary 1968 TV special. While he still performed during his later years, his drug addiction took a toll on his health, leading to his tragic death on August 16, 1977.
Elvis' mischievous pelvis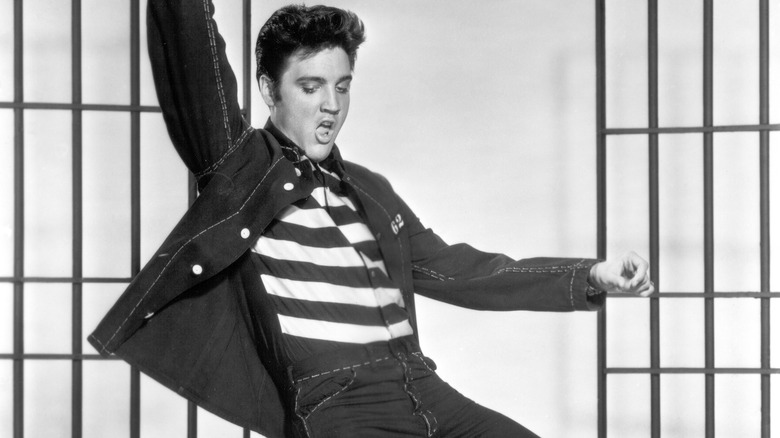 Michael Ochs Archives/Getty Images
Because Elvis Presley rose to fame in a particularly conservative period in American history, he generated a fair amount of controversy for his onstage dancing, which was quite suggestive for its time. In fact, his gyrating pelvis nearly got him arrested, per News4Jax.
Elvis was scheduled to perform six shows at the Florida Theatre in Jacksonville over the course of August 10 and 11, 1956. However, his thrusting hips were well known to locals, which led to him getting a warning from the authorities just before his concerts. Numa Saisselin, the current president of Florida Theatre, told News4Jax, "Marion Gooding, who was at that time the juvenile court justice in Jacksonville, summoned young Mr. Presley to his offices and told him there would be no hip-swiveling and no suggestive body movements." Apparently, Elvis had played in the city before, and his performance got the audience so excited that they charged to the stage and tried to rip his clothes off, exactly the sort of indecent behavior that Gooding wanted to avoid. To prove that his warning was serious, Gooding added the threat of charging Elvis with "impairing the morality of minors."
Elvis did what he was told and played a show that one could comfortably bring their grandmother to. Not very rock 'n' roll of him, but it's said that the experience angered him so much that he performed with a snarl, which would become one of his bad-boy trademarks.
Elvis' other brushes with the law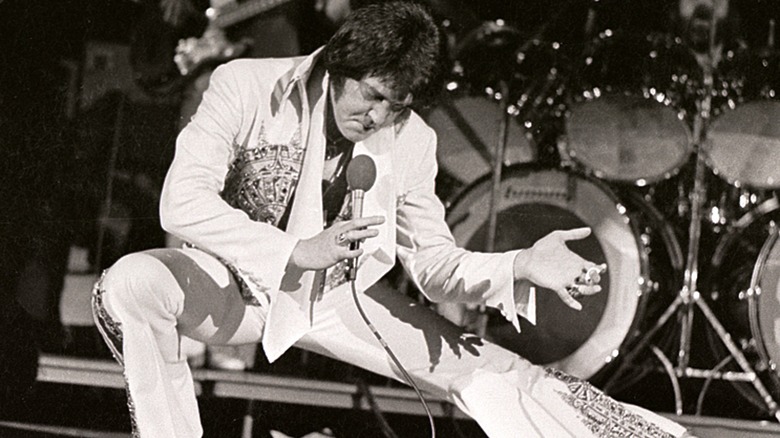 Ronald C. Modra/Getty Images
Of course, that wasn't Elvis Presley's only run-in with law enforcement, but then again, it shouldn't come as a surprise to anyone that the King of Rock 'n' Roll has been arrested on more than one occasion.
For example, CBS 19 recounts an incident on April 3, 1955 when an officer saw a pink Cadillac speeding around Caddo Parish, Louisiana, leading to a chase that got faster and faster over the course of about 8 miles. When the driver of the pink Cadillac finally slowed down and pulled over, the officer was met with a surprise: It was Presley, who was then escorted to Caddo Parish Jail for speeding. At the time, Elvis Presley wasn't a household name yet, so it's possible the officer didn't know who he was arresting. However, when Presley later hit the big time, there's no doubt that the officer had a big story to share with everyone.