Cristiano Ronaldo's Name Has An Unlikely Political Origin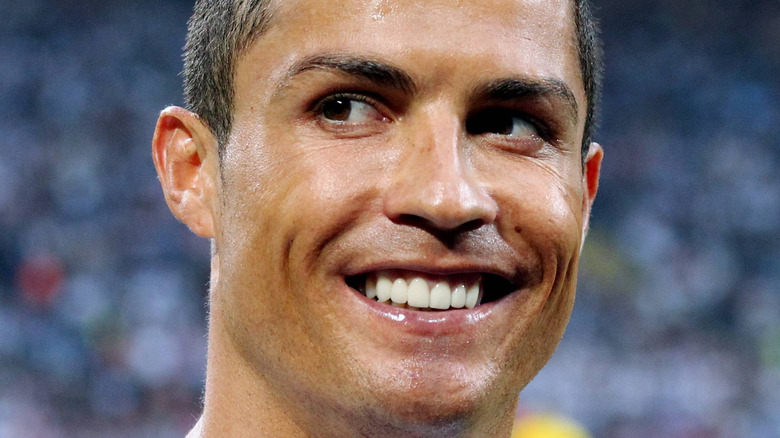 ph.FAB/Shutterstock
As 2022 World Cup competition got underway in Qatar, it was announced that one of the soccer world's biggest stars, Portuguese player Cristiano Ronaldo, would leave his team, Manchester United, immediately, according to ESPN. Throughout his long career, Ronaldo, who was born in 1985, has been one of soccer's most well-known names. As news spread of Ronaldo's exit, the forward said (via ESPN), "I wish the team every success for the remainder of the season and for the future."
Ronaldo first joined United, as the Manchester team is sometimes called, in 2003, via the official Manchester United website. He rejoined the club again in 2021 after he played for a time in Italy for Juventus F.C., as ESPN goes on to explain. When the story broke that Ronaldo and United had mutually agreed to end his contract early over comments the forward made to British talk show host Piers Morgan, Ronaldo was in Doha, Qatar for the World Cup as president of the Portuguese national team. Speaking with Morgan, Ronaldo criticized decisions made by Man. U. owners and management.
This Man. U. player has had his fair share of controversy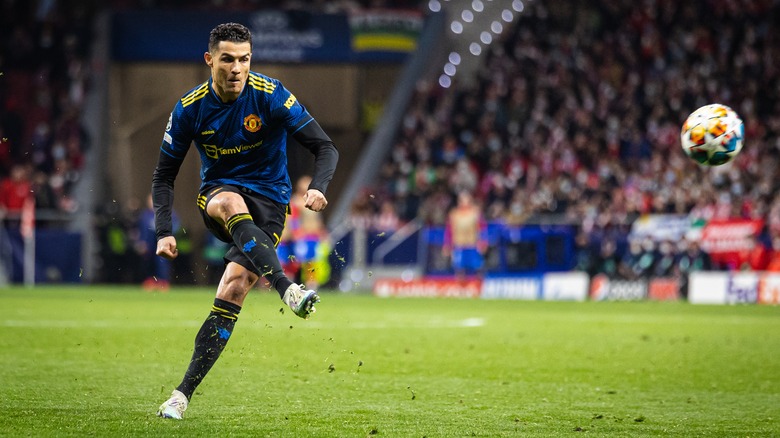 Maciej Rogowski Photo/Shutterstock
Reports of Ronaldo's split with Man. U. were not the first time he stole headlines for something besides his success on the pitch. As GQ reported in 2016, his own son, Cristiano Ronaldo Jr., was born in 2010, and the name of the child's mother was never revealed. In 2022, a male twin Ronaldo had with his partner Georgina Rodríguez died in infancy, based on NPR reporting. The female twin survived. Also in 2022, the same year as the Qatar World Cup and the news of the United controversy, a Nevada rape case against the athlete was dismissed, according to BBC News.
On keeping the mother of his elder son, Cristiano Jr., private, Ronaldo explained (via GQ), "People speculate that it was with this girl or the other, or a surrogate mother. I've never told anyone and never will. I think I should keep that to myself. And later, when Cristiano is grown up, then I will talk to him and tell him what I did, what I felt, everything that went through my mind. Some kids never get to know their parents, neither father nor mother. Having a father is good enough. I don't care what other people say — it doesn't bother me."
Ronaldo was a surprise pregnancy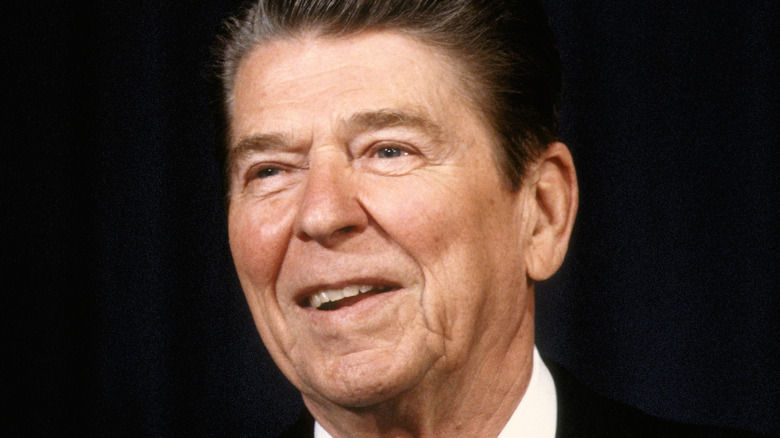 mark reinstein/Shutterstock
The 2016 profile of Ronaldo published in GQ revealed that his own birth was a surprise for his parents, and that he was an unplanned pregnancy. He offered surprising insight into his name's origin. The story behind at least one part of Ronaldo's name — which in full is Cristiano Ronaldo dos Santos Aveiro — was especially poignant, because part of what he was called would be the choice of his father, José Dinis Aveiro, who died from an alcohol-related liver condition when Ronaldo was only 20 (via Britannica).
Years before that, in the mid-1980s when Ronaldo was born, it came time to give their new child a name, and Ronaldo's father turned at least partially to the president of the United States for inspiration: Ronald Reagan. As Ronaldo said in the 2016 GQ profile, Ronaldo was taken from Reagan's first name. "My parents named me after him because they both liked this name and thought it sounded strong," Ronaldo said. "I know that my father admired him." That admiration extended beyond just what Reagan did in the White House: Reagan was also his dad's favorite actor, according GQ's report.