Michael Jordan's Revenge Quest Against Chicago Bulls' Reggie Theus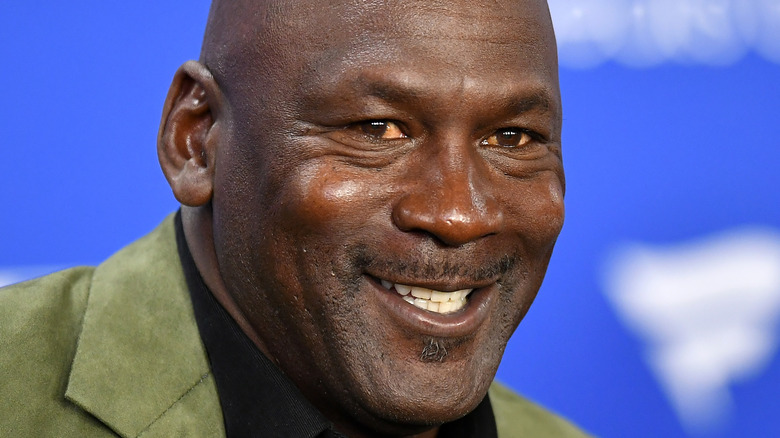 Aurelien Meunier/Getty Images
Basketball megastar Michael Jordan is a six-time NBA champion, a 14-time NBA All-Star, and a member of the Basketball Hall of Fame, amongst other things (via the NBA). Insider reports that much of Jordan's success can be attributed to his striking competitive and vengeful nature. That being said, Jordan is also known for his highly publicized feuds with fellow NBA players including Scottie Pippen and Isiah Thomas. But as Sportscasting explains, one of his earliest clashes occurred shortly after he was drafted to the Chicago Bulls. Jordan quickly developed beef with former Bulls player Reggie Theus, who was then playing for the Kansas City Kings.
According to Sports Illustrated, Theus, who began his career at UNLV, played for the Bulls from 1979 to 1984. He was traded to the Kings right before Jordan was drafted by the Bulls. Sportscasting notes that Theus helped the struggling Bulls get their act together. All in all, he had 23.8 points, 5.9 assists, 3.7 rebounds, and 1.7 steals during the 1983-1984 season. Despite this, the team decided to trade him to the Kings and as fate would have it, Jordan was brought on to the Bulls. When this shift happened, Theus said some words that triggered Jordan's now-iconic gamesmanship.
Michael Jordan was angered by Reggie Theus' comments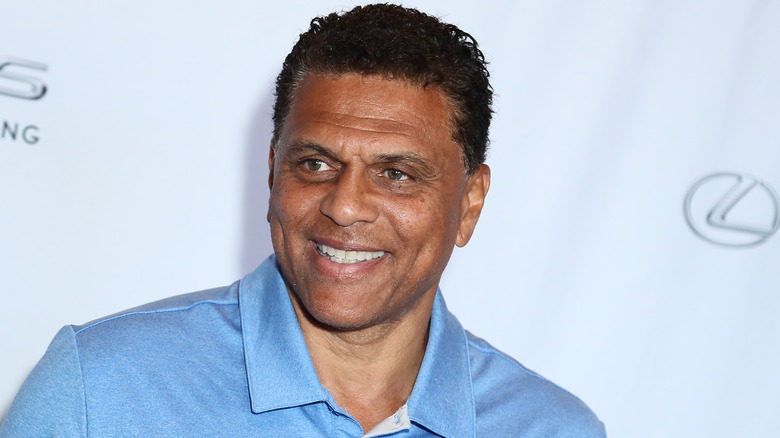 Leon Bennett/Getty Images
In a 2011 interview, Kenny Smith divulged that when Jordan was drafted by the Bulls, Theus stated "there's no guy that can replace me that's a rookie" (via Fadeaway World). As Sportscasting explains, Smith is a fellow NBA player and Jordan's longtime friend. Needless to say, Jordan did not take kindly to Theus's comments. Another article from Sportscasting writes Jordan decided to take revenge at a game between the Bulls and the Kings. Jordan told Smith that his goal was to get 45 points against Theus. Smith recounted, "So I went to the locker room and said, 'Reggie, Michael said he's gonna get 45 tonight.'"
Per Sportscasting, Jordan did not in fact score 45 points that night. He scored only 43. Smith said, "And so he comes into the locker room and said, 'I didn't get 45, but you gotta come to Chicago.' He was mad that he didn't get 45." Although it seems that this was the end of basketball players' short feud, Bethune-Cookman University Athletics states that Theus went on to play for the Atlanta Hawks and the New Jersey Nets. He retired in 1993 (per Sports Illustrated) and became a college basketball coach. Jordan, on the other hand, is considered to be one of the greatest basketball players of all time (via the NBA). 
There are no hard feelings between the two basketball stars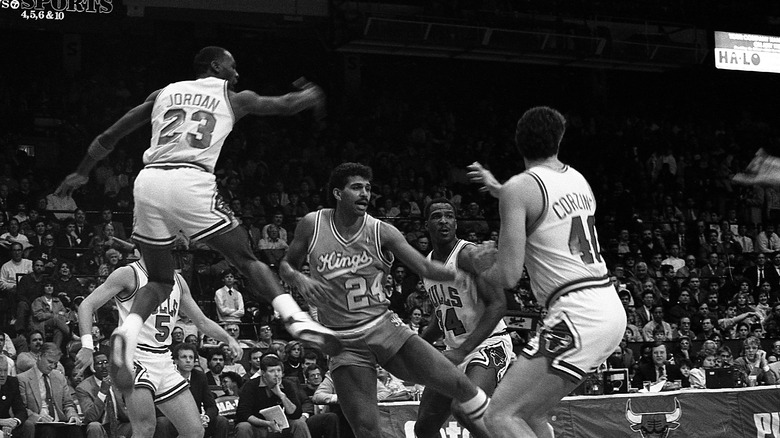 Raymond Boyd/Getty Images
Sports Illustrated reports that Jordan and Theus have set aside their differences. In a 1996 interview with The Chicago Tribune, Theus told the publication that he wishes he could have played for the Bulls while Jordan was on the team. He stated, "I could have been a better John Paxson or Steve Kerr for them. I could have played the point for Michael, I think. Michael and I have laughed about that because we have become friends over the years." Moreover, Jordan went on to marry Juanita Vanoy, a woman whom the 2014 book "Michael Jordan: The Life" claims formally dated Theus.
Despite having patched things up, Theus believes that the Bulls have a lot to thank him for. Sports Illustrated notes that Theus was traded by the Bulls while Jordan was drafted because the team was a disaster. Despite Theus' improvements, the Bulls ended up with a 28-54 record. Once Jordan joined the team, Sportscasting notes that the Bulls eventually ended up becoming three-time championship winners in 1996, 1997, and 1998. In 2018, Theus jokingly told TMZ, "I'm looking for a check actually." He said, "I take a lot of credit for their success." Theus added, "because, if we weren't so bad, they would have never gotten Michael Jordan."