Rage Against The Machine Didn't Shy Away From Their Thoughts On The Kyle Rittenhouse Verdict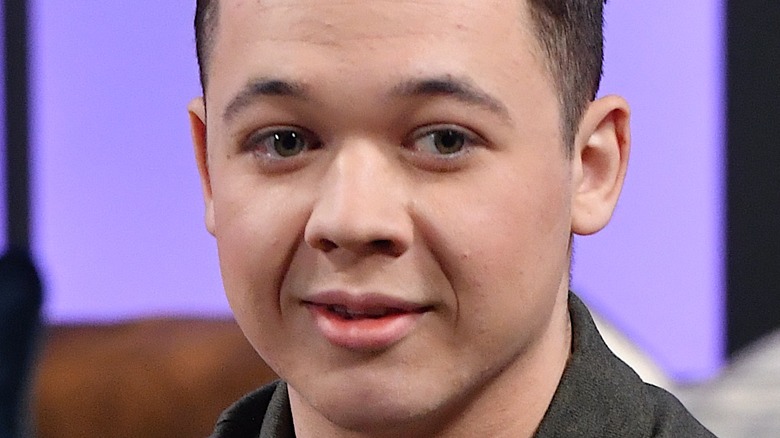 Jason Davis/Getty Images
In 2021, Kyle Rittenhouse (pictured) was acquitted by a Wisconsin jury on all counts for the shooting of three men at a Kenosha, Wisconsin demonstration, which took place shortly after police in Kenosha shot Jacob Blake, a 29-year-old Black man who was seriously injured by the incident. Two of the men shot by Rittenhouse later died, and the other was seriously injured, as ABC News reports. The Rittenhouse case and subsequent trial happened at a time when tensions were high over race relations and social justice, brought on by the 2020 murder of George Floyd by Minneapolis police officers, as The New York Times explains.
According to some observers, the Rittenhouse verdict — that he acted in self-defense when he shot three men, killing two — exposed a double standard in the American legal system and in U.S. race relations. Among those who expressed their opinion on the Rittenhouse outcome were members of the rock band Rage Against the Machine, who are known for taking strong political stands, according to NME. At the time the Rittenhouse verdict was announced, Rage was on a break. They would formally reunite one year later, based on Los Angeles Times reporting.
Tom Morello tweeted after the Rittenhouse acquittal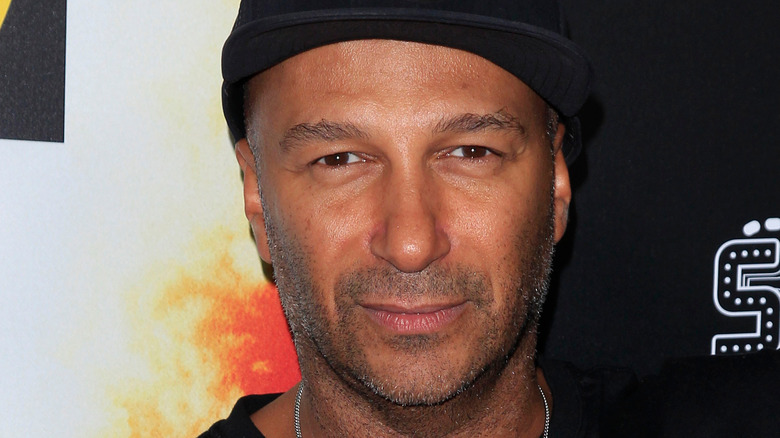 Kathy Hutchins/Shutterstock
Both Rage Against the Machine and the band's lead guitarist, Tom Morello (pictured), shared their thoughts on social media when the Rittenhouse verdict was announced. In Morello's tweet, he posted a picture of labor organizer and musician Joe Hill, who died by firing squad in 1915 (per History). Hill belonged to the International Workers of the World (IWW), a radical labor organization also known as Wobblies. In the early 20th century, the IWW was particularly active in the Western U.S., organizing labor timber and shipping, among other industries.
Hill was convicted in 1914 of killing two Utah police officers, but whether or not Hill was guilty of the crime — or if his guilty verdict was instead motivated by his political activism — remains a matter of dispute to this day. Hill was executed by firing squad one year later (via History). In his 2021 tweet referencing Rittenhouse, Morello wrote, "When the courts do what they were designed to do and protect and enforce white supremacy: don't mourn, organize," referencing one of the labor organizer's most famous quotes, which he made before he was put to death: "Don't waste any time in mourning. Organize."
Rage Against the Machine referenced Tamir Rice and Ahmaud Arbery in their Rittenhouse tweet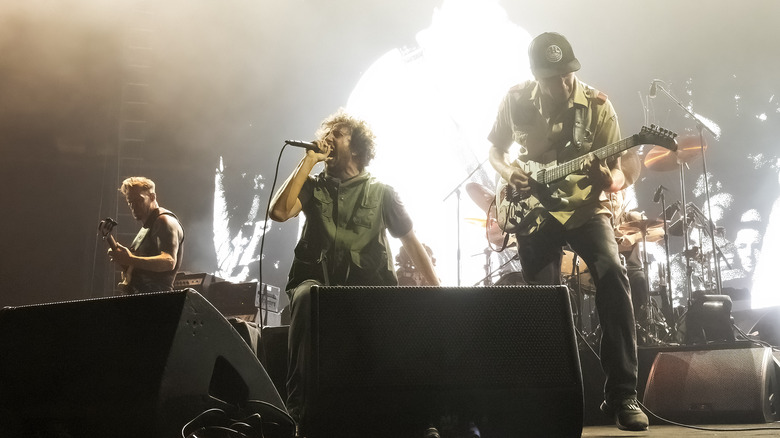 Astrida Valigorsky/Getty Images
In the lengthy Instagram post from the official Rage Against the Machine account referencing the Kyle Rittenhouse verdict, the band mentioned Tamir Rice and Ahmaud Arbery, two Black men who had also been recently killed in the U.S. around the same time the Rittenhouse verdict was announced. Both died under what some saw as racially-motivated circumstances. Alongside a picture of Rittenhouse, the band asked what defines innocence in America. They then mentioned Rice, a 12-year-old Black boy who was shot and killed by white police officers in 2015 because they thought he had a gun in his hand — but it turned out to be a toy cell phone (via The New York Times).
The band also mentioned that in 2020, Arbery was shot and killed in broad daylight while jogging through a suburban Georgia neighborhood (per The New York Times). The three Georgia men who shot and killed Arbery — all white — were convicted and sentenced to jail for their crimes. No one was charged for the Rice killing, according to NPR. In their Instagram post, Rage (pictured above, on stage) went on to add, "Kyle Rittenhouse armed himself and killed people who were fighting for racial justice. He claimed self-defense. This is the settler logic of America's founding myth: whiteness must cast itself as the victim in order to justify its violence against those resisting its oppression. Welcome to the Land of the Free, Home of the Brave."