An Accidental Injection Of Soup May Be At Fault For The Death Of A Brazilian Woman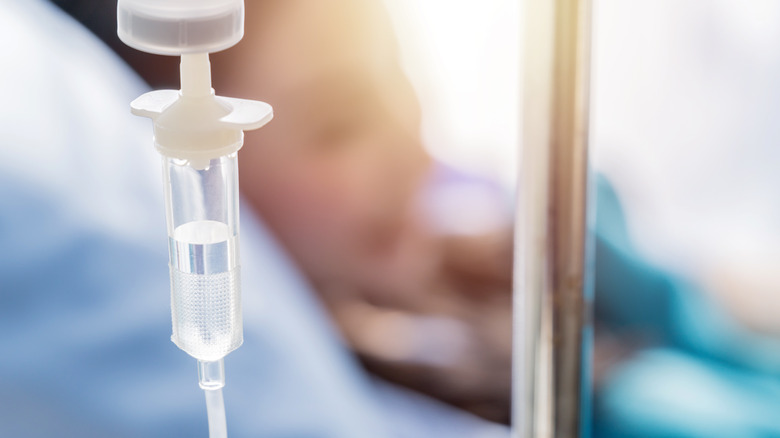 Pitchayaarch Photography/Shutterstock
On a chilly day, a metaphorical injection of hot soup might be just what the doctor ordered. In 2012, though, an elderly Brazilian woman was literally injected with soup while in the hospital and that medical mistake may have killed her, according to a medical malpractice and wrongful death lawsuit filed by the woman's family. Based on Spokane, Washington news outlet KHQ reporting, when Ilda Vitor Maciel of Rio de Janeiro was hospitalized she was paralyzed by a stroke on the left side of her body.
While under medical care at Santa Casa de Barra Mansa hospital, a Rio de Janeiro-area facility, Maciel was mistakenly fed soup by a nurse through the IV attached to her arm rather than through her feeding tube, as HuffPost reports. Half a day later, Maciel died at the age of 88, and though the hospital acknowledged their mistake, hospital administrators denied that the injection of soup was what killed her. They maintained that position despite what was revealed in Maciel's autopsy, according to Fox Law Philly.
Maciel's daughter witnessed the injection
Ground Picture/Shutterstock
According to the Brazilian newspaper Globo, Maciel's daughter Ana Rute Maciel dos Santos was in her mother's hospital room when a nurse injected soup into the catheter in Maciel's hand rather than through the feeding tube inserted into her nose. As soon as the accident happened, Dos Santos said (via The Saturday Standard), "[M]y mother's heart began to beat wildly. I got scared and called the nurse." Also, according to Maciel's family, before the injection Maciel's stroke symptoms had been improving.
Hospital staff treated Maciel with medication, but some 12 hours later she was dead. From the start, Maciel's family suspected the accidental soup dosing had caused her death. After Maciel died, her grandson, Mauro Ferreira Maciel, said (via Globo), "We are outraged and want justice to be done so that this does not happen to other people." According to "Being a Victim of Medical Error in Brazil: An (Un)Real Dilemma," published on the National Library of Medicine PubMed Central, an alarming number of deaths are caused by medical malpractice in Brazil, much like elsewhere in the world. In Brazil, though, firm numbers on exactly how many patients die are hard to come by because there's no centralized governing body to track them.
Maciel may have died from a pulmonary embolism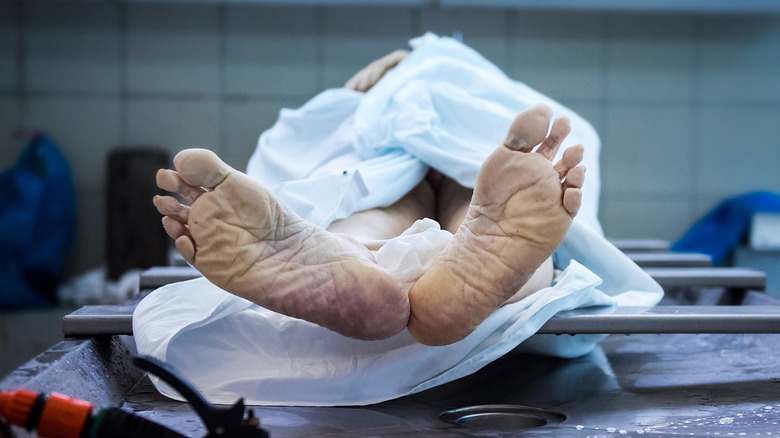 Giannis Papanikos/Shutterstock
According to a report signed by a doctor shortly after she died, Maciel likely died from a pulmonary embolism, which occurs when a blood clot blocks an artery in the lung, per Mayo Clinic, but as Globo notes, on the official death certificate Maciel's cause of death was listed as undetermined. Because of the uncertainty and recent medical error Santa Casa de Barra Mansa hostpital ordered a autopsy. 
At that time, hospital administrative director, Álvaro Afonso Torres de Freitas said, "Due to the misunderstanding and the doubt that remained, we decided to investigate. The conversation with the relatives started from Santa Casa so that the body could be taken to the IML to perform the necropsy. The hospital's own ombudsman opened an internal process, which is already in full swing." 
Also according to Mayo Clinic, pulmonary embolisms are sometimes (though rarely) caused by blockages from a tumor, when an air bubble enters the bloodstream, or by bone marrow fat from a broken long bone like from a broken femur.