Why NFL Legend Deion Sanders Was Forced To Have Two Toes Amputated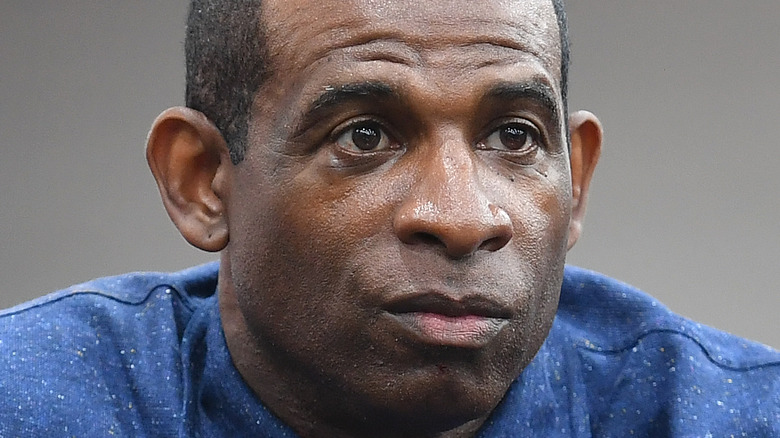 Paras Griffin/Getty Images
Deion Sanders was a special athlete back in his prime playing years (via Britannica). According to Biography, he made history in 1989 when he signed on to play for both the Atlanta Falcons and the New York Yankees. Moreover, Sanders, who is known by his nickname "Prime Time," is the only athlete to have played in both a World Series and Super Bowl. During his monumental career, Sanders suited up for the San Francisco Giants, the Dallas Cowboys, the San Francisco 49ers, and the Washington Commanders, among others. He retired from baseball in 2001 and continued his football career until 2006, and upon leaving his playing career behind, he subsequently became an NFL analyst.
In 2020, Sanders was hired as the head football coach at Jackson State University (JSU). Per CBS Sports, Sanders has thrived in this position and has helped the team climb to the top. In addition, the sports legend was involved in a docuseries for Barstool Sports titled "Coach Prime." USA Today reports that "Coach Prime" delves into Sanders' recent health scares including foot surgery and later, the amputation of two toes. Ultimately, this caused Sanders to miss three games and to coach on a scooter. But as People explains, the situation could have been a lot worse for Sanders, who luckily got medical help in the nick of time.
Deion Sanders developed Compartment Syndrome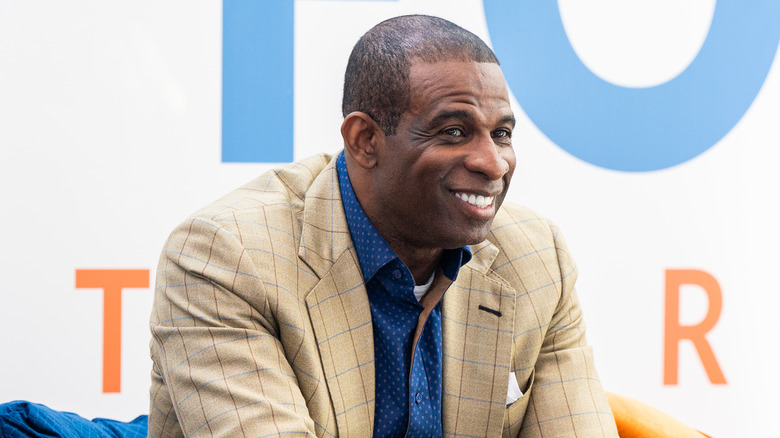 Derek White/Getty Images
Per USA Today, Sanders first had foot surgery in September 2021 because he had a dislocated toe and an inflamed nerve. As he recovered, People notes that the 54-year-old's left big toe and second toe turned black. According to Andscape, this discovery was made by JSU trainer Lauren Askevold while she changed his foot bandages. In October of that year, Sanders returned to the hospital and was told that he had three blood clots in his left leg that were cutting off the blood flow to his left foot. Unfortunately, it was later determined that Sanders had developed compartment syndrome.
In "Coach Prime," Sanders spoke about his time in the hospital. He said, "They were talking about the amputation of toes. Then they were talking about the amputation of my leg from the knee down. Then, they were trying to ensure I had life." WebMD explains that compartment syndrome occurs when bleeding or swelling causes a high amount of pressure within the muscles. If left untreated, it can lead to nerve damage or even death. In Sanders' case, People reports that doctors had to cut into his tissues and amputate his two toes in order to save his leg. Andscape writes that he had a total of eight surgeries in three weeks.
Deion Sanders opens about up about his recovery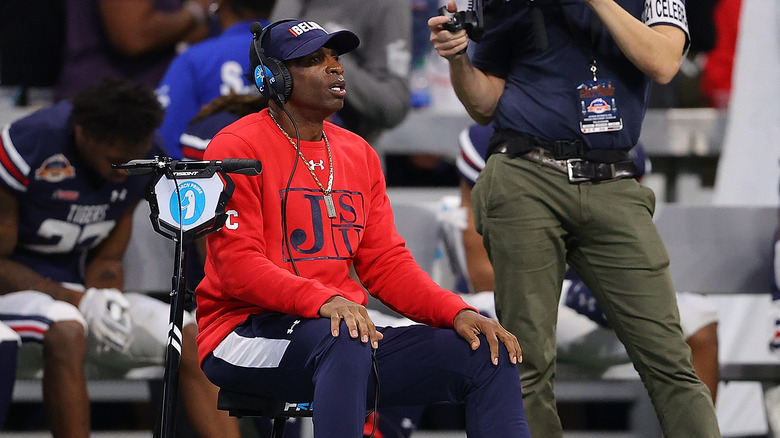 Kevin C. Cox/Getty Images
In an interview with Andscape, Sanders told the publication that he lost around 40 pounds during his hospital stay. He went on to say, "It was the pain. They cut all the nerves and sometimes that thing just throbbed. Ain't nobody can tell me about no journey. I was fighting for life in there." Dr. Steven Sheskier, an orthopedic surgeon who was not involved in Sanders' treatment, had the same sentiment about compartment syndrome. He told People, "It's rare to have this after just foot surgery — there has to be some underlying cause." Sheskier said, "It was more likely than not a time bomb in his leg."
Andscape reports that other members of Sanders' family, including his mother, have also experienced blood clots. According to USA Today, Sanders was back coaching on a scooter at JSU in November 2021. That same month, he released a video on social media (as seen on YouTube) giving an update on his recovery. Sanders stated, "I can't walk on my own and people have to help me get in and out of everything, but I say Lord I thank you. It's hard to even make it to the bathroom by myself without the assistance of others, but Lord I thank you."
It seems that Sanders has fully recovered. Recent Instagram posts reveal that Sanders is no longer on a scooter. Furthermore, CBS Sports states that his coaching career is at an all-time high — so much so that an offer has been made for him to coach the Colorado Buffaloes. At the time of this publication, Sanders has yet to accept or decline the position.