How Deion Sanders Made Both MLB And NFL History On The Same Day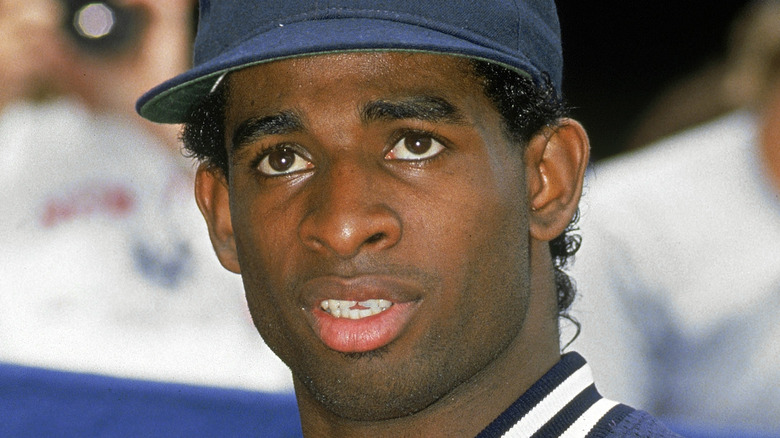 Ron Vesely/Getty Images
Professional athletes get to where they are in life by dedicating countless hours to their craft: from pee-wee leagues and into high school and through college, an athlete devotes as much time to their skill as they possibly can, and often more. And for the very small percentage of athletes who ever get paid for their work, getting even a small check requires such an athlete to be at the top of their game, leaps and bounds better than their peers, even on the same team.
As such, it would make sense that a would-be professional athlete would give it their all in one sport, and one sport only. Nevertheless, over the decades a few have managed to get pro contracts in two sports. For example, as recently as 2018, according to Major League Baseball, Kyler Murray had been drafted into teams in both the National Football League and MLB. He went on to focus on football, but he admitted that he missed baseball.
A generation ago, two athletes were known for being threats in both baseball and football, and both played both sports at the same time. Bo Jackson and Deion Sanders (pictured above) both played for NFL and MLB teams and due to the way both sports are scheduled, their jobs had some overlap on certain days — but it was Sanders who made history by suiting up for both sports in the course of a single day.
'Neon' Deion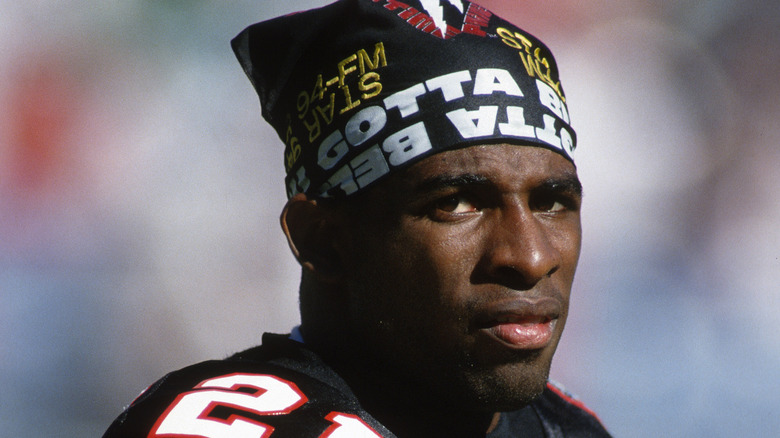 Focus On Sport/Getty Images
Deion Sanders was born in Florida in 1967, according to Britannica, and in high school, he was a standout star who lettered in multiple sports. At Florida State University, he played both baseball and football (and also ran track). He excelled in football specifically, twice earning the title of All-American. In 1989, the Atlanta Falcons came calling, and he was selected fifth in the NFL draft that year. He also continued playing professional baseball, at first in the New York Yankees' farm system and eventually making the big leagues.
By all rights, he was a significantly better football player than he was a baseball player (Brittanica describes his MLB career as "middling"), but nevertheless, over parts of his career, he was on both an NFL roster and an MLB roster at the same time. And though his baseball career was far shorter and less successful than his football one, he dutifully fulfilled his contracts to both leagues. That meant that on one occasion in 1992, he made history by suiting up for a baseball game and a football game on the same day, according to Bleacher Report.
Sanders Makes History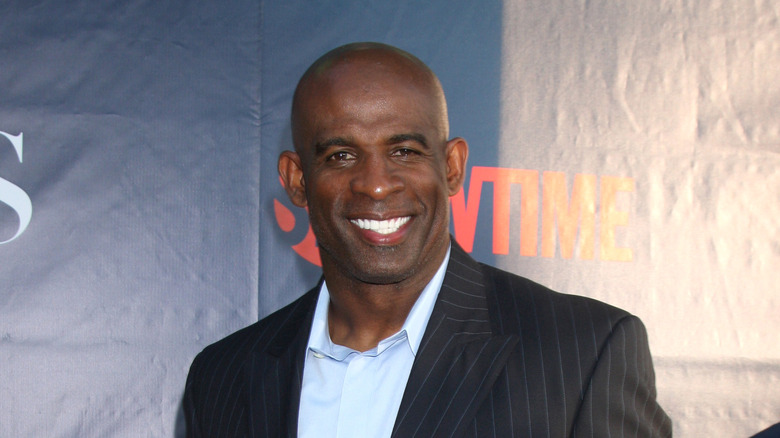 Kathy Hutchins/Shutterstock
The Major League Baseball regular season generally wraps up no later than the first week of October. That means that, unless a team makes the playoffs, only on a couple of weekends will the team likely be on the field while on the same day an NFL game is taking place.
In October 1992, according to Bleacher Report, Deion Sanders was on a football team that was in the early stages of its season, while also on an MLB team that made the postseason. This overlap meant that Sanders would be an exceptionally busy man for at least a couple of weeks, and October 11 was a particularly busy day. Sanders began the day in Miami, when his team (the Atlanta Falcons) faced off against the Dolphins. Later that day, his baseball team, the Atlanta Braves, had a playoff game against the Pittsburgh Pirates in Pittsburgh. Sanders played the Falcons game, then changed clothes, boarded a flight to Pittsburgh, then suited up for the Braves game. It was the first time in history that an athlete played for two teams in two sports on the same day.
Except Deion didn't actually "play" that day. Though he was in his uniform and in the dugout, he was not called into the game and remained in the dugout the entire time. "It's a huge misconception. A lot of people really got it wrong ...," he said of the fact that many fans misremember and assume he actually participated in both games.