The Fate Of The Face-Eating Florida Killer Was Finally Decided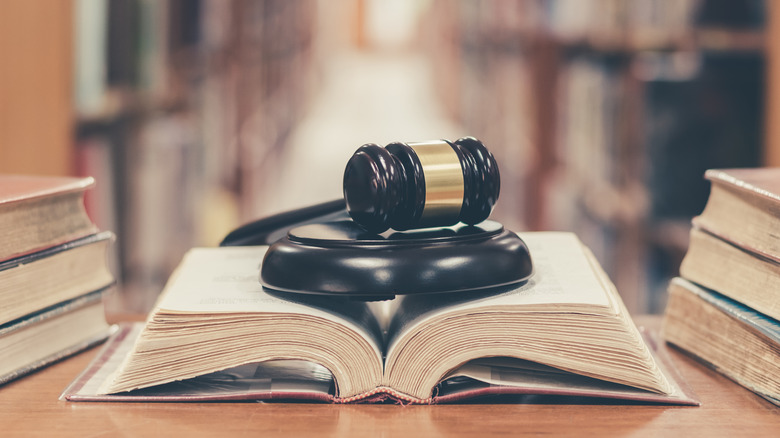 Chinnapong/Shutterstock
"It's like it happened but I wasn't aware of it at the time," former college athlete turned cannibal killer Austin Harrouff muttered through broken sobs. "I don't know, I don't know. If I knew, I would tell you." In 2017, Harrouff sat down for a virtual interview with Dr. Phil McGraw from behind bars to discuss the horrific events that landed him in jail five years earlier. Seemingly against any conscious will of his own, Harrouff — who was only 19 at the time — murdered two people in cold blood and chewed chunks of flesh off of one of their faces before authorities arrived on the scene to stop him (via Associated Press).
It was on November 28, 2022, that Harrouff finally appeared before a Florida judge to proceed with his conviction. According to the Associated Press, several hurdles have hindered court proceedings over the past six years (Harrouff's health, the COVID-19 pandemic, etc.), but prosecutors are finally ready to determine the fate of the young man who, for reasons nearly beyond our comprehension, was reduced to homicidal violence and brutal cannibalism.
Austin Harrouff, the face-biting killer
According to Fox News, Austin Harrouff was charged with two counts of first-degree murder back in August 2016 after he attacked John Stevens, 59, and his wife, Michelle Mishcon Stevens, 53, in their garage. Harouff claims he was beyond the boundaries of his own sanity and was attempting to flee from a malicious demon named Daniel when he happened upon the couple in the middle of the day and started beating/stabbing them in a crazed stupor (per Associated Press). 
When authorities arrived on the scene, they found Harrouff hovering over Stevens' body practically naked, chewing layers of skin off of his face like a rabid animal. It took immense force — including police restraint, a stun gun, and a police dog — to subdue the assailant and place him in handcuffs. Fox News reports that a neighbor contacted police after trying to intervene in the assault on the middle-aged couple who tragically lost their lives that day. 
Harrouff's insanity plea was approved by the judge
Over the course of a lengthy evaluation process, several experts were commissioned to examine Austin Harrouff's case and his overall mental state, and despite varying opinions amongst them, Harrouff and his lawyers decided to proceed with an insanity plea. While the odds initially seemed to be against him, onlookers were shocked and dismayed when his plea was approved by a Florida judge on November 28, 2022 (via Fox News). 
According to Fox News, Harrouff will be sent to a state-sanctioned mental health facility. Although University of Miami law professor Craig Trocino said he effectively received a lifelong prison sentence, family and friends of the slain couple were disappointed that the former coed was not delivered the death penalty. "You don't care about anyone but yourself," Cindy Mishcon said to her late sister's killer. "The only victim you and your family see is you, and the Harrouff name. Is it really so hard for you to understand that you are a cold-blooded murderer and not a victim?"
If you or anyone you know is having suicidal thoughts, please call the National Suicide Prevention Lifeline​ by dialing 988 or by calling 1-800-273-TALK (8255)​.