The Time A Young Rita Moreno Said No To Gene Kelly During Singin' In The Rain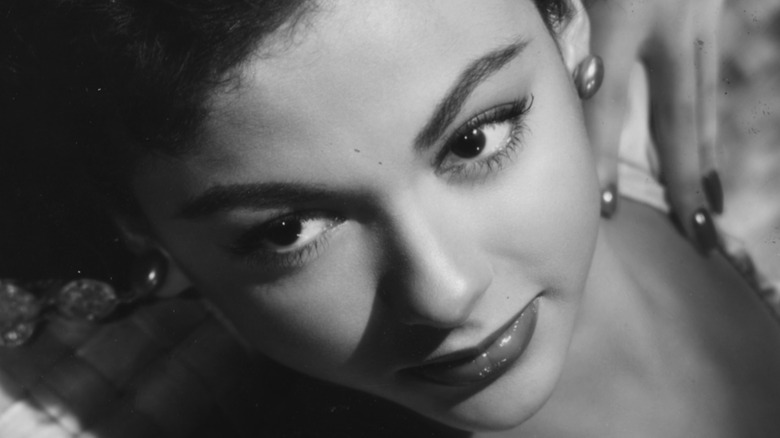 Keystone/Getty Images
Academy-winning actress Rita Moreno – an EGOT, with Oscar, Grammy, Tony, and Emmy awards to her credit — was the epitome of elegance, class, and stoic grace during Hollywood's Golden era. Star of both the 1961 and 2021 film versions of "West Side Story" was born Rosita Dolores Alverío on December 11, 1931 (per the National Women's History Museum). She began her performance career at the mere age of 9 in New York and was officially a professional dancer at various night clubs in the city when she was just a child. According to IMDb, her first major appearance before the camera was in 1950's "So Young, So Bad," though she began dubbing Spanish dialogue over American films when she was only 11.
In time, Moreno would become one of the silver screen's most desirable and alluring symbols of sex and talent. However, as a young and budding performer in the world of cinema, Moreno was subject to the demands of producers, directors, and her fellow actors throughout those formative early days. In any trade, a certain degree of autonomy is only earned in time, and when "Singin' in the Rain" (1952) began production, she was faced with an opportunity to seize it for herself. 
Singin' in the Rain (1952)
"Singin' in the Rain" (1952) is still considered a magnum opus in the arsenal of Hollywood musicals some 70 years after its release. The film starred Gene Kelly, Debbie Reynolds, and Donald O'Connor. Given the fact that Rita Moreno had a rich history as a stage performer in various Broadway productions (per Biography), she naturally became an ideal candidate for the character of Zelda Zanders, the heartthrob flapper. (The iconic opening scene featuring her is on YouTube). 
The role of Zanders carried a lot of inherent style and grace, so her appearance and wardrobe were meticulously mapped out by Gene Kelly, who also directed, and the film's production team. The lavish dresses and dazzling jewelry were hardly disagreeable adornments, but there was one particular request from Kelly that Rita Moreno simply couldn't oblige, so she did the unthinkable – she said no to Gene Kelly (via Page Six). 
Gene Kelly wanted Rita Moreno to cut her hair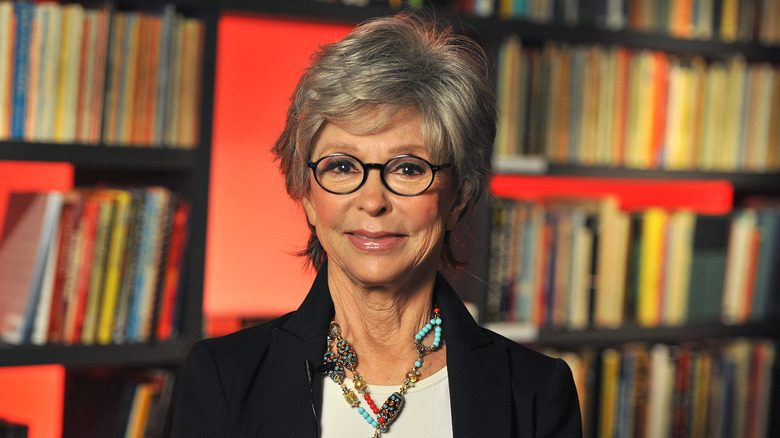 Angela Weiss/Getty Images
According to Page Six, Moreno had deep Latina origins and, like most women within her ethnicity, took great pride in her luscious locks of hair. That inevitably presented a problem for her when Kelly asked that she cut it all off for her role as Zelda Zanders. "I did something that is so Latina because I was the shyest person on earth, and I said no," Moreno told a crowd at he Sundance Film Festival in 2021. In the film, Zanders sports a tactfully cut bundle of red tumbling curls atop her head, but as Page Six reports, it was actually a wig. 
While it wasn't Kelly's initial choice, he had to accept the fact that Moreno wasn't going to budge on the issue and agreed to let her wear a wig instead. "He really was taken aback because nobody ever said no to Gene Kelly, and I got scared to death having said that," the actress went on. It also resulted in an unexpected perk. Before "Singin' in the Rain," Moreno was generally cast as a Latina woman in most of her earlier productions, but she was reportedly "thrilled" when the red wig required her to portray a white woman instead, with lighter-toned makeup, thus breaking the mold of her otherwise monotonous type-casting (per Page Six).