Gene Kelly Credited An Unexpected Sport For His Unique Dancing Skills
Michael Ochs Archives/Getty Images
Gene Kelly was prototypical multi-hyphenate performers during Hollywood's Golden Age. The actor-dancer-choreographer-director is credited with transforming the way musical films were made. He also displayed his talent in dramatic fare, like "Inherit the Wind," but he's perhaps best known for appearing in some of Hollywood's most iconic musicals, like "An American in Paris" and perhaps most notably, the 1952 film "Singin' in the Rain," in which he played the lead role of Don Lockwood (per IMDb), and is remembered for the iconic scene in which he dances down a rainy street while belting out a tune that helps the film live up to its name.
Kelly was known for bringing a highly athletic style of dancing to the big screen that was the byproduct of a having grown up as a multi-sport athlete before he turned to dancing. However, there's one sport that he said helped develop his dancing style more than any other, and it may not be one you would expect (via Biography).
Kelly grew up playing a lot of sports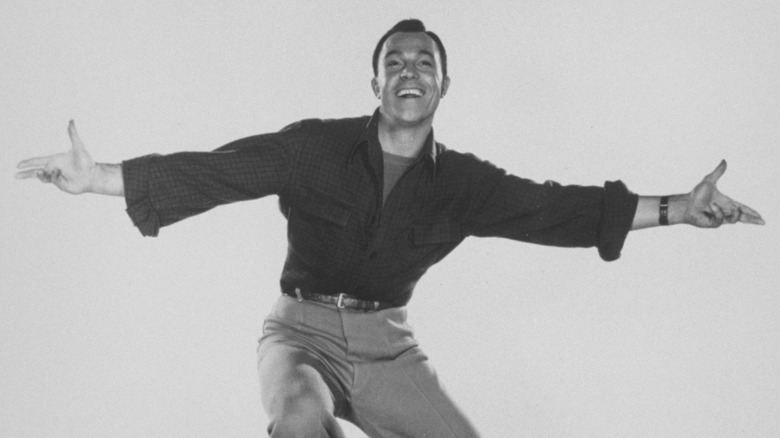 Hulton Archive/Getty Images
According to Encyclopedia of World Biography, Kelly hailed from Pittsburgh, Pennsylvania. He was born in 1912, the middle of five children to a family living in a working class neighborhood. Kelly's father was born in Canada and loved sports, which rubbed off on his son. According to Factinate, Kelly's athletic endeavors included football, baseball, and gymnastics, but it was hockey that he later credited for influencing his dancing.
When Kelly was a kid his father would flood the family's backyard and turn it into an ice rink. This seems to have paid off, because by the age 15, according to The New Yorker, Kelly was working out with a semi-pro hockey team. However, while the National Hockey League wasn't in the cards for Kelly, he had another passion: dancing.
His mother loved theater and sent Kelly and his two brothers to dancing lessons. After going to college at Penn State University, where he worked as a gymnastics instructor at the local Y.M.C.A., Kelly opened a dance school with his mother, before heading to New York City to appear on Broadway.
Kelly credited hockey for some of his dance moves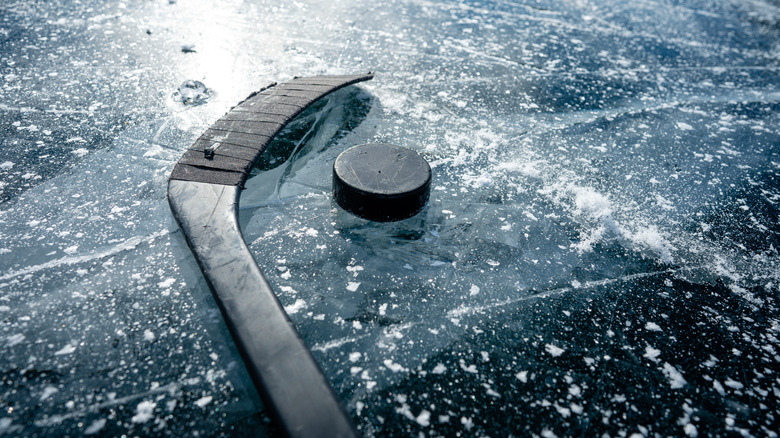 kasakphoto/Shutterstock
Its hard to imagine that playing ice hockey could inform someone's dancing technique, but according to Gene Kelly — who certainly knew a thing or two about both of them — this was the case. A 1994 New Yorker profile of Kelly by John Updike includes a quote from Kelly that appeared in a 1958 television documentary called "Dancing — A Man's Game," in which he talked about how his early years spent on the ice helped him develop his athletic style of dancing.
"I played ice hockey as a boy and some of my steps come right out of that game — wide open and close to the ground," Kelly said. He was alluding to the way skaters — especially hockey players — skate in a crouched position with their legs wide. This kind of position helps generate maximum power when a skater takes a stride (via How To Hockey).
Kelly died in 1996 after suffering strokes in 1994 and 1995. Upon his death, his former "Singin' in the Rain" co-star Debbie Reynolds talked about the famous energetic performances for which Kelly was known. "There'll never be another Gene," Reynolds said, per Biography. "I was only 18 when we made that movie" — Kelly was nearly 40 — "and the hardest thing was keeping up with his energy."