Pink Floyd's Attempt At A Commercial Hit Ended In Disaster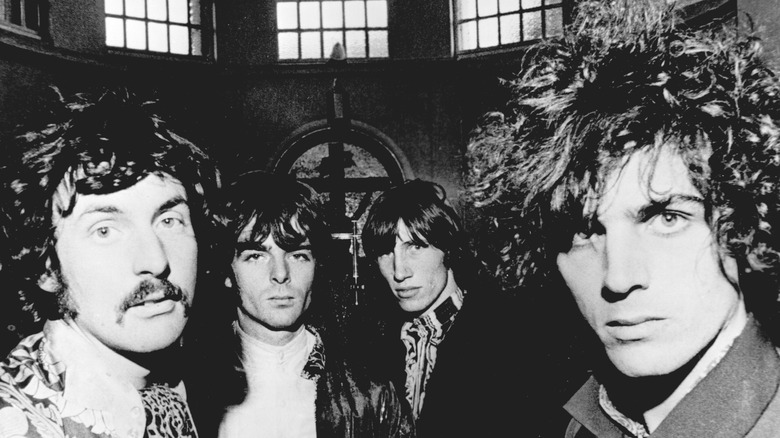 Michael Ochs Archives/Getty Images
When one reflects upon Pink Floyd's remarkable musical journey, it's difficult to envision a time when they weren't a household name. The group truly pushed the sonic envelope many times over, forever transforming popular music in the process and leaving behind an incredible body of work. Nonetheless, their earliest forays into psychedelic rock offer an intriguing glimpse of a band at a creative crossroads. One early commercial effort would be considered a flop by the band and their audience — yet it remains an interesting snapshot of a band dealing with mental health issues, drug abuse, and the stresses of touring life (per "Syd Barret & Pink Floyd: Dark Globe").
Before the publication of their debut album, "The Piper at the Gates of Dawn," Pink Floyd was riding high. In the mid-1960s, they had amassed an organic following by performing in many clubs around London, and they had bagged a record deal with a major label. However, it was their third single, produced in a rush and released in a whirlwind, that brought the band their first taste of failure. At the time, the struggling group felt immense pressure from their record label, who were hungry for a "hit" single to coincide with an imminent U.S. tour (per "Crazy Diamond: Syd Barrett & The Dawn of Pink Floyd").
The hope was that this track would boost the band's profile and enhance their chances of being booked. Yet, "Apples and Oranges" failed to make a splash on both sides of the Atlantic when it dropped. While it's considered a curiosity today, the track is fascinating since it spelled the beginning of the end for Pink Floyd's "crazy diamond": Syd Barrett.
Recording of the Song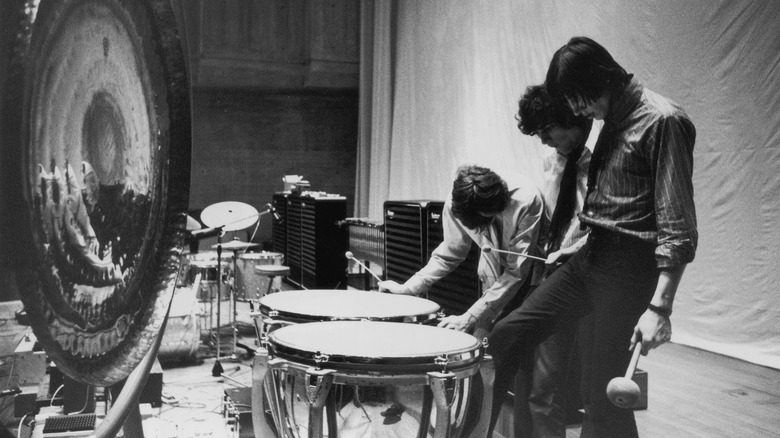 Nick Hale/Getty Images
At first listen, "Apples and Oranges" is a challenging piece of music. The tune is immensely baffling, combining cacophonous layers of psychedelic guitar effects, tongue-twister lyrics, irregular rhythms, and chaotic dynamic shifts, so it's difficult to imagine why the band believed it would be radio-friendly. With copious amounts of overdubs and swirling layers, the song has a highly unpredictable feel to it, yet retains the child-like innocence and nursey-rhyme quality that Syd Barrett's songwriting became revered for. The muse for the song was a woman that Syd Barrett spotted in the street shopping,
In the years after its release, the band has contended that they had no choice but to accept it. Despite how erratic it sounds, it was the most "accessible" song they had. Syd Barrett's mental health was disintegrating during the recording process, and his conduct in the studio and on stage grew increasingly unpredictable (via "Syd Barrett & Pink Floyd"). "Apples and Oranges" was born under turmoil and tension and was recorded in just two sessions, the second of which lasted a marathon 13 hours. The guitars are out of tune, and the drums are struggling to keep up with the verses, which sound desperate to race off into the sunset.
Yet, even a lump of coal needs time before it can transform into a diamond. However, time was in very short supply. The band's drummer, Nick Mason, would later recall ("Syd Barrett & Pink Floyd"), "It could have done with more working out". Roger Waters, on the other hand, would point his finger at the producer, maintaining the track was "destroyed by production" (via "Saucerful of Secrets"). But what did the public think?
If you or someone you know needs help with mental health, please contact the Crisis Text Line by texting HOME to 741741, call the National Alliance on Mental Illness helpline at 1-800-950-NAMI (6264), or visit the National Institute of Mental Health website.
Lackluster Reception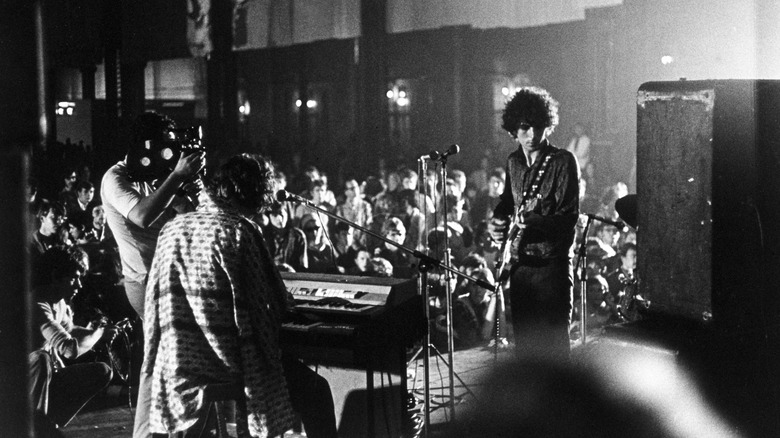 Michael Putland/Getty Images
When "Apples and Oranges" was ultimately released on November 18, 1967, it failed to chart in the United Kingdom at all (via "Crazy Diamond"). Tower Records, the band's U.S. label, opted to release another song as a single instead. To make matters worse, the band's lack of chart success was compounded by dwindling finances and a scarcity of bookings (via '"Syd Barrett & Pink Floyd").
Tensions were at an all-time high as Barrett's behavior and inconsistent live presence caused friction with his bandmates. One infamous story from the band's early days saw Barrett playing one note for a full concert, forsaking his parts altogether. In response to the song's tepid reception, Barrett said he "couldn't care less" (via "Saucerful of Secrets"). Of course, if you want to be successful in the music business, you must also play ball. Barrett definitely struggled with some of the promotional aspects of being in a prominent band and was uneasy about the group's rising star. Furthermore, he demonstrated an aversion to miming the tunes on national television programs, which further irked his bandmates.
To deal with Barrett's volatility, the band hired the extremely skilled David Gilmour, who eventually replaced Barrett as the group's guitarist. Barrett's actions finally led to his exclusion from the band — he parted ways with the group he founded the following year in April 1968 before mysteriously vanishing from the public eye entirely 10 years later (via Biography).
In the end, the group did not achieve the rapid success that they desired with "Apples and Oranges." Nonetheless, the lore of this song genuinely humanizes the group's genius. After all, failure is essential to artistic growth, and without this lesson, it's difficult to fathom where else Pink Floyd's musical journey would have taken them.