'Merchant Of Death' Viktor Bout Started An Unexpected Hobby In Prison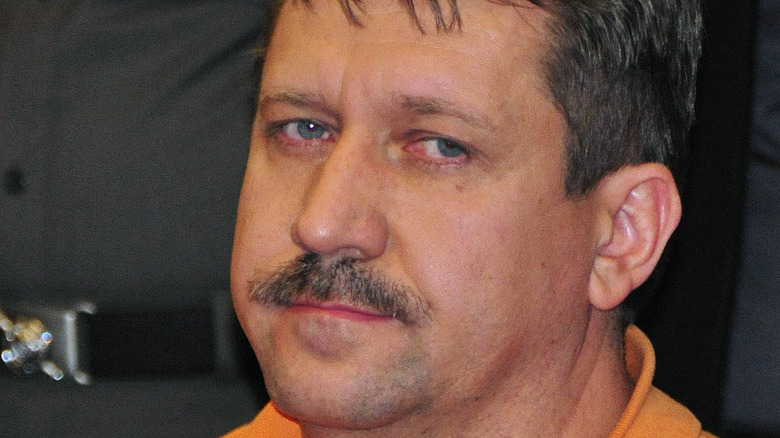 Bloomberg/Getty Images
On December 8, 2022, as CNN reports, American basketball player Britney Griner, who had been in a Russian prison for the past several months, was released in a prisoner swap. Specifically, Griner had been sentenced to nine years in a harsh Russian penal colony for bringing cartridges containing hashish oil into the country (via CNBC); Griner claimed that it was a mixup. "I never meant to put in jeopardy the Russian population. I never meant to break any laws here," she said.
The Biden administration had been keen to secure her release, and when the deal was finalized, Griner was to be returned in exchange for Viktor Bout (pictured above), an international arms dealer nicknamed the "Merchant of Death." According to USA Today, Bout was doing his time at a medium-security facility in Illinois at the time of his release.
While in prison, Bout did as other prisoners — who have literally nothing but time — do and took up a hobby. And his hobby may be surprising for a man known for illegally selling missiles: he became an artist (per The Art Newspaper).
Who Is Viktor Bout?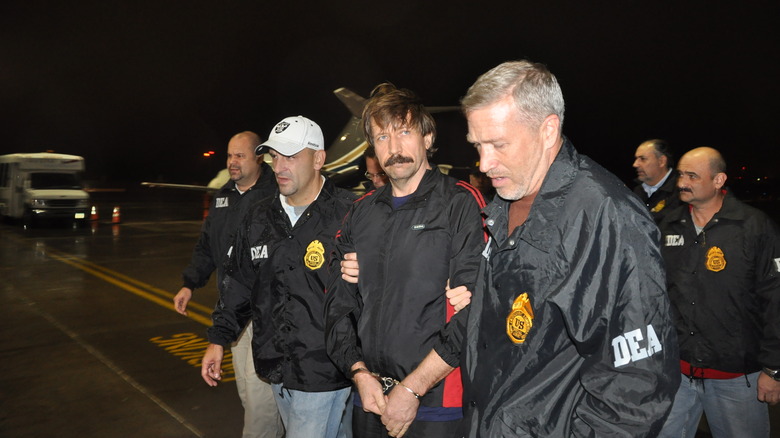 Handout/Getty Images
The fall of the Soviet Union in 1989 was, in the main, a very good thing. But that doesn't mean it didn't bring with it its own set of problems, not the least of which was the fact that various Soviet weapons of all shapes and sizes — guns, bombs, guided missiles, the whole bit — fell into the wrong hands. Enter Viktor Bout: As The Economist reports, he was a cog in the Soviet machine who worked his way up to a high-ranking position in a Soviet armed forces division. He spoke multiple languages, owned several passports, and had done clandestine work in Africa. And when the Soviet Union fell, Bout knew whom to bribe and where to look in order to move Soviet weaponry. Before long, he'd earned the nickname "The Merchant of Death" for making as much as $6 billion from selling to the highest bidder.
The U.S. and other governments wanted a word. According to USA Today, he was finally nabbed in Thailand in 2008 following a sting led by U.S. operatives. In 2012, he was sentenced to 25 years and was eventually sent to the U.S. Penitentiary Marion, a medium-security federal lockup in Illinois.
Viktor Bout the Artist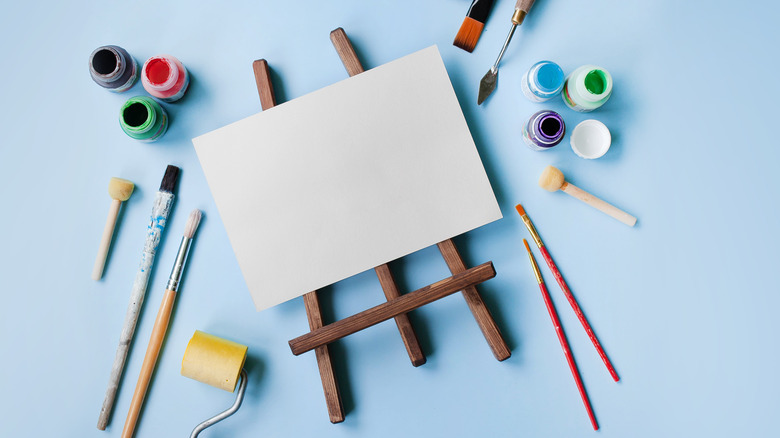 EKA UDALTSOVA/Shutterstock
In December 2021, while he was incarcerated in the United States, the Russian parliament hosted an exhibition of Viktor Bout's art, according to The Art Newspaper. His wife, Alla, seemed to indicate that he took up the hobby while he was incarcerated. "There is also a lot of interest in his art, which he has spent the past six years creating. The exhibition proves that my husband has not lost heart and is still creative," she said.
The exhibition included pieces he'd created using pencil, pen, oil, and wax crayons, among other media. One piece was a self-portrait of himself behind bars; another, a kitten in a metal collar and chains; still another, a young orangutan and an older one. "Victor's paintings are an expression of his soul and feelings, his striving for life and belief that justice will prevail," said Alexander Vorontsov, the chairman of Russia's Civic Chamber Commission (via The Art Newspaper).
Maria Butina, who herself had done time in an American prison, said that Bout's paintings took her back. "When I saw the painting I felt the pain Bout is going through. Pain that made me feel I am still behind bars too," Butina said, via The Moscow Times.