What We Know About Brittney Griner's Prison Release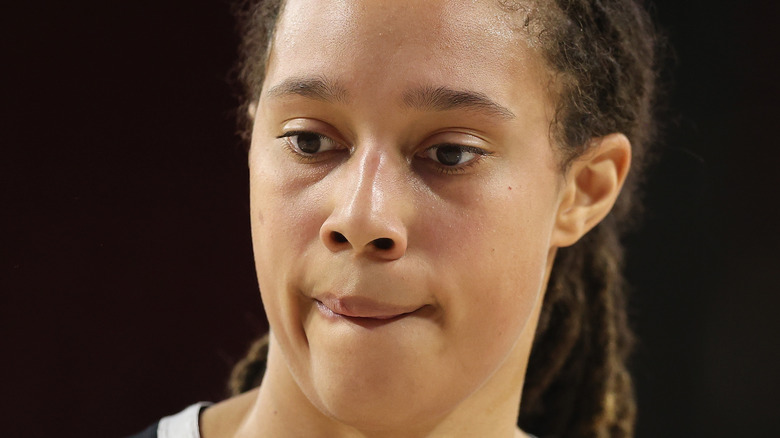 Christian Petersen/Getty Images
It was 294 days after her initial arrest that WNBA player Brittney Griner was released by Russian authorities (via ESPN). The New York Times reported that the 32-year-old gained her freedom through a prisoner swap in which the United States exchanged Russian arms dealer Viktor Bout for Griner. According to NPR, Griner was first detained at an airport near Moscow in February 2022 for having hashish oil products in her luggage. Per the BBC, cannabis is illegal in Russia. Griner, who plays for the Phoenix Mercury, had traveled to the country to play for UMMC Ekaterinburg, a Russian basketball team during the WNBA's off-season.
In August, CBS Sports wrote that Griner was convicted on drug smuggling charges and sentenced to nine years in prison. This decision was denounced by U.S. officials, including President Joe Biden (via Reuters). NPR notes that Griner later attempted to appeal her sentence to no avail. However, it seems that the United States and Russia had long been negotiating for Griner's release. ESPN explains that the Russian media reported in May that Griner would possibly be traded for Bout. More speculation occurred shortly after Griner's sentencing (per a different article by Reuters). Now, both Griner and Bout are free and have returned to their respective countries.
Viktor Bout is known as the 'Merchant of Death'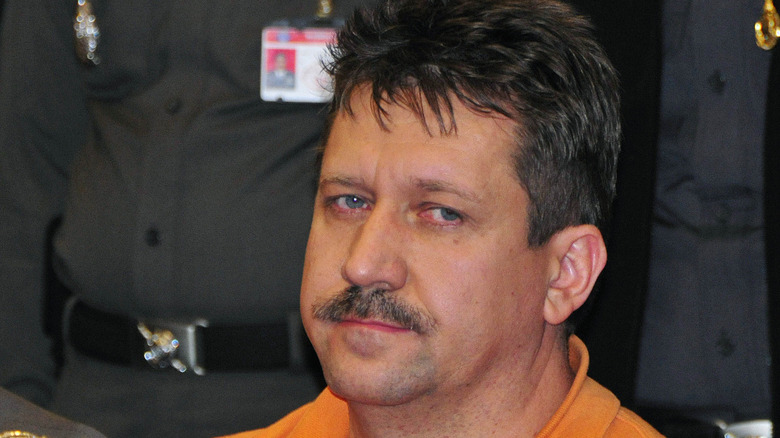 Bloomberg/Getty Images
According to CNN, the exchange for Griner occurred at Abu Dhabi Airport. Upon her release, President Biden spoke at the White House and stated (via CBS News), "She's safe, she's on a plane, she's on her way home after months of being unjustly detained in Russia, held under intolerable circumstances." He added, "Brittney will soon be back in the arms of her loved ones and she should have been there all along." The Guardian reported that Griner's wife Cherelle was also at the news conference and said that she was "overwhelmed with emotion." Bout's lawyer, Steve Zissou, made his own statement (per CNN) and noted that he was "grateful" that his client was now home.
Per The New York Times, Bout, who has earned the nickname the "Merchant of Death," is an infamous figure that was formerly in the Soviet military. When the Soviet Union collapsed, Bout began selling weapons. His alleged clients include Al Qaeda and the Taliban, amongst others. The BBC explains that Bout was later arrested when he met with DEA agents who were posing as FARC, a now-defunct terrorist group that was based in Colombia. Bout was subsequently arrested and in 2012, he was sentenced to 25 years in prison.
CNN notes that the Kremlin condemned his sentencing and referred to it as "baseless and biased." The New York Times adds that they have always maintained that Bout is innocent and have been attempting to secure his freedom for years.
The exchange for Griner excluded Paul Whelan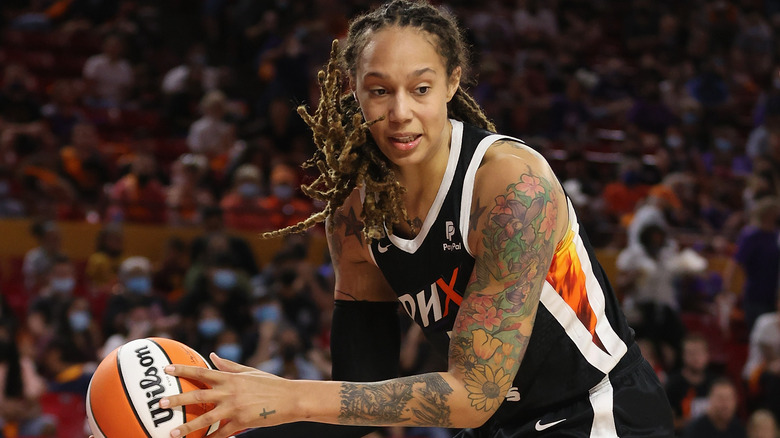 Christian Petersen/Getty Images
The Guardian explains that Griner was not the only American that was imprisoned in Russia. Per CNN, Paul Whelan is a former marine that was arrested in Moscow in December 2018. He was later charged with espionage and sentenced to 16 years in prison. Reuters reported that Biden wanted to swap Bout for both Griner and Whelan, whom he believes has been wrongfully detained. Ultimately, the negotiations for this prospect floundered. An unnamed source stated (via The Guardian), "it was a choice to get Brittney or nothing." A different article from CNN notes that this is the second time Whelan has been left behind in a prison swap.
CNN explains that in April 2022, American Trevor Reed was released from Russia after the United States agreed to exchange him for Russian citizen Konstantin Yaroshenko. According to The New York Times, Biden expressed his disappointment in not being able to free both Griner and Whelan simultaneously. During a press conference, he stated (via The Guardian), "Sadly, for totally illegitimate reasons, Russia is treating Paul's case differently than Brittney's. And while we have not yet succeeded in securing Paul's release, we are not giving up. We will never give up." As for Griner, Biden divulged that he had spoken to the basketball star after her release and said that she was in "good spirits."