Who Are The Prisoners Who Might Be Involved In The Brittney Griner Exchange?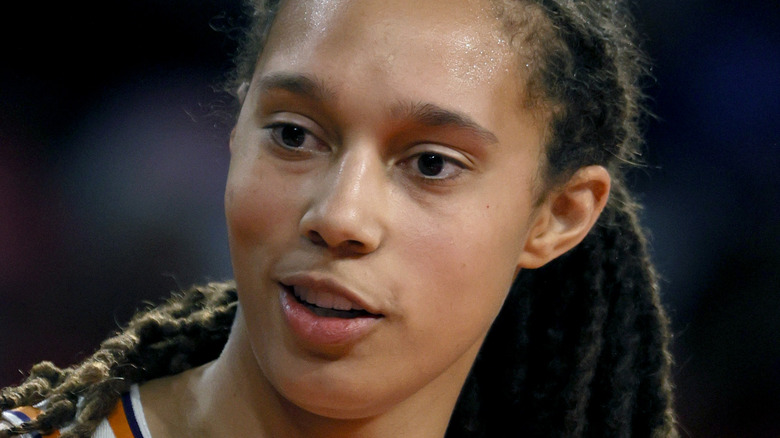 Ethan Miller/Getty Images
Tensions between the U.S. and Russia have been higher than usual since the Ukrainian conflict began. With Russia having a few Americans detained, most notably basketball star Brittney Griner, some people have wondered whether a prisoner swap might be in the offing. As The Economist explains, a prisoner swap is essentially when two countries or political entities exchange prisoners of war or detained citizens of the respective countries. These exchanges are typically charged with various political agendas and strategizing. For example, a country will very carefully calculate the value of who they have in custody, and who of their own people the opposite side might be willing to release, based on their political value and possibly public pressure.
Brittney Griner is one potential person in prison who could be exchanged. As Vox says, Griner was detained in Russia on February 17, and has remained there ever since. Many people in the United States have since protested for her return, but no one is sure yet when that may happen. According to ABC News, however, speculation is that Griner may be part of a 2-for-2 exchange, possibly involving fellow American Paul Whelan, or possibly another American, Marc Fogel, also held by Russia, traded for Viktor Bout and someone in U.S. custody who has yet to be named. Who are they? Why have they been detained?
Who are Brittney Griner and Viktor Bout?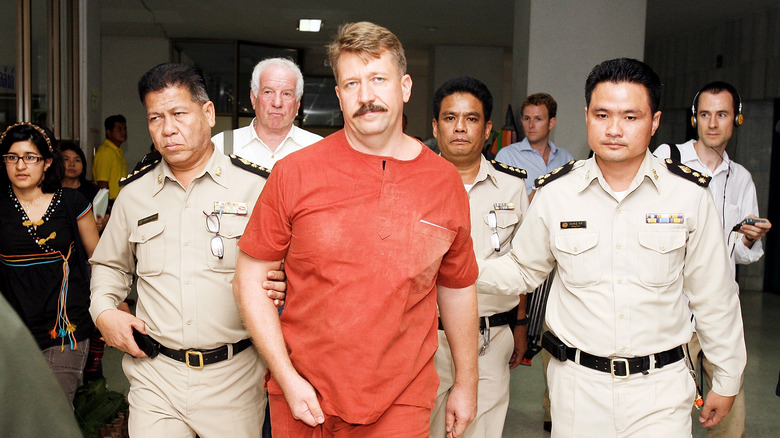 Chumsak Kanoknan/Getty Images
Griner is a WNBA player for the Phoenix Mercury. As reported by the BBC, she is considered by many to be the best WNBA offensive player of all time. Griner was originally stopped and detained at the Sheremetyevo International Airport in Moscow. She was in Russia to play for the UMMC Ekaterinburg, her main team during her off-season. As People says, Griner was detained for illegal possession of cannabis oil vape cartridges. On August 4, she was given a sentence of nine years in prison.
Viktor Bout, also known as the Merchant of Death, is one of the people in U.S custody who could potentially be exchanged for Griner. As CNN reports, Bout was sentenced to 25 years in prison by the United States for acquisition of military weapons, conspiracy to kill Americans, and providing material support to a terrorist organization. The Kremlin has shown interest in Bout's release, as he could possibly hold information about Russian weapons networks, along with the Kremlin itself.
Who are Paul Whelan and Marc Fogel?
Another prisoner who might be involved the prisoner exchange is former U.S. Marine Paul Whelan (above), who is held by Russia. CNN relates that Whelan, a citizen of the United States, Canada, Ireland, and the United Kingdom (per another CNN report), was detained and imprisoned in Russia on the charge of espionage, which he, his family, and U.S. government vehemently deny. He received a 16-year prison sentence in June 2020. Whelan was at a Moscow hotel when the arrest happened back in 2018. Currently, White House officials say that they are interested in Whelan's potential release, though details of that still remain murky. 
Some people have wondered whether Marc Fogel might be part of the 2-for-2 trade, as lawmakers have urged the U.S. government to negotiate his release. As CBS News explains, Fogel, 61, is a U.S. citizen, a history teacher who, like Griner, was detained and arrested for marijuana possession in Russia on August 14, 2021 — he said it was medicinal, to treat chronic back pain. He is currently serving a 14-year prison sentence at a high-security Russian penal colony. While Fogel's public profile is seemingly less than those of Griner and Whelan, there has been vocal support for his release as well.