The Two Generations Of Real-Life Psychics Who Helped Police Solve Murders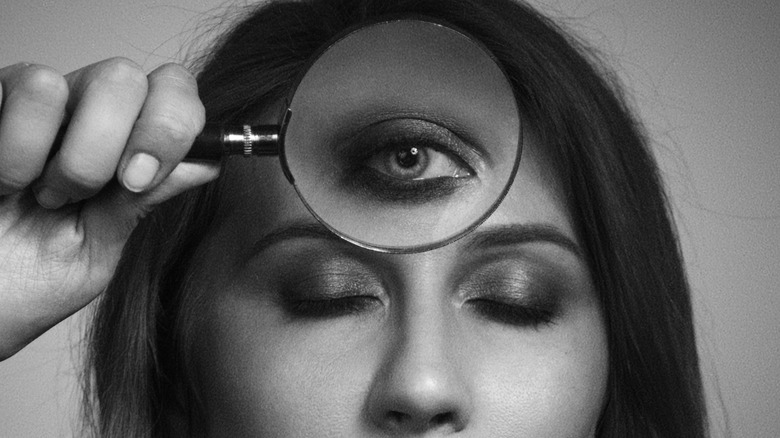 veryulissa/Shutterstock
So we've all seen how police solve things in shows, right? Here's the procedure: Lift up the yellow crime scene tape and stroll up to a corpse; kneel down, pull off the sunglasses and mutter something to someone with a notepad; stand up and scan the horizon while actually peering deep inside and contemplating what horrors drive humanity to kill. A team from forensics swipe and swab. A medical examiner delivers a cause of death while stripping off rubber gloves. Toxicologists screen for drug and alcohol use. And, oh yeah, psychics sit in empty white rooms back at the police station pressing their fingertips to their temples and making "Bwao wao wao" energy sounds with their mouths while probing the astral plane for the face of the killer.
All of this pop culture stereotyping aside, you might be surprised to know that there is indeed a history of cooperation between law enforcement agencies and psychics. Or at least there's a history of skepticism and employment of psychics to varying degrees of success. The Guardian describes a so-called psychic calling in a tip about 30 dismembered bodies, but there was nothing at all. Dr. Dennis McFadden at the University of Texas in Austin states that many police departments are reluctant to involve such people in their work. And yet publications like Reader's Digest describe 20 cases apparently solved by honest-to-goodness psychics. Amongst the ranks of the legitimate are a mother and daughter combo, the former of whom helped solve the infamous "Boy in the Box" murder.
Generational mother-daughter mediums
Kym Durham makes up one-half of a generational lineage of psychics along with her mom, Joan Friel Durham. Joan Friel Durham's obituary states that she was a "noted psychic" who "often used her skills to assist law enforcement and she consulted with business and industry in the US [sic.] and abroad," per Smith Funeral Home. Kym Durham's website states that she "inherited her extrasensory gifts from her mother," who died in 2010. Growing up, "I thought all moms talked to dead people," Kym told Philly Voice. "Mom didn't make it scary; she was matter of fact," she continued, citing her first experience seeing a spirit at age four.
And yet Kym didn't originally follow in her mother's footsteps. She went into nursing and worked at the "intersections of science, medicine and communications with the dead," but "kept her abilities to herself." Following an accident in 2007, she pivoted to mediumship and opened an office in Collingswood, New Jersey. Her abilities, she states, amount to clairaudience (extrasensory hearing), clairvoyance (extrasensory knowledge), and clairsentience (extrasensory intuition). By and large, she uses these abilities to pass along messages between the living and those who "earned their wings," as her website explains. In addition to consultations, private and group readings, live events, and whatnot, she also aids police in missing person cases, robberies, murders, and works with a grief support group as a resident medium.  
The Boy in the Box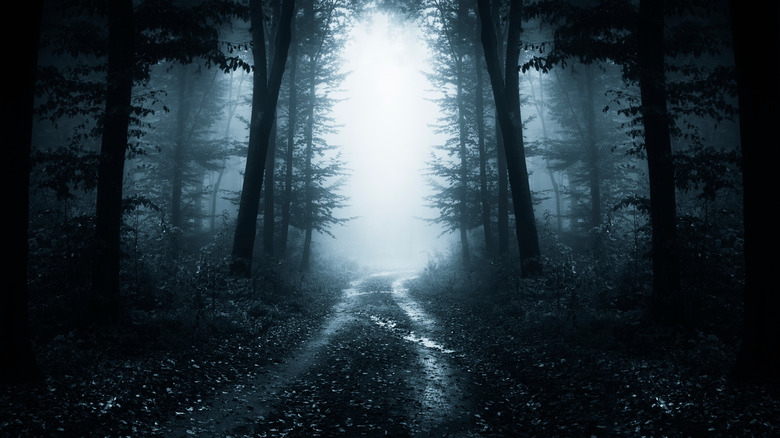 andreiuc88/Shutterstock
Kym and her mother Joan came into recent public attention following the identification of the "Boy in the Box," the victim in a 1957 cold case. Found near Susquehanna Road in the woods of northeastern Philadelphia, the victim was wrapped into a blanket and stuffed into a cardboard box — hence the moniker. As CNN continues, the child — who was between the ages of four and six — had, according to Philadelphia Police Commissioner Danielle Outlaw (via CNN), "experienced horrors that no one, no one should ever be subjected to." He'd been "severely beaten," and his hair had been "crudely cut close to the scalp." Even though the case garnered tremendous public attention at the time, the victim wasn't identified until 2022 following a 2019 exhumation. On Dec. 8, 2022, Outlaw announced that the unknown boy was identified as 4-year-old Joseph Augustus Zarelli.
Joan Durham was one of many individuals who'd worked on Zarelli's case. As ABC6 reports, she'd called the victim "Johnny" — getting the first letter of his name right — and also said that there was something about the killer's nose that stood out. She also talked to her daughter Kym about the case. While Kym didn't directly help with the case, she and others involved expressed relief that the boy was identified. That being said, the killer is still unknown, and the case remains unsolved. Police have made a $20,000 offer for any information that "leads to an arrest and conviction of a suspect."