Why Are People Awarded Honorary Degrees?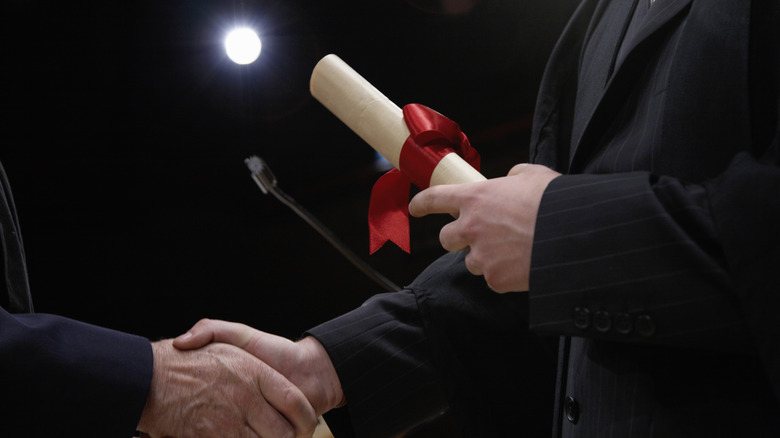 Ableimages/Getty Images
On December 8, 2022, the School of the Art Institute of Chicago rescinded the honorary doctorate degree it had conferred upon Kanye "Ye" West some years earlier (via CNN). Specifically, the institution rescinded the honor following a period of a few weeks during which the Chicago rapper attended a dinner at Mar-a-Lago with Holocaust denier Nick Fuentes and later appeared on "The Alex Jones Show" and made antisemitic remarks. "Ye's actions do not align with SAIC's mission and values, and we've rescinded his honorary degree," the institute noted.
It was the latest blow to Ye and his brand over the last few months, but it is by no means the biggest. As Billboard reports, he's also reportedly lost over $2 billion in the wake of his actions and statements. In fact, for the school to rescind the honor means, in a practical sense for Ye, absolutely nothing, nor did it mean anything for him while he still had it. That's because, as NPR explains, honorary degrees are just that: honorary. They don't indicate that the recipient is now academically and/or professionally qualified to work in a certain field the way a "real" degree would and are, in essence, just words on a page. However, ours is a culture that loves honoring people when they deserve it — the Pulitzer Prize, the Academy Awards, the Key to [a] City — and so on, and colleges and universities have been awarding honorary degrees for centuries.
The First Honorary Degree Was Awarded In 1470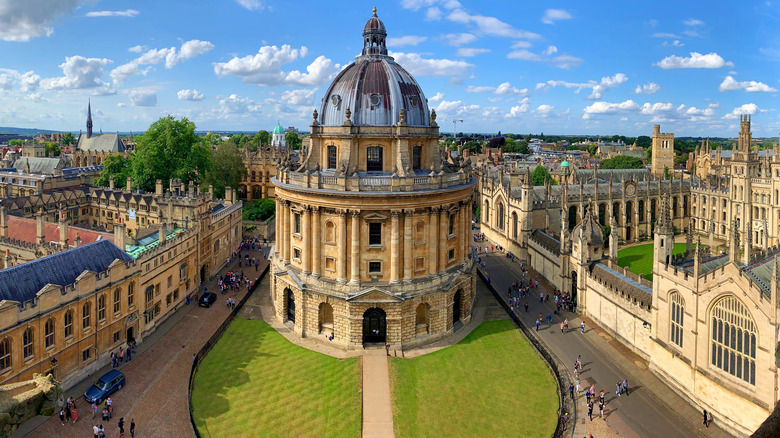 Shaun in Japan/Shutterstock
As anyone who has ever matriculated at a college or university can tell you, you get a degree once you complete all of the required coursework and, when necessary, any practical fieldwork. However, in the later stages of the Middle Ages, according to Oxford University (pictured above), universities hit upon the idea of waiving the requirements and conferring degrees as, well, an honor. The first recorded recipient of an honorary degree was a man named Lionel Woodville in the 1470s. "[The honor] was apparently unsolicited and clearly an attempt to honor and obtain the favor of a man with great influence," notes the university. That set into motion a trend of universities handing out honorary degrees left and right, and the practice was even codified into English law a few centuries later.
Across The Pond, America (before it was even a country) got in on the act by handing out the first honorary degree awarded here, by Harvard University, in 1692, according to Brandeis University. The recipient was the university's own president, Increase Mather, who received an honorary doctor of divinity. If you haven't already guessed, honorary degrees mean nothing in a practical sense. "The public can rest assured that there are not medical doctors, veterinarians, accountants, or lawyers plying their trade without actual qualifications," notes Hannah Forsyth for HigherEdJobs. Indeed, even those given honorary doctorates are expected not to call themselves "doctor," as that's considered a bit unseemly, notes Forsyth.
Ye Isn't The First To Have His Honorary Degree Revoked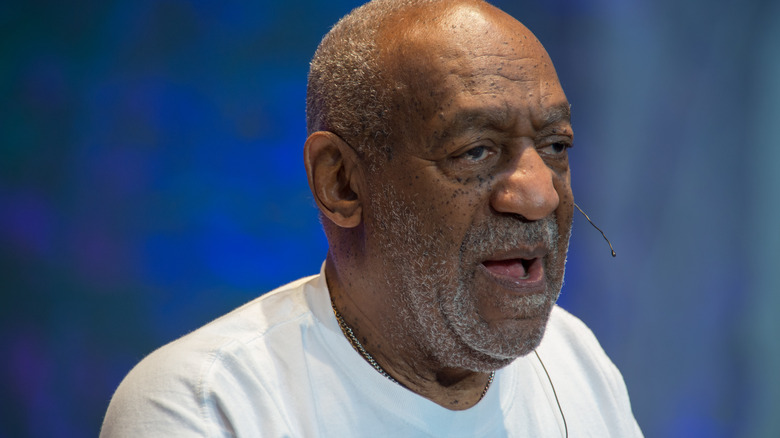 Randy Miramontez/Shutterstock
If getting an honorary degree is a matter of achieving great things in life, or major contributions to a certain field, or perhaps even a generous check to a university, then getting one rescinded is effectively the opposite. Make a big enough fool of yourself, commit a crime, or do both, and you may find the universities that honored you rescinding that honor.
Just ask Donald Trump: As Forbes reported, following the January 6, 2021 insurrection at the U.S. Capitol, multiple colleges and universities that had awarded him honorary degrees rescinded them. Rudy Giuliani, at the time Trump's personal lawyer, also got at least two of his revoked — one from Middlebury College and the other from the University of Rhode Island, which also rescinded Michael Flynn's while they were at it (per The Providence Journal). According to Inside Higher Ed, Bill Cosby (pictured above) at one time had as many as 50 honorary degrees, but after his sexual assault scandal, at least a dozen were rescinded.
Having an honorary degree rescinded means as much as having one awarded to you in the first place: in a practical sense, absolutely nothing.