Here's Why No One Heard Of The 'Golden State Killer' Before 2018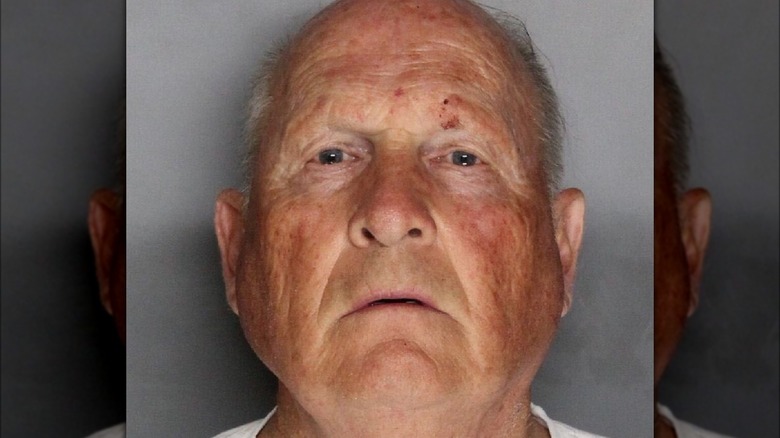 Sacramento Police Department
On April 25, 2018, the Sacramento County District Attorney's Office held a press conference to announce that law enforcement officials have arrested the Golden State Killer, whom they positively identified as 74-year-old Joseph James DeAngelo. For decades, investigators worked hard to find the rapist and killer that committed crimes in several California counties between the '70s and '80s (via ABC 11). DeAngelo was linked to the crimes via DNA evidence and genetic genealogy.
DeAngelo, born in 1945, enlisted in the Navy and served in the Vietnam War. He came back home and was awarded medals for his service, and he went on to earn a criminal justice degree, as reported by ATI. For most of the 1970s, he worked as a police officer, and that was also the time when he started committing crimes. DeAngelo's knowledge of the law and his skills as a police officer helped him in perpetrating crimes and evading capture for decades. Authorities didn't connect DeAngelo to the series of crimes throughout California until his name came up before he was caught. He pleaded guilty to several rape charges and 13 murders committed between 1975 and 1986. The Golden State Killer admitted to far more crimes, but he couldn't be tried for all of them as the statute of limitations had already expired.
Joseph DeAngelo's crimes and aliases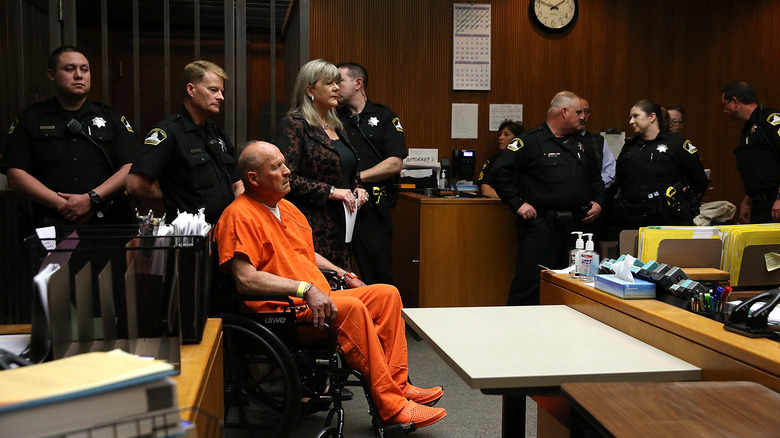 Justin Sullivan/Getty Images
Joseph DeAngelo wasn't always known as the Golden State Killer. In the mid-1970s, a perpetrator known as the Visalia Ransacker burglarized homes and sexually assaulted women in the city of Visalia, California. He often burglarized homes while the residents were away and ransacked the home or rearranged women's undergarments. He also stole jewelry and firearms (via Visalia Ransacker). In 1975, a confrontation occurred between the perpetrator and two officers. The Visalia Ransacker shot at an officer, and fortunately, the bullet hit the officer's flashlight. However, the ransacker was able to flee. He was described as a white male of average height with a cleft chin.
From 1976 to 1979, DeAngelo's crime spree occurred in the Sacramento area. His actions escalated and he stalked women, broke into their homes, and raped them. He always wore a mask over his head and blindfolded his victims to avoid identification, as noted by Golden State Killer. Several rapes and burglaries were reported in the area, and the perpetrator was dubbed the East Area Rapist. Authorities were not aware that he was the same man that terrorized Visalia years prior. DeAngelo went from raping to murdering, and the crime scenes were different enough that they weren't linked together. The murderer was called the Original Night Stalker to differentiate him from another killer, Richard Ramirez, who was called the Night Stalker. DeAngelo's last known murder was committed in 1986.
The Golden State Killer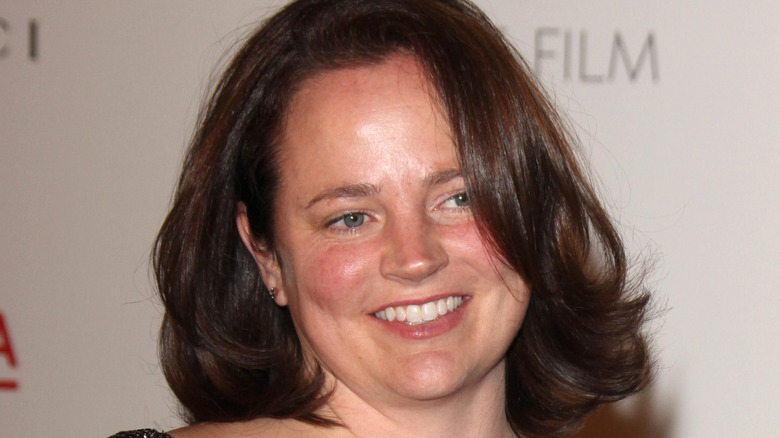 Kathy Hutchins/Shutterstock
True crime author Michelle McNamara always had an interest in cold cases and read about the East Area Rapist. In 2001, a DNA test confirmed that the East Area Rapist and the Original Night Stalker were one and the same, as reported by Men's Health, but his identity remained a mystery. From then on, he was referred to as EAR-ONS, a combination of the acronyms for the two monikers. It was McNamara who first called him the Golden State Killer in an article titled "In the Footsteps of a Killer" that she penned for the Los Angeles Magazine wherein she wrote about her passion for solving the cold case.
McNamara worked for years trying to crack the case, and it became her main focus next to taking care of her family. She formed relationships with investigators and police officers, pored over pieces of evidence, and had boxes of files related to the case in her home. On April 21, 2016, McNamara's husband, comedian Patton Oswalt, found her deceased in their home; it was an accidental overdose. She took a dangerous mixture of prescription medication to cope with the stress of working on the case, according to the New York Times. She was in the middle of writing a book about the Golden State Killer when she died. Oswalt turned to his wife's researcher Paul Haynes and crime journalist Billy Jensen to finish the book titled "I'll be Gone in the Dark," which was released on February 27, 2018, just a couple of months before Joseph DeAngelo was arrested.