The Tragic Crash That Ended The Career Of Elvis' Guitarist, Hank Garland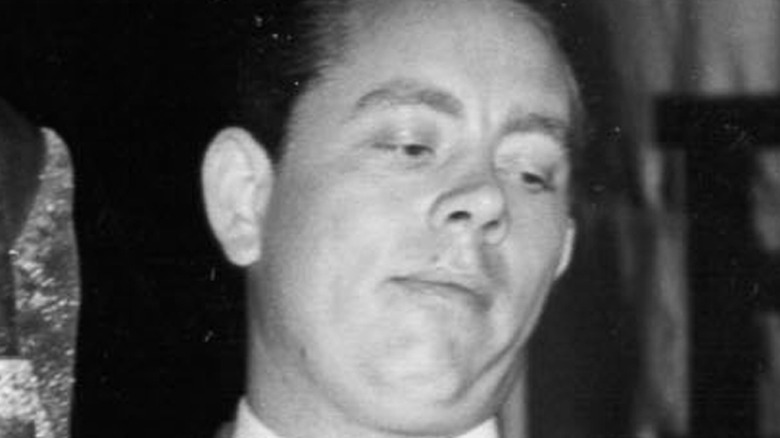 Michael Ochs Archives/Getty Images
While Hank Garland may not have the same recognition today as many other rock guitarists like Jimi Hendrix or Eddie Van Halen, his influence on popular music is still immeasurable. As stated in Wide Open Country, he amassed an impressive list of top artists that he lent his six-string skills to, including Patsy Cline, the Everly Brothers, Roy Orbison, and most famously, Elvis Presley. His career was tragically cut short, but he still managed to achieve in a few years what most other musicians spend their whole lives working towards.
Wide Open Country states that Garland was born on November 11, 1930 in Cowpens, South Carolina, eventually moving to Nashville, Tennessee when he was a teenager to pursue a career in music. It wasn't long before he made a name for himself, scoring his first hit, "Sugarfoot Rag," before he was even 20 years old. From then on, it seemed that every song he played on became popular. From Presley's "A Fool Such As I," "I'm Coming Home," and "A Big Hunk o' Love," to classic Christmas tunes like "Jingle Bell Rock" and "Rockin' Around the Christmas Tree," it's hard to assess just how important Garland was to music. Unfortunately, the world was sadly robbed of his signature twang after a terrible accident in 1961.
Hank Garland's unfortunate accident
Per Premier Guitar, it seemed that Hank Garland was on top of the world in 1961, having recorded numerous hits with top musical artists as well as a beloved jazz album, "Jazz Winds from a New Direction." However, that all came to a screeching halt in September of that year when he was involved in a terrible car accident. Apparently, there was some sort of drama in Garland's family life, leading him to believe that his wife had taken their children out of town. In response to this belief, he got into his car to chase after them, only to end up in an accident that almost killed him.
According to Premier Guitar, there's been some speculation the car accident was, in fact, not an accident at all, and part of a plan hatched by local figures in the music scene, but there doesn't seem to be much basis for these rumors. However, one thing that is true is that the incident effectively ended Garland's career as a professional musician, as he incurred severe brain damage that made it all but impossible for him to play the guitar. (Per Premier Guitar, some allege that the brain damage may have come as a result of shock-therapy treatments at a sanitarium.)
Hank Garland's later years and death
Hank Garland's music career may have been drastically impaired after that fateful car crash, but he was able to survive on the generosity of his fellow musicians, all of whom admired his work. According to Premier Guitar, for quite a long time after Garland's accident, many session players reportedly signed his name on their contracts for their recording gigs to ensure that their checks went to him. Guitarist and friend of Garland, Harold Bradley confirmed that his name showed up quite a few times on these contracts: "I know it's true, because I signed some of them. I remember one time looking into the book and seeing that Garland signed into a session that occurred more than a year after the accident."
The final years of Garland's life didn't see him perform much; while he managed to regain some of his skill on the guitar, he rarely performed live, but seemed to take it in stride, saying in a 1981 Guitar Player interview (via Premier Guitar), "I'm going to take what the Lord left me with and do better things with it, if I can." Billboard states that he died on December 27, 2004 from a staph infection, bringing a close to the life of one of the great unsung heroes of popular music.