Here's How Willie Mays Basically Played Three Games In One Day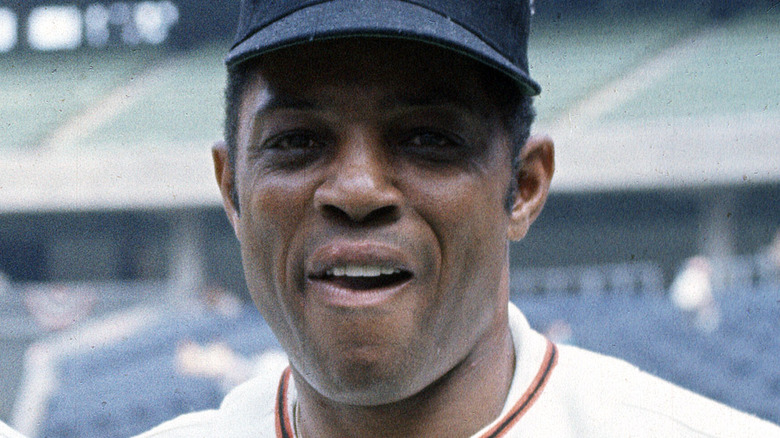 Focus On Sport/Getty Images
On May 31, 1964, the game show "What's My Line?" aired in its normal Sunday-night TV slot. Panelist Bennett Cerf came onstage excited. "We were watching the most incredible baseball game backstage," he said. "It's the 21st inning between the Mets and the Giants."
The game would continue for two more innings, lasting 7 hours and 23 minutes — the longest MLB game by time ever played at that point. The kicker? It wasn't the teams' first game of the day. It was the second of a doubleheader. The Mets and the Giants played a combined 32 innings, which also broke records. All in all, they were on the field for 9 hours and 52 minutes, not finishing until almost midnight (via The New York Times).
The long standoff was finally broken in the 23rd inning by San Francisco Giants pinch-hitter Del Crandall, who doubled to bring in second baseman Jim Davenport. By that time, each team's relief pitcher had pitched the equivalent of an entire normal game, per the New York Times. And Giants legend Willie Mays? He had played all day -– the equivalent of three and a half games.
Willie Mays' multi-game performance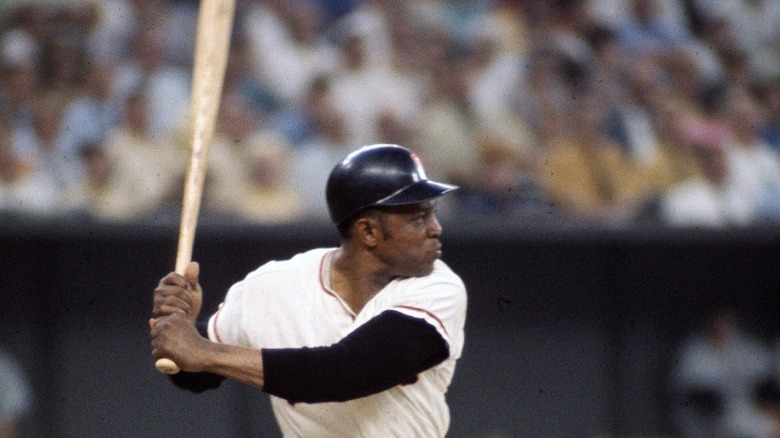 Focus On Sport/Getty Images
Willie Mays wasn't one of the standout performers of the day, but he made a respectable showing: two hits, two runs, and one RBI over the two games (per Retro Sheet). The RBI came in the first inning of the latter matchup; the Giants had a large, early lead, according to MLB's website. At defense, he made seven outs (via Retro Sheet).
Unfortunately for Mays, he was also involved in the New York Mets' most spectacular defensive moment of the day: a rare triple-play. Mays was on first, having walked. His teammate, right fielder Jesus Alou, was on second. First baseman Orlando Cepeda was batting and hit a line drive straight to the Mets' shortstop Roy McMillan, who then stepped on second base to get Alou out –- he hadn't tagged up before heading to third. Then McMillan threw to first baseman Ed Kranepool, who got Mays out (via The New York Times). The amazing play didn't save the Mets, however. The Giants won both games that day: the first 5-3, and the second 8-6.
A man for all positions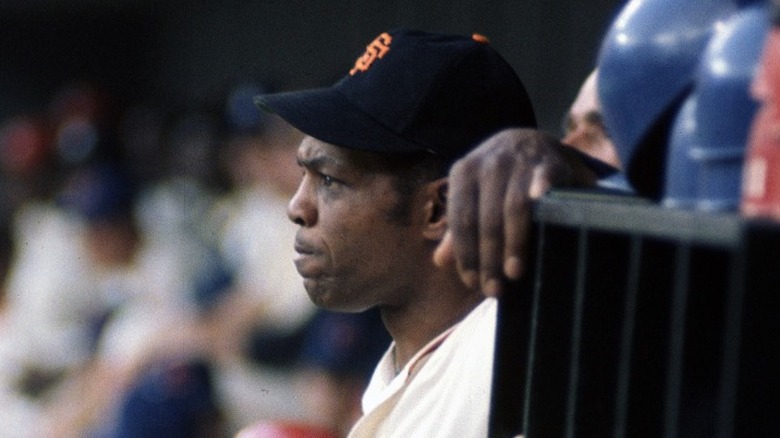 Focus On Sport/Getty Images
It was a day of improvisation for both the Mets and the Giants, as they called on 41 different players between the two games (via The New York Times). As the second game of the doubleheader went into extra innings, Willie Mays left his normal position in center field and moved to shortstop. He stayed there for three innings before going back to center. It was one of only two times Mays played shortstop in his Major League career of almost 3,000 games. In 22 seasons of playing professional baseball, he would ultimately play five different positions, including quite a few appearances at first base, per MLB's website.
Despite participating in essentially three games, Mays possibly could have played even longer than he did on May 31, 1964. Early in his career, he said, "I can never understand how some players are always talking about baseball being hard work. To me, it's always been a pleasure, even when I feel sort of draggy after a doubleheader" (via ESPN).