The Story Behind Romano Guardini's Influence On Former Pope Benedict XVI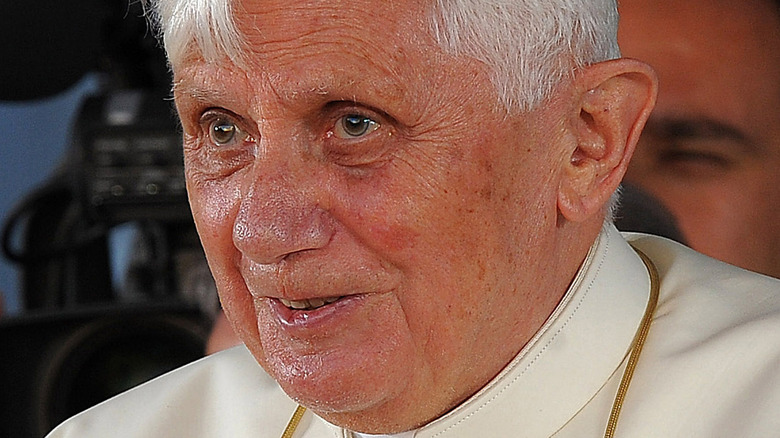 GIACOMO MORINI/Shutterstock
The papacy of Benedict XVI (born Joseph Ratzinger) was remarkable for several reasons. For one thing, he was elected pope after the decades-long reign of one of the most popular and most beloved popes of recent centuries: John Paul II. For another, he represented a conservative and traditional approach to Catholicism and the papacy, according to USA Today. Benedict XVI was succeeded by Francis I, who by some measures, according to Vox, is a progressive who stands in sharp contrast to his predecessors. Finally, Benedict XVI's comparatively-brief papacy (just under eight years, per Biography) ended while he was still alive, an exceptionally rare occurrence: it's only happened a few times in two millennia, as the job of pope is a job for life.
The current pope, Francis I, is one of only a small number popes to minister in that office while his predecessor still lived. And though there are stark differences between the two men, they have at least one thing in common: both were heavily influenced (Benedict XVI more so than Francis I) by the same Catholic thinker and philosopher: Romano Guardini, per Aleteia.
Father Romano Guardini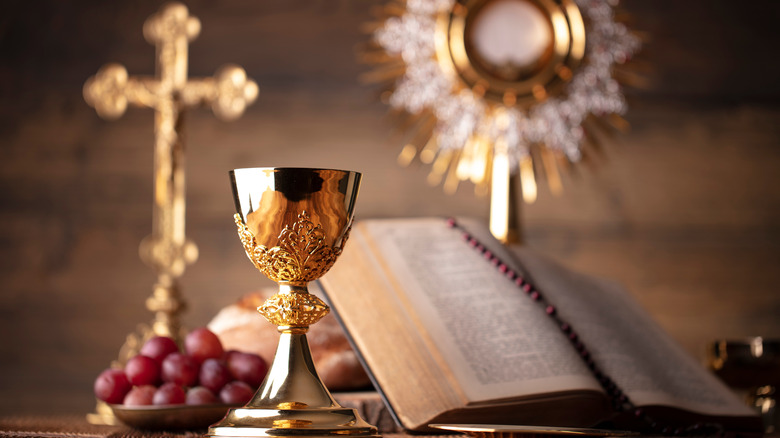 Zolnierek/Shutterstock
In 2017, as the National Catholic Register reported, the Archdiocese of Munich and Freising, Germany held a mass that ceremonially began the process of naming an Italian-born German priest a saint. Romano Guardini (1885-1968) wore many hats throughout his life, including that of a parish priest, but mostly he was known for his writings. Summarizing book upon book of his theological musings in a few sentences would be a fool's game, but to make a (very) long story (very) short, he wrote at a time when the church wrestled with its liturgy and whether or not to keep it firmly moored in the past, or to modernize it. Guardini was not opposed to modernizing the liturgy, but he was concerned about Catholics taking it seriously. Specifically, he advocated for Catholics to deeply understand even the most picayune aspects of the liturgy, and he even wrote a book about the symbols and signs used throughout.
As mentioned previously, Guardini profoundly influenced both Benedict XVI and his successor. As Aleteia explains, Benedict XVI, influenced by Guardini, also wrote on the significance of the liturgy: " ... [T]he Liturgy and the symbol therefore lead [man] to the essence of himself and ultimately, through worship, to the truth," he wrote. Francis I also mourned the modern Catholic's distance from liturgy as well, writing, " ... [M]odern man has become illiterate, no longer able to read symbols; it is almost as if their existence is not even suspected."
Crossing Paths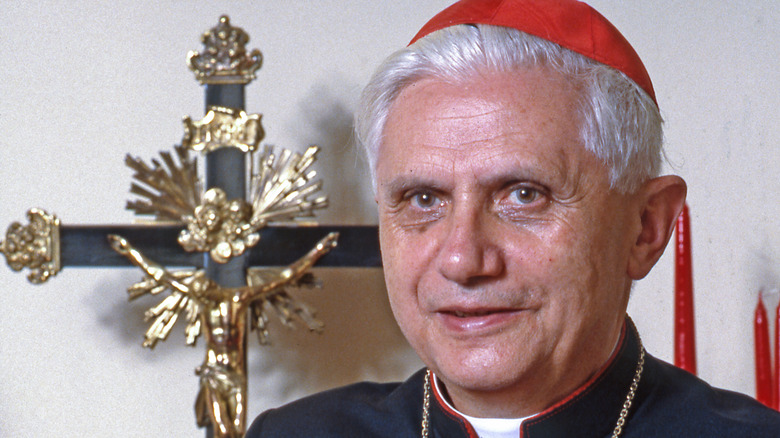 Edoardo Fornaciari/Getty Images
The man who would minister under the papal name Benedict XVI was born Joseph Ratzinger in Germany in 1927, per Britannica. By the time the future pope was born, Roman Guardini was already a middle-aged man. Nevertheless, the paths of the two men would cross, figuratively and literally, several times prior to Guardini's death. EWTN contributor Silvano Zucal notes that — metaphorically, anyway — Guardini was born Italian but became German, in a manner of speaking, while Ratzinger was born German, but his final destination was Rome (via the papacy).
Benedict XVI was influenced by Guardini's writings, that is beyond question: lots of Catholics at the time were. Benedict XVI's successor in the papacy, Jose Mario Bergoglio (aka Francis I), was similarly influenced. But Ratzinger and Guardini were actually in the same room at the same time at various points. Particularly, between 1946-1951, Ratzinger studied in and around Munich, where Guardini was teaching.
It's not clear if the two men had any sort of personal relationship, and indeed, it may be nothing more than a few occasions where they were in the same place at the same time. But theologically anyway (if not necessarily personally), Guardini's teachings laid the groundwork for two papacies, one staunchly traditionalist and one slightly more progressive.