Pele And Diego Maradona's Rivalry Explained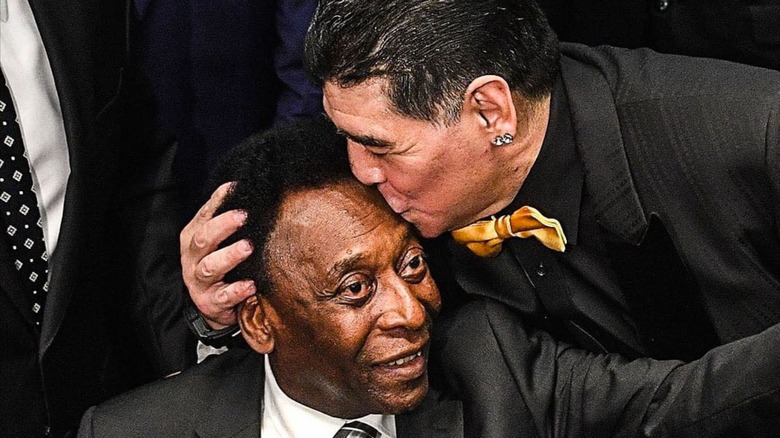 Alessandro Sabattini/Getty Images
The soccer world lost one of its greatest players on December 29, 2022, as CNN reported, when Brazilian soccer great Pele died of cancer at the age of 82. Pele's lengthy list of accomplishments in the sport, both in his native Brazil as well as internationally, won't be rehashed here. Suffice to say, none other than FIFA, soccer's international governing body, deemed him "The Greatest."
While Pele still lived, another South American soccer great also carved out his own place in soccer history. Diego Maradona's accomplishments and career largely mirror his predecessor's — born into poverty, made millions on the soccer pitch, brought home trophies for club and country, served as an international ambassador for the sport, and so on.
By any of several metrics, either or both of these men could be considered the greatest soccer player of all time — or at least, the greatest of the 20th century. In fact, FIFA created a one-off award — Player of the Century — and awarded it to both of them, something that Maradona was quite salty about. It was a high point (or perhaps a low point) in the decades-long rivalry between the two men.
Career Overlap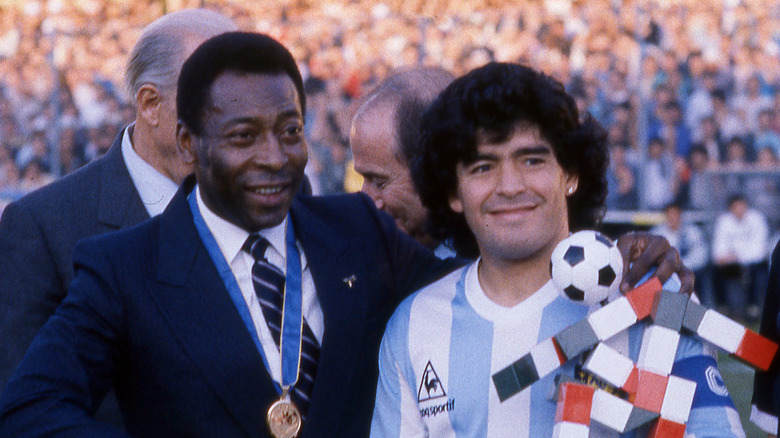 Alessandro Sabattini/Getty Images
Pele's career began in 1956 and ended with his final game in October 1977, 20 years later (via Biography). Diego Maradona was born in 1960, meaning that his eventual rival was comfortably in his teens while the Argentine was still in his crib. According to Biography, his first professional appearance was as a 16-year-old, in 1976, meaning that the older great's soccer career was winding down as the younger's was beginning. By the time Maradona's career got going in earnest, Pele had long since put the game in his rear-view mirror.
It wasn't on the field where the rivalry between the two men was born — they played in different eras and were likely never on the same pitch together at the same time. Rather, their rivalry was one of superlatives, which is to say that Maradona apparently didn't brook playing in the shadow of his predecessor, nor was he prepared to tolerate anyone other than himself being considered the greatest player of all time; as Bleacher Report would later report, he considered the prize FIFA awarded his rival to be "meaningless."
The rivalry might have also been born in the two men's personal styles. Pele smiled and did as he was told and didn't refuse sponsorships; Los Angeles Times writer Dylan Hernandez noted that the Brazilian was once called a "human billboard." Maradona, for his part, was outspoken, political, and also loved cocaine.
Trading Barbs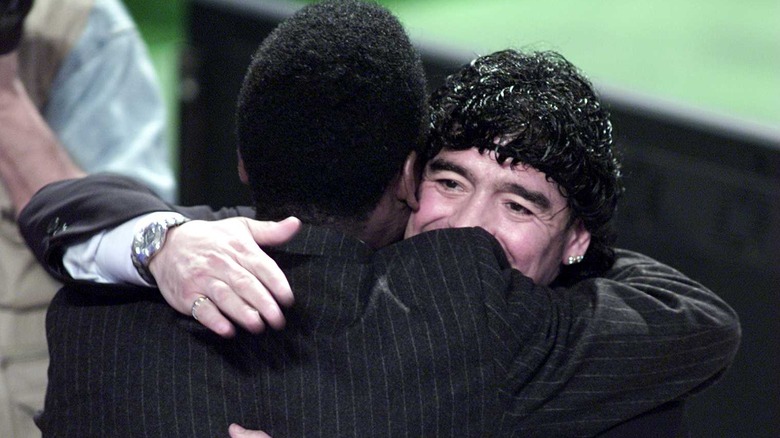 Clive Mason/Getty Images
Since they couldn't outdo each other on the field due to the 20-year gap in their ages and careers, Pele's and Diego Maradona's rivalry played out mostly through quotes and sound bites, the majority of them coming from the Argentine.
Initially, their relationship was something approaching friendship, according to Secret Base. But beginning in the year 2000, as Daily Star reports, both men released autobiographies, and the trading of barbs began. Maradona accused Pele of having a same-sex relationship with a coach (that allegation was actually made a year earlier), while Pele accused Maradona of being a one-trick pony (viz, kicking mostly with only one foot). Pele also considered his younger rival sick — by this time it was known that Maradona had substance abuse issues — and felt it unseemly for the press to take the Argentine's cocaine-fueled rants seriously.
The two men buried the hatchet toward the end, and indeed, photos of the two of them shaking hands or embracing are all over the internet. "[E]nough of the fighting, enough of the barbs between us. I want to thank Pele, we know who he is and who he will always be. We need icons like him," Maradona said of the rivalry in 2016 (per the Daily Star).
If you or anyone you know needs help with addiction issues, help is available. Visit the Substance Abuse and Mental Health Services Administration website or contact SAMHSA's National Helpline at 1-800-662-HELP (4357).