How Diego Maradona's Legendary 1986 Match Against England Was A Symbolic Victory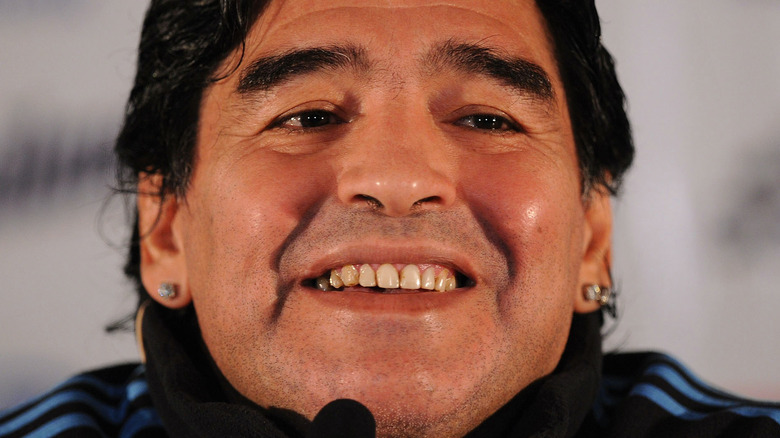 Denis Doyle/Getty Images
Diego Maradona has been referred to as one of the greatest soccer players of all time (via Biography). Per The Guardian, the soccer legend went pro in 1976 when he was only 16 years old. Maradona went on to have an illustrious career and played in his native Argentina, Spain, and Italy. Notably, Britannica reports that he was part of the Argentine national team for the 1982, 1986, 1990, and 1994 World Cup. But as The New York Times explains, it was ultimately Maradona's performance at the 1986 World Cup that cemented his status as a megastar and a hero in his home country.
Goal writes that the 1986 World Cup was hosted by Mexico and held at Mexico City's Azteca Stadium. According to FIFA, a 115,000-person crowd watched as Argentina defeated West Germany 3-2 in late June 1986. However, this achievement is not what is widely remembered today. Instead, it's the tension-filled match between Argentina and England in the quarterfinals that has been immortalized (per Salon). This is thanks to Maradona's goals and the political implications of Argentina's victory. As Terry Fenwick, who was a defender on England's team, put it (per Sky Sports), Maradona "destroyed us with two incredible runs."
Diego Maradona's iconic goals against England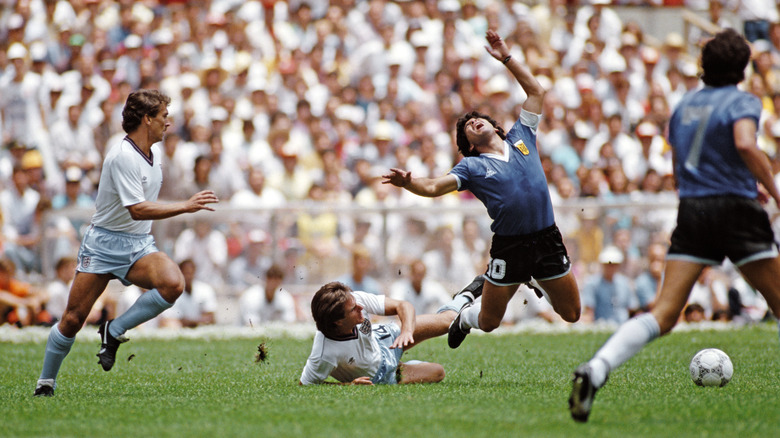 Getty Images/Getty Images
On June 22, 1986, Argentina and England had their now-legendary match (via Goal). Salon reports that in the second half of the game, England midfielder Steve Hodge kicked the ball toward goalkeeper Peter Shilton. However, Diego Maradona intercepted and punched the ball past Shilton, giving Argentina a 1-0 lead (per MARCA). The goal is now referred to as the "Hand of God." Maradona later stated that he accomplished this using "a little with the head of Maradona and a little with the hand of God." Four minutes later, Maradona zoomed past three of England's defenders and their goalkeeper to score the "Goal of the Century."
Needless to say,  Argentina won the match (per Salon). This was not without controversy; punching a ball with a fist is not allowed in soccer. As neither the referee nor the lineman witnessed Maradona's actions, the goal was permitted. Despite this, Gary Lineker, a striker for England, told Sky Sports that he does not have any resentment over this loss and said that Maradona displayed "magnificence" throughout his career.
With that said, Salon writes that Diego Maradona's goals and subsequent victory against England were a form of retribution for the 1982 Falkland Islands War (via Britannica). Lineker explained (via Sky Sports), "There's lots of great goals scored but not in a game of such magnitude. Don't forget the background to that game — it was just a few years after the Falklands War and players were put under pressure."
Argentina's triumph was a clapback for the Falkland Islands War
Paul Bereswill/Getty Images
In 1833, the Falkland Islands, which are located 300 miles east of Argentina, were claimed by the British (via Britannica). However, Argentina believed that it had its own claim, and in 1982, they invaded the islands. Per Smithsonian Magazine, the British responded by sending their troops as well. In the end, Imperial War Museums reports that the war lasted for 74 days and resulted in 900 deaths. Argentina lost, and to this day, the Falkland Islands continue to be under British control.
When the 1986 World Cup came around, Argentina was still licking its wounds. That is until Maradona scored the "Hand of God" and "Goal of the Century." Asif Kapadia, director of the 2019 documentary "Diego Maradona," explained the significance of Maradona's victories. He stated (via Insider), "When he scored that first goal, just sticking out his hand and getting away with it, that was like sending a message to his compatriots saying, 'We're smarter than the British.'"
Kapadia added, "And then the second goal, the extraordinary second goal, when he picks up the ball in his own half and on a pitch that was like a ploughed field, manages to pick to the ball up and dribble and take out the entire English defence, well that's saying, 'We're better than the English.' Diego Maradona died in November 2020 (per The New York Times). The ball he punched in his "Hand of God" goal sold at auction for over $2 million in 2022 (via AP News).