What The Final Month Of Diego Maradona's Life Was Like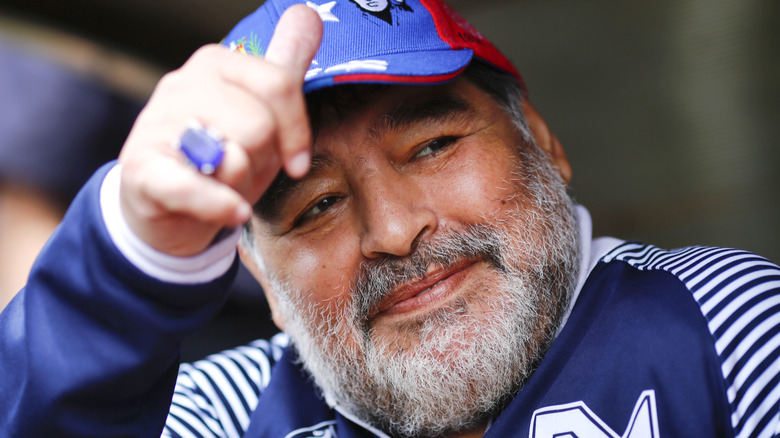 Marcos Brindicci/Getty Images
After the retirement of Pelé in the late 1970s, the soccer world did not have long to wait before the question "Who will be the greatest in the world now?" was answered. Diego Maradona of Argentina was arguably one of the best soccer player of the 1980s and is still considered one of the greatest to ever play the game. He scored over 300 goals as a midfielder for clubs like Napoli and F.C. Barcelona, according to ESPN. With brilliant dribbling and a deft strike, he led Argentina to a World Cup victory in 1986, scoring five goals and making five assists, a record-setting feat (of course, one of his goals was infamously scored with his hand — the legendary "Hand of God" incident). Maradona also won nine trophies with his various clubs. Then, upon retirement, he coached Argentina in the 2010 World Cup.
In early November 2020, at 60 years old, Maradona was hospitalized due to anemia (weakness from lack of oxygen-rich red blood cells), dehydration, and depression (via CBS Sports). Brain scans revealed an even more serious issue.
The Month of Hell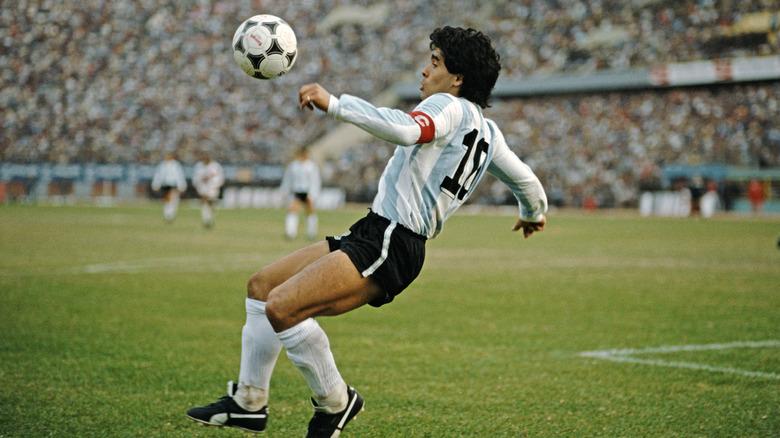 Getty Images/Getty Images
Diego Maradona had an incredibly dangerous ailment called a subdural hematoma. This is the result of a damaged blood vessel between the skull and the brain (via the National Health Service). Blood leaks from the vessel and clots, placing pressure on the brain. A subdural hematoma is often caused by head trauma, whether major or minor, and can be made more likelyt to occur with heavy drinking.
The soccer player was quickly in surgery. A hole was drilled into his skull to drain the clot (via CBS Sports). Though especially risky for older people, the surgery was successful and Maradona was recovering well, according to his doctors. But then, a new problem emerged. Physicians explained to the press that Maradona was suffering withdrawal symptoms, such as sweating and outbursts of anger (via CNN). The soccer legend was indeed a drinker, and while recovering from brain surgery it was crucial he not consume alcohol. Long before his blood clot, he had experienced various health issues from drugs and alcohol consumption. At one point during withdrawals he had to be sedated; his family was extremely concerned (via ESPN). He was discharged in mid-November and continued to receive outpatient care. About 10 days later, there was yet another issue, and the legendary Maradona was dead.
Doctors Accused of Murder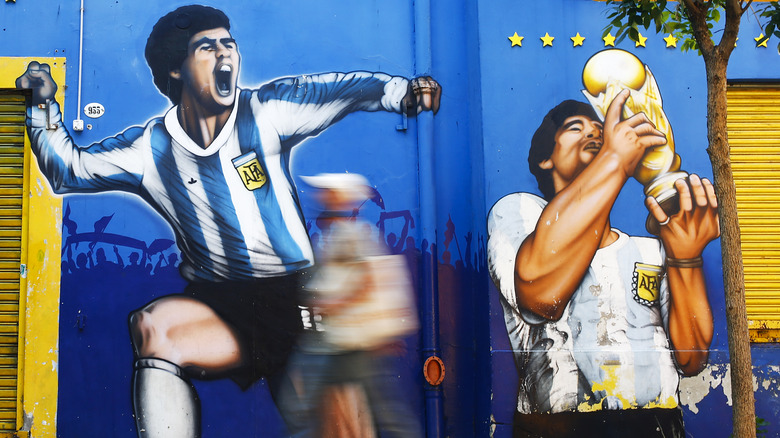 Marcos Brindicci/Getty Images
On November 25, 2020, Diego Maradona suffered heart failure and died at his home in Buenos Aires, according to CNBC. The Argentinian government declared three days of mourning, and soccer fans and players around the world paid tribute to him, including Pelé, Lionel Messi, and Christiano Ronaldo. There were songs belted in the streets, murals painted on walls, articles splashed across front pages, and endless social media posts.
And yet, the story of Maradona's month of hell soon continued. In the summer of 2021, it was reported that his autopsy showed he'd been in agony for 12 hours before his death, according to CNN, and may not have been able to make sound decisions. Which raised the question: Why did his at-home medical caretakers not rush him to the hospital? Argentinian investigators called the healthcare team "deficient, reckless, and indifferent." On June 22, 2022, the 36th anniversary of Maradona's "Hand of God" goal, a judge ruled that eight doctors and nurses would stand trial for the homicide of Diego Maradona (via NPR). The trial is yet to begin.