Croaker, Virginia: The Home Of An Unsettling Tourist Attraction Full Of Presidential Busts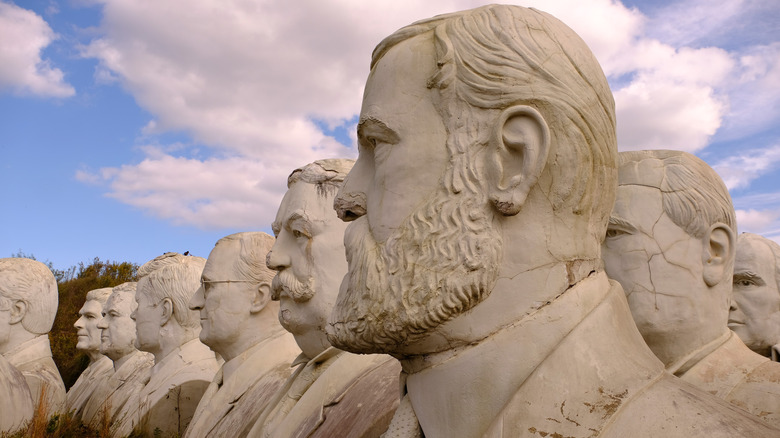 Nancy Sheppard/Static Media
American cities abound with statues of people great and small (and sometimes controversial). Local military heroes, people important to local history, or even people who have never set foot in the town, are memorialized more or less permanently in statuary form. Winslow, Arizona, for example, features a statue of Eagles Glenn Frey, according to Billboard, as a shoutout to the guy who made the town famous in one of his songs. Similarly, Springfield, Illinois, is chock-a-block with statues of native son Abraham Lincoln (who was also a president, of course).
Speaking of presidents, one small unincorporated town in southeastern Virginia is home to not one, not two, but 42 statues of presidents. Specifically, according to Insider, a farm outside of the town of Croaker (near Williamsburg) is home to 42 multi-ton busts of U.S. presidents, all decaying, giving them an aura of mystery. And we used the word "tourist attraction" in the title, but to be clear, they're not in the middle of town or in a park or anything. You have to make a couple of phone calls to get there. But once you do, you'll definitely be treated to one of the strangest history-related sites in America.
Presidents Park Goes Bust (So To Speak)
Sometime before 2004, according to The Vintage News, Houston sculptor David Adickes and Williamsburg landowner Everette "Haley" Newman were inspired by Mount Rushmore and decided to create an open-air museum in Virginia to honor the presidents and teach American civics in an accessible way (Insider says it was Adickes who came up with the idea and does not mention Newman). Adickes was and is known for his statuary, according to Atlas Obscura, and indeed, his Houston workshop is something of a tourist attraction in itself.
Eventually, the idea turned into a real attraction. As Smithsonian Magazine reports, Presidents Park (above) opened in Williamsburg, Virginia, in 2004. Visitors could get up close and personal with the giant presidential busts from President Washington to President George W. Bush. Unfortunately, the park was away from the city's main tourist attractions and was considered not a great value by many guests. After a few years, it was forced to close.
What to do with the presidential busts?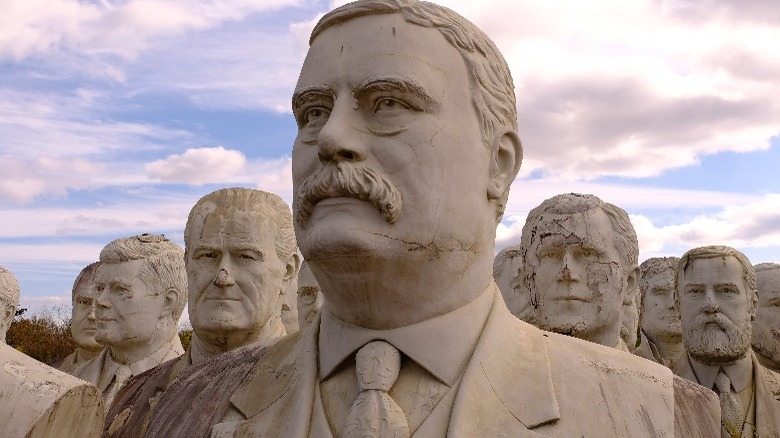 Nancy Sheppard/Static Media
Now a man named Howard Hankins enters the story. As Insider reports, once Presidents Park went bust (no pun intended), Virginia was now home to 42 (or 43) busts of presidents, each weighing as much as 20,000 pounds. He had helped construct the failed Williamsburg park and had been contracted to crush them using his stone-crushing machinery. Instead, he had them moved to his own property in Croaker, at his own expense. He'd hoped to open up his own version of the defunct park, or perhaps sell them for a similar purpose. Neither of those materialized. As of December 2022, they were still sitting on his property, decaying.
Today the statues are a sort of tourist attraction in their own right. However, getting there is going to require some effort. They're on private property, so you can't just walk up to them. According to I Hit The Button, the property owner has given a local photographer permission to bring tours to the site. John Plashal, via his website, offers scheduled tours of the busts.