The Most Money Ever Made In A Game Of Plinko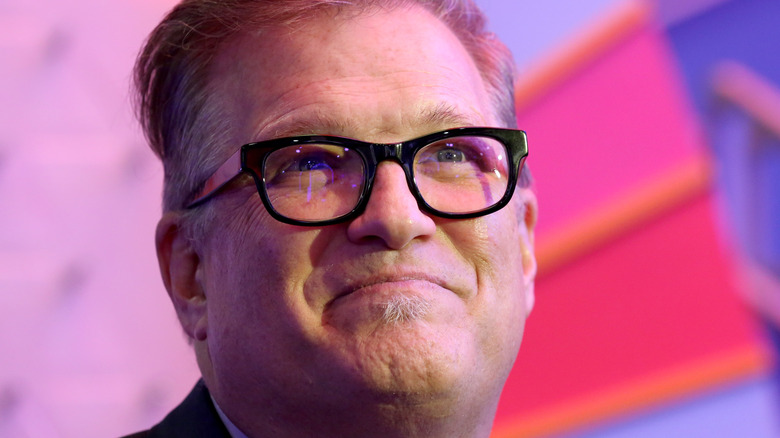 Gabe Ginsberg/Getty Images
It's likely that Mike Stouber of Freehold, New Jersey had high hopes that fateful September 2019 day as he donned his "Plinko is my cardio" shirt in preparation for attending a taping of "The Price Is Right." Stouber had been a lifelong fan of the show, which per CBS is television's longest-running game show, with a premiere date of September 4, 1972. Plinko is possibly the show's most iconic game; as reported by Programming Insider, it was created by producer Frank Wayne and debuted on "The Price Is Right" in 1983. Players try their luck at winning prizes by standing at the top of a pegged board and dropping a disc into a slot, which then makes its way down the board, bumping off pegs during its descent and eventually landing in a scoring slot at the bottom.
CBS notes that the game is named for the noise the discs make as they drop down the board. It made history as the first game on "The Price Is Right" to offer a possible prize total of $25,000. There are only 10 Plinko discs on the set of the show and they are stored in a special box when not in use. The first Plinko contestant won $6,500. In January 2018, Decider reported that a player named Ryan scored $35,000 on the board, setting an all-time Plinko prize money record. Mike Stouber demolished this record and set another "The Price Is Right" record as well.
Breaking more than one game show record
A YouTube clip posted by WKRG shows Mike Stouber joining "The Price Is Right" host Drew Carey onstage. After Carey comments on his "Plinko is my cardio" shirt, the announcer reveals that not only is Stouber going to be playing his game of choice, he's going to try to win a million dollars while doing so. Stouber and the audience erupt into cheers, with Stouber pumping his fist and encouraging the crowd to continue making noise. It's a quintessential "The Price Is Right" moment.
Stouber went on to guess the prices on four different items, winning three out of possible four chips, and bringing his possible winnings to a total of $800,000. His first dropped chip meanders directly down the middle of the board, landing in the $200,000 slot and immediately shattering all previous Plinko records. The audience roars in excitement once again, while Stouber remains calm, grinning, and extending his arms in victory. The second, third, and fourth chips land in zero, $1,000, and $1,000 slots respectively, making his takeaway winnings from Plinko alone a whopping $202,000.
Per CBS News, Stouber went on to play and win the final Showcase Showdown, receiving a trip to Fiji, a new car, and more cash. This brought his total to $263,000 and set a record for the largest amount of money won not only on the daytime version of "The Price Is Right" but in any daytime game show; the prior record was almost $214,000.
What did the winner do with all that money?
In an interview with the New York Post, Mike Stouber called his win "surreal," telling reporter Hannah Frishberg, "Throughout the whole show, you're up there and everything's moving so fast, you don't even have a second to realize what's going on. I guess once we left there and got back to our hotel room, it settled in that that just happened." Stouber had to wait a month before he could even tell anyone that he'd been on the show at all. He and his wife, who was not a regular viewer of "The Price Is Right" and was even more shocked than her husband at his lucrative victory, ended up taking the day off from work and holding a watch party with friends. Stouber said, "We weren't allowed to tell anyone so for them, it was a huge shock. They were like, 'You're going down in the record books!'" Stouber wasn't sure how much money he would actually take home after taxes, but shared that his wife had instructed him to invest as well as make some home improvements. He, on the other hand, was more interested in the possibility of a new Ferrari as well as a hot tub for the back yard. 
While Stouber is the record holder for amount of money won during the regular daytime version of "The Price Is Right," the record for most money won during any "The Price Is Right" game is held by Adam Rose, who won $1,153,908 during a primetime special on February 22, 2008 (via CBS).