Who Is Gloria Trevi And Her Alleged 'Cult'?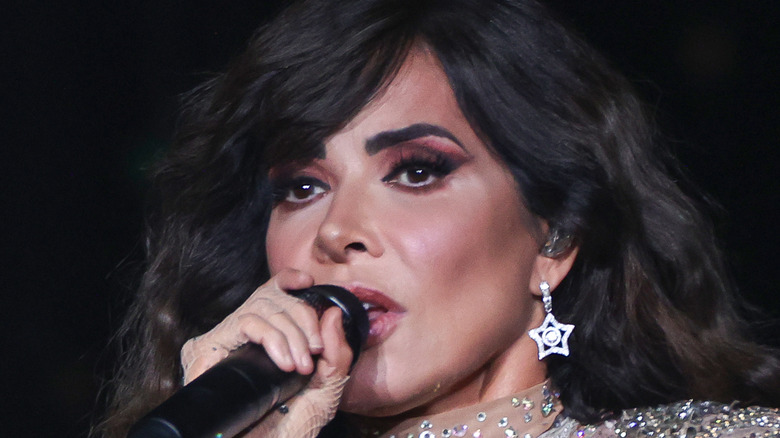 Omar Vega/Getty Images
The following article includes allegations of child and sex trafficking.
For folks living south of the United States border, Gloria Trevi needs no introduction. Known non-hyperbolically as the "Mexican Madonna" (per All Music), she not only grew to similar heights of pop music fame in Mexico, but played a similar societal role in the late '80s to '90s. Defiant and overtly sexual, Trevi tackled taboo topics like abortion and extra-marital pregnancy, and to many served as a feminist icon. She's sold over 30 million records to date, toured around the world to sold-out shows (per BMI), been featured in magazines like People Magazine and Billboard (per MM Group Entertainment), was inducted into the Latin Songwriters Hall of Fame in 2018 (per Billboard), and much, much more.
If that was the end of the story, then there'd be nothing to do but heap further accolades onto Trevi. Sadly though, Trevi was allegedly involved in a sex ring operation in the early '90s that targeted minors in Mexico, as Variety explains. She and her manager Sergio Andrade were charged with luring children into "virtual sexual slavery" in exchange for promises of fame, as Musician Guide says. Trevi spent four years in detention from 2000 to 2004, but as Rolling Stone reports, was ultimately acquitted of charges. Andrade, however, was convicted of "rape, kidnapping and corruption of minors." To complicate things further, Trevi and Andrade were married at the time — she married him when she was only 15. And now, two Jane Does from that time have come forward with further allegations.
Allegations from the past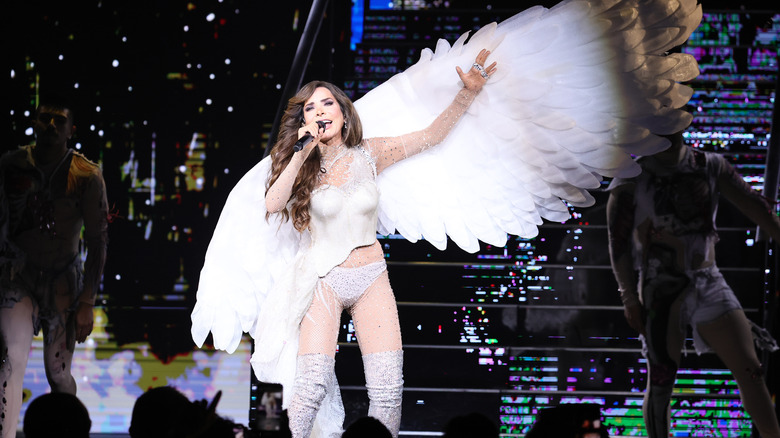 Theo Wargo/Getty Images
Rolling Stone explains that the two Jane Does in question filed their charges against Gloria Trevi and Sergio Andrade in Los Angeles right before December 31, 2022. The timing was more than deliberate, as California just closed its three-year "lookback window" for survivors of sexual abuse charges to come forward with accusations that would normally fall outside of the state's statute of limitations, as the law firm Wallin & Klarich explains. In other words, it was the last and potentially only chance for the two Jane Does to step forward. As Rolling Stone states, the charges comprise a civil suit, not a criminal one, and don't specifically mention Trevi and Andrade. However, it's clear from all details involved — the timing of the charges, Trevi's concerts and albums from that time, etc. — that Trevi and Andrade are the case's two defendants. 
The two Jane Doe plaintiffs say they were 13 and 15 years old when Trevi recruited them into Andrade's "music training program." Framed as a gateway to fame and success in the music industry, the two girls were subsequently groomed into Andrade's "sex slaves" and suffered abuse in Los Angeles — hence the location of the suit. As the story goes, Trevi was already popular at the time and served as the perfect vehicle for Andrade to use to snare vulnerable and naïve young women. Trevi approached them, gave them some kind of spiel, and they jumped on board.
Andrade's first victim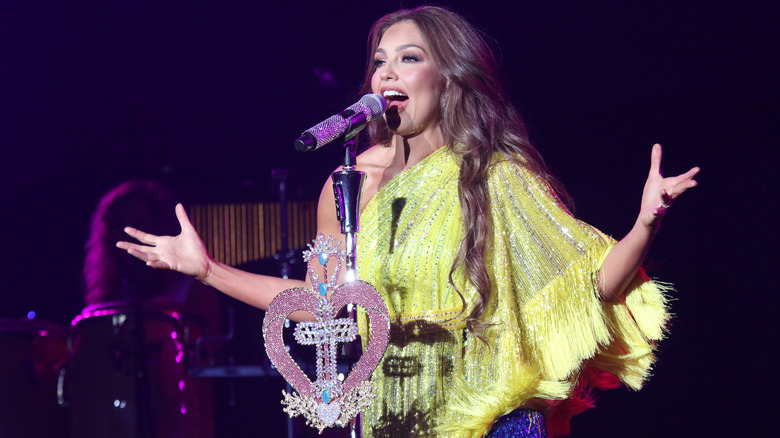 Luis Alberto Sanchez/Shutterstock
Since being released from detention in 2004, Gloria Trevi has carried on with her life and career. She's released most of her albums since then, actually — 2006's "La Trayectoria," 2011's "Gloria," 2017's "Versus," and many more, all the way to 2022's "Isla Divina." The entire time she's lived with the ghost of the allegations of the past. To her, she's said, she was essentially Sergio Andrade's first victim. "I was not complicit," Rolling Stone quotes her during 2018's Latin American Music Awards (watchable in Spanish in full on YouTube). "I was 15 years old, with a mindset of 12, when I met a big producer. He [Andrade] immediately sought to become a mirage of love and pretended to be my only chance to reach my dreams. I was 15 years old when I began to live with manipulation, beatings, screaming, abuse, punishment. And it was 17 years of humiliations."
At a minimum, it's true that in the 1980s, Andrade was a music industry titan in the perfect position to manipulate people in the way that Trevi describes. As Musician Guide says, Andrade's power and influence in the world of Mexican pop was likened to that of producer Phil Spector in the 1960s. While it's impossible to comment on whether or not Andrade truly cared for his up-and-coming, 15-year old protégé and wife — Trevi — or simply needed to wield her for selfish purposes, the deeds of those times have certainly come full circle.
If you or someone you know may be the victim of child abuse, please contact the Childhelp National Child Abuse Hotline at 1-800-4-A-Child (1-800-422-4453) or contact their live chat services.