NFL's Jerry Jones And Jimmy Johnson's Feud Explained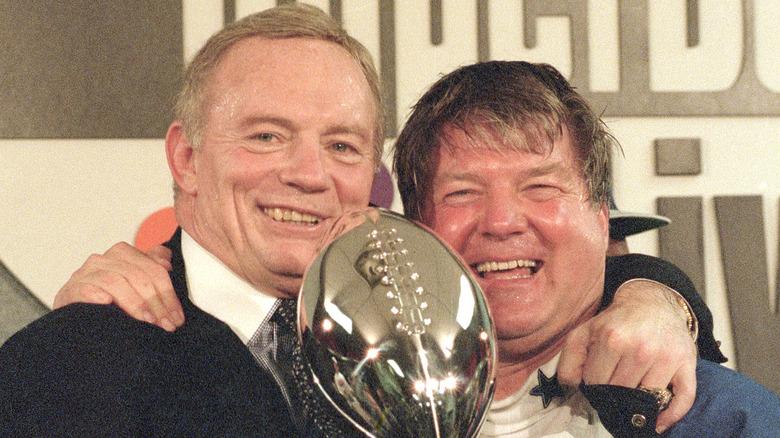 Focus On Sport/Getty Images
Former college football player Jerry Jones purchased the Dallas Cowboys in 1989 (via the Pro Football Hall of Fame). Per Forbes, Jones was an oil investor before returning to football as president and general manager of the Cowboys. His first act of business was firing head coach Tom Landry. Jones subsequently replaced him with Jimmy Johnson. According to Bleacher Report, Jones and Johnson were well acquainted — they played football together for the Arkansas Razorbacks in 1965. CBS Sports reports that Jones bought the Cowboys when they were in rough shape financially and otherwise. With Johnson's help, the team was able to win Super Bowls XXVII and XXVIII (per Fox Sports).
Behind the scenes, however, a different article from Fox Sports states that Jones and Johnson were not getting along. Sports Illustrated explains that problems arose in 1992 when Jones, Johnson, and Bob Ackles — the then-Vice President of Player Personnel for the Cowboys — formulated a trade for the Cleveland Browns. They hashed out the deal, and Jones left. Shortly after, Cleveland accepted the agreement, and the Cowboys announced it without notifying Jones.
Bothered by this decision, he told Johnson (via Sports illustrated), "You know the ESPN camera is in the draft room today. So whenever we're about to make a pick, you look at me, like we're talking about it." Ultimately, this spurred a feud that was still going strong in 2022 (per Fox Sports).
Jerry Jones and Jimmy Johnson speak out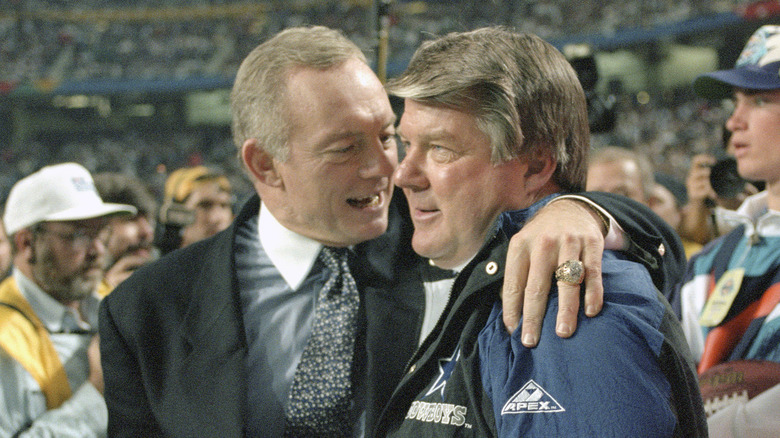 Focus On Sport/Getty Images
Although the Dallas Cowboys flourished with Jerry Jones and Jimmy Johnson in the lead, Fox Sports reports that Johnson left the team in March 1994. The news prompted Barry Switzer, Johnson's replacement, to say (per Sports Illustrated), "Would you or Jimmy please explain to me how two guys could be on top of the world and win two straight Super Bowls and not be able to get along with each other?" Sports Illustrated notes that their issues go back to their 1992 spat over the draft. The two continued to clash on and off the field until Johnson quit.
Johnson told Fox Sports in 2022 that he got tired of Jones' ego but admitted that he had played a role in their falling out. He noted that "things changed a little bit" between the two when the team became successful. Johnson went on to say (via Fox Sports), "People say, 'he meddled too much.' No he didn't meddle. It's just that when we started winning, he wanted to be more in the spotlight. I was proud of what we accomplished. Maybe I didn't want to share it. I take fault in a lot of it. I should've shared it more."
On the other hand, Jones expressed regret about their dispute in 2021 (per CBS Sports). He said, "Well, I just think of those great times." He added, "And Jimmy's a great coach. Ridiculous, my role — it was my job was to keep it together. It was my job. Should have had deference to something that was working good."
Jimmy Johnson and the Ring of Honor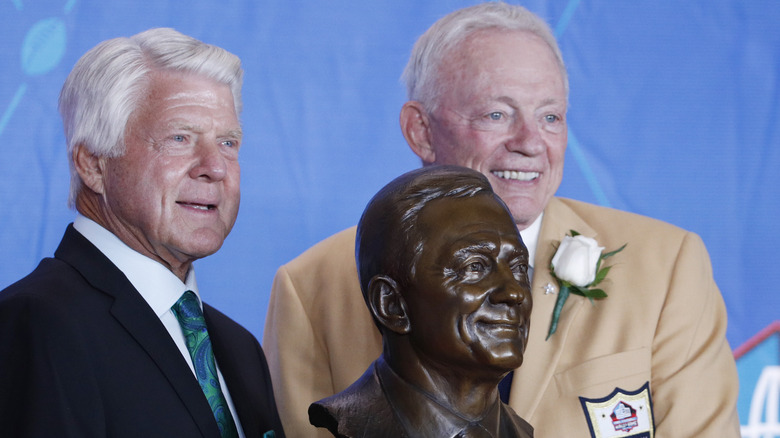 Joe Robbins/Getty Images
Despite their decades-long feud, Jerry Jones announced that Jimmy Johnson would be added to the Dallas Cowboys Ring of Honor in August 2021, (per Fox Sports). Bleacher Report explains that the Ring of Honor encompasses Cowboy Stadium with the names of the team's significant coaches, players, and more. However, Johnson's induction has yet to happen as of 2022. Jones was later asked about his delay and gave an interesting answer. He said (via the New York Post), "There's a lot more than Jimmy to think about here." Jones added, "And so how I do that, what I do it with, I get to make that decision. And it isn't at the end of the day all tailored around whether Jimmy is sniveling or not."
Johnson replied to Jone's remarks on "The Dan LeBatard Show with Stugotz" (via YouTube) and said, "I had to look up that word in the dictionary." He continued, "I don't know that I've ever sniveled. Do you ever remember me sniveling? No way." Johnson admitted that he has doubts he will ever be part of the Ring of Honor.
Johnson later went on the "AP Pro Football Podcast" in November 2022 and said (via Sports Illustrated), "It's not something I think about. It's something when and if he decides to do it, because he's told me half a dozen times he's going to do it. When and if he does it, then I'll be honored and be very proud."